Alumni Update: Alex Gould
This week's Eagle Examiner features a Rocky Mount Academy graduate who has gone on to do some amazing things since his time at school. Graduating in 2004, Alex Gould attended Washington and Lee University where he studied Philosophy and Chinese. Shortly after, he moved on to Harvard University where he earned an M.A. in East Asian Studies. Now, he serves as a U.S. diplomat.
During his time at RMA, Alex challenged himself academically as the valedictorian while also excelling in athletics. As captain of the cross country team and co-captain of the baseball team, Alex set a positive example for his fellow teammates and helped lead the teams to victory through his hard work and initiative. Outside of school, the sky was the limit for Alex and his love of adventure. He began pursuing other sports as well including surfing, skiing, rock climbing, mountaineering, and scuba diving, to name a few. He even dabbled with piano at one point. There has not been one opportunity passed up by this RMA alumni.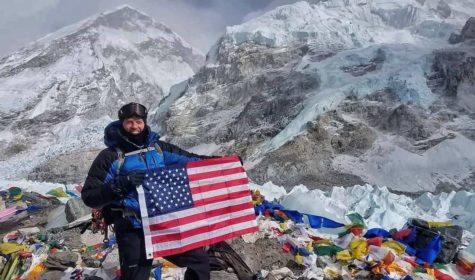 This adventurous spirit has only grown with Alex's career as a Foreign Service Officer. Diplomacy allows him to serve our country in a unique way as he seeks to protect U.S. interests abroad. His outgoing personality is a perfect fit for this job as it causes him to move to a new country every few years for a new assignment at that particular American Embassy. Becoming emersed in the culture of each new country, Alex's expertise working in this field has exposed him to many different ways of life and experiences, broadening his horizons in a way very few get to encounter.  
On his time off, the adventure doesn't stop. Alex has visited over one hundred countries through both his work and his own travel experiences. His most recent venture took him to Nepal where he hiked to the Mount Everest base camp, which is the favorite so far in a long list of travels.
Alex Gould is an excellent example of how far your RMA roots can take you in life, no matter where you are in the world. Who knows, maybe you'll end up a diplomat in a foreign country one day all because you loved Mr. Stone's AP Government and Politics class. For those of you have are getting ready to graduate or have already graduated, know that you will always have a home to come back to at RMA.
Find out more about Alex below:
What is your favorite memory of RMA?

Who was your favorite teacher?

My favorite memory from RMA would have to be of my classmates and teachers who, together, comprised such a wonderful community. I had many outstanding teachers, but one of the best was English teacher Donna Dawson, a veritable institution at RMA for many years who taught countless students how to write.

What advice would you give high school students?

Keep an open, curious mind and follow it wherever it takes you. Life is unpredictable and will take you in directions you don't expect. Most college students change their majors — I certainly did. The best course of preparation is to educate yourself broadly and never stop learning.

Could you describe any adventures or trips you have taken?

 I'm really lucky to have a career — as an American diplomat (or Foreign Service Officer) — that is itself an adventure.  Every 2 or 3 years, I move to a brand new country, where I work at the American Embassy in that country to protect U.S. interests, help American citizens who are in trouble, and promote business and investment which creates American jobs. Before moving, I get to learn each country's language, I study its culture, and then I arrive and start making new friends. It's a fantastic career that is worth considering if you like travel, adventure, challenge, and serving your country.

What is your favorite place that you have visited?

I've now been to almost 100 countries, so it's hard to say, but I just got back from trekking to Mount Everest base camp in Nepal, which was pretty cool!

What is one thing most people don't know about you?

My eyes change color depending on what I wear.

What is your current career?

I'm a U.S. diplomat (a Foreign Service Officer)

What are some of your hobbies and interests?

 Travel, languages, running, trekking, the outdoor sports I mentioned above, salsa dancing, and good food

Where do you see yourself in ten years?

 I hope to continue serving my country overseas, ideally one day becoming an Ambassador.

What is your favorite quote?

"Go confidently in the direction of your dreams — live the life you've imagined." – Thoreau

Is there anything else that you would like to add?

Go Eagles! 🙂