About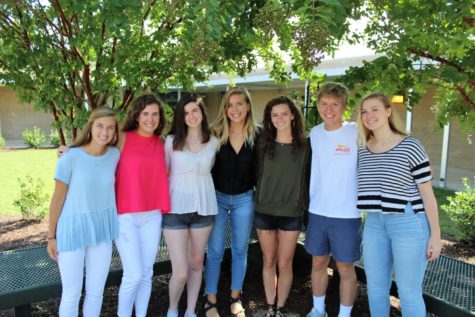 This school year, 2018-2019, will be the fifth year that the Rocky Mount Academy Social Media Office has been operating. This class is responsible for daily social media updates via Instagram and Twitter, weekly editions of the school newspaper, and a promotional video to be released at the conclusion of the school year.
Keeping up to date in the digital realm, all of the Rocky Mount Academy social networking accounts are controlled and monitored by Media Office students. Through Instagram and Twitter, the Media Office aims to keep students informed and up to date on all aspects of life at Rocky Mount Academy. We believe that social media has the ability to connect us as a student body and enables us to become a closer-knit community, therefore making it a priority. Also, three years ago the Media Office created and submitted the first Snapchat Geofilter to be published in the Rocky Mount area. This Geofilter that can be used on any part of campus was received with great excitement by students and guests alike!
In addition to posts and tweets, the Media Office will be releasing weekly editions to our online school newspaper, the Eagle Examiner. Scheduled to be updated every Monday afternoon, the newspaper will cover at least one story from the following categories each week: student life, news, and opinion. With a focus on keeping the student body informed in between yearbooks, the Eagle Examiner's chief objective is to be run for the students, by the students.
The final Media Office responsibility is to plan, film, and edit a promotional video for the school. This will be a year-long project for the program as we collect footage during trimesters one and two and begin work editing in the spring. Once it is completed, the video will be used by the Rocky Mount Academy admissions and marketing teams. The 2014-2015 Media Office chose to make a video about Rocky Mount Academy as a whole and 2015-2016 group made a video highlighting athletics. RMA: One School One Community RMA Athletics Promo 2016. Last year's promotional video highlighted student life. This year's promotional video will be centered on RMA traditions.
Advised by our Director of Development Mrs. Bryant and Director of Admissions Mrs. Gross, the Media Office staff consists of five seniors and two sophmores. Social Media Chair Haven Ross, will primarily run our social networking accounts and Caroline Gay, our videotographer and photographer will handle photography. Haven Ross will also be the link between the media office staff and the rest of the school, managing the Eagle Examiner email account. For the newspaper, Editor-in-Chief Ann Sumner Thorp, and Co-Editor, Georgia Morris, will oversee article assignments and their editing and publication. Rounding out our staff is Treasurer Virginia Wooten, who will handle the day to day management of the program and fundraisers. This year we are welcoming a new intern position in the Media Office. Emory and Jack Pittman are responsible for writing an article each trimester as well as helping with the promotional video, so next year they are prepared for officer positions. Next spring we will release applications for rising juniors who are interested in joining our staff.