Alumni Update: Barrett Eidson
This week's Alumni Update focuses on a very recent and impressive RMA graduate–Barrett Eidson. She graduated just last year and left us for the University of North Carolina Asheville, where she plays D1 soccer. As someone who played with Barrett for three years, five seasons, and on two different teams, I can attest to her skill and confidence on the field. She was named All-Conference all four years of her high school career. Recently starting my first high school season without Barrett as my captain has been a strange experience. I've stepped into her cleats as captain alongside her former co-captain, Haley McCall, and it is definitely a challenge to rise to the level of leadership that Barrett displayed. Now a Bulldog, Barrett dazzles in the mid-field as number four. She has scored two goals so far in her collegiate career and has played a total of nine hundred and ninety-nine minutes. No one is surprised to see Barrett flourish at the next level of soccer, and we are all rooting for her in the games and seasons to come!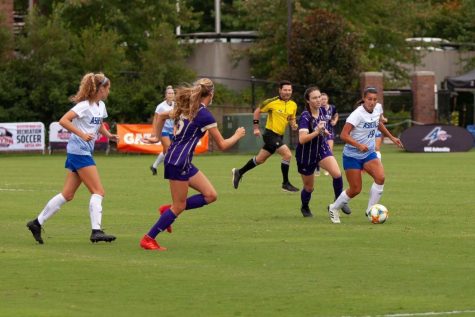 1) Why do you love soccer?
I love soccer because of the feelings that come with playing. For example, I love the feeling of scoring a goal, making a tackle, or watching one of my teammates make a good play. I also love soccer because of the friends that it has brought me.
2) What is your favorite soccer memory?
My favorite soccer memory so far is when I scored a one-touch goal off of a corner kick to put us ahead in the second half during a game against Charleston Southern this past season.  
3) How is college soccer different from past teams?
College soccer is definitely faster paced and a lot more physical. I used to be able to get away with only really using my speed, but now I'm having to learn how to use my speed in addition to playing physical, because everyone is fast in college.
4) What advice do you have for younger kids looking to follow in your footsteps? 
There is a school for everyone who wants to play college soccer, and the labels Division 1, Division 2, and Division 3 do not matter. If you want to play, you have to work harder than you've ever worked in your whole life and always try to improve your game. Reach out to coaches, don't wait for the coaches to reach out to you.
5) When and why did you know that college soccer was what you wanted to pursue?
I knew I wanted to play college soccer in tenth grade, and toward the end of tenth grade is when I started talking to coaches. I wanted to play in college because I love the sport so much that I couldn't imagine my life without it, and if I could continue playing, then I wanted to take advantage of that opportunity. 
6) Do you plan to take your career even further and play professionally? Why or why not? 
I'm not planning on trying to play professionally because as of right now, I want to pursue a career in physical therapy. However, I don't want soccer to be out of my life completely. Also, I think that after college I wouldn't want to play in such an intense environment and would rather have time for something besides soccer.