Ham and Cheese Puff Pastries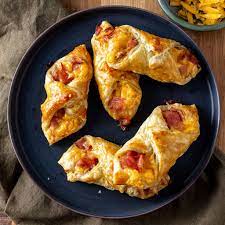 This past week, the Foreign Language Department put on Rocky Mount Academy's annual International Lunch under the direction of Ms. O'Brien and Mrs. Forero! This is an opportunity for students in the French and Spanish classes to make and bring in dishes from other countries for all of Upper School to try. From the charcuterie board prepared by the French 4 class to dishes such as kous kous to desserts such as Ms. O'Brien's popular crepe station, there was a large variety for students and teachers to taste. This is always a fun lunch, but was especially exciting this year because it is the first year we have been able to have the lunch since before COVID-19. For my contribution to the lunch, I chose to make French ham and cheese puff pastries with my friend and classmate, Mary Kimbrell Livermon. They turned out to be delicious and were easy and fun to make. Below is the puff pastry recipe; enjoy!
Ingredients: ham, sour cream, cheese, egg yolk, puff pastry dough
Directions:
Spread the puff pastry dough on a previously buttered baking sheet.
Arrange the two slices of ham on one half of the dough. Spread two tablespoons of sour cream on the ham and place two slices of cheese on top. Close the puff pastry by folding the second half over the first. Brush the dough with egg yolk.

Bake in the oven

at 350 degrees for 15/20 mins. 
Thank you to Ms. O'Brien and Mrs. Forero for coordinating the event and to all the students who brought something in to share! It is safe to say that we had a very successful lunch and are glad that this fun day is back after a break during the pandemic!