Dear RMA
Hang on for a minute...we're trying to find some more stories you might like.
Dear RMA,
Where do I begin? When I started here in sixth grade, although I was full of curiosity and more than excited to learn, I was painfully shy and incredibly nervous about not only changing schools, but making the move from elementary school to middle school and becoming a "big kid." The idea of going to school where I knew not a soul all while trying to manage changing classes every forty-five minutes was overwhelming for eleven-year-old me. But, it didn't take long for me to realize that my worries were for nothing.
In the past seven years here, I have what many people have considered "blossomed." I like to use this term because not only does it imply that I have grown, but it implies that I have affected those around me as I have grown, much like a flower affects the garden around it. I am forever grateful to all of the teacher's I've had throughout all thirteen of my school years and I feel so thankful that they have always encouraged me to be the best person that I can.  I could write pages among pages about my gratitude, but unfortunately I just don't have the time. But, just as I introduced everyone in Media Office at the beginning of the year (click here to read the article), I feel like it is only fair that I giving a concluding statement about everyone too. To get an even better idea of what not just the Media Office, but RMA, has meant to me, please see the letters below: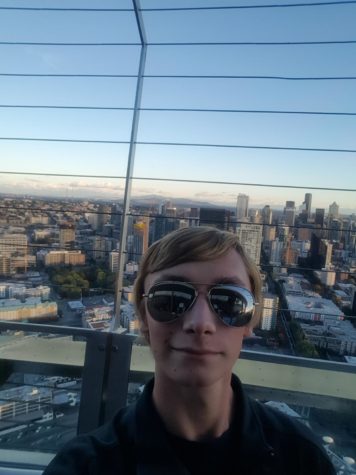 "Lock up your libraries if you'd like; but there is no gate, no lock, no bolt that you can set upon the freedom of my mind" – Virginia Woolf
Dear Elias,
I think that now would be a good time to admit that your articles about anything science, space, or building related, I had absolutely no idea what you were talking about. Mostly, in those cases, I just checked for grammar and that everything was in order. Now, don't think I say this in a negative way because, in fact, it's actually the opposite. While I've always known how smart you are, I think that these articles have just proven the immense intelligence you have. But, not only are you smart, you're incredibly reliable, funny, and kind. Whether it be in Media Office, doing a group project with you, or having a question about my car, I've never had to worry about anything because I've always known that you have my back. Your sense of humor is another part of your personality that gets overlooked too often. From screaming in our Media Office video to moving the Mask to Ms. Gross' desk to sticking your foot out of my car window in the school parking lot, I'm not sure what the senior class would do without your antics. Most importantly, I see your everyday interactions with people at school and I can honestly say you are one of the nicest people I've ever met in my entire life. I don't even think it's fair to say you have a heart of gold, as the kindness you exhibit far exceeds that, but rather a heart of rhodium, the most rare and precious kind of metal there is. Although I am sad you are going so far away for college next year at Emery Riddle in Florida, I'm excited for you and I hope you visit often. Thank you not only for being one of the first friends I made here at RMA, but also one of the best  friends I've made.
Sincerely,
Holly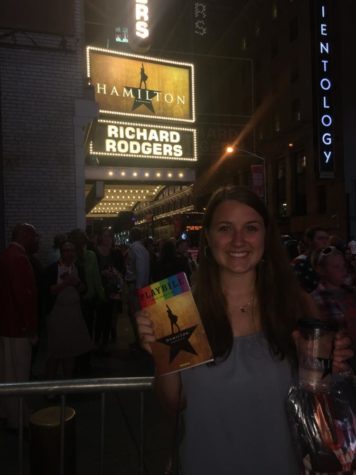 "As we let our light shine, we unconsciously give people permission to do the same" – Marianne Williamson
Dear Lauren,
Before I even was formally introduced to you in ninth grade, I knew we were destined to be friends. My first impression of you encompassed all things needed for an everlasting friendship between two teenage girls: humor, intelligence, compassion, and a mutual appreciation for Dr. Who. French was where we first hit it off, dubbing each other "French buddies" and I can safely say that since then our friendship has only grown. It was my honor to be your disciple in Godspell where you played Jesus, I thoroughly enjoyed having you as my fellow five-year-old in You're a Good Man, Charlie Brown!, and I will always, always be the Frenchy to your Sandy just as I was in Grease. You're one of the brightest lights in not just our senior class, but also the whole school, as you help others move toward the light that is knowledge, truth, and kindness. Sometimes I'm not really sure you see the impact you have on everyone. You're not just a good role for the younger students, but also your peers which is an extremely hard role to fill. I can say for sure you've made my high school career even brighter and I don't know what I'd do without you. Although I know that you're destined to be a Tarheel and I'm destined to be Wolf, I hope that this fact only comes between us during sporting events, but based on our history I'm not even sure that will be much of a deterrent. As you make that move to Chapel Hill to excel, succeed and just overall dominate at whatever you do, I hope that you don't forget your French Buddy is just a couple of minutes away at State. Sandy and Frenchy were never separated very long during the play and I hope that fact remains the same for Lauren and Holly.
Sincerely,
Holly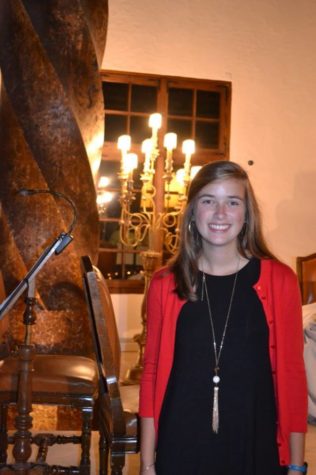 "We need women who are so strong they can be gentle, so educated they can be humble, so fierce they can be compassionate, so passionate they can be rational, and so disciplined they can be free" – Kavita Ramdas
Dear Ann Sumner,
Oh Ann Sumner, what am I going to do without you? From the first time I met you in seventh grade when we did Battle of the Books to just this year when you've been one of my Co-Editor's, I seriously do not know how I would have survived my school career without you. You are one of the most organized people to ever walk the planet and the grace you exhibit along with this gift surpasses anything I've ever seen. More notable than that is the gentleness of your soul. Every day you bring a smile and good vibes to not just the Media Office, but all those you come in contact with. I can honestly say that when I see you bopping down the hall every morning, every person you greet holds their head a little higher after receiving your warm, "Hi, good morning!" One of the most fun things about getting to know you is that I learn new things every day! Take for instance the talent you have with the violin. While I always knew you could play and I did not doubt your abilities for one minute, it was not until I actually heard you play that I realized the awesome gift you have. In some ways, I think you resemble your violin.. Like your violin, everyone around you may appreciate your beauty and grace, but it's not until they get to know you and the "music" of your sweet spirit that they truly appreciate you. You're an old soul and, truthfully, one of the best friends I have. Proverbs 27:9 says that "Oil and incense bring joy to the heart, and the sweetness of a friend is better than self-counsel," and I can honestly say, Ann Sumner, that the sweetness you have has not only been a blessing to me, but this entire school. Please, please, please come visit me at NC State next year any time you would like to be an honorary member of the Wolfpack.
Sincerely,
Holly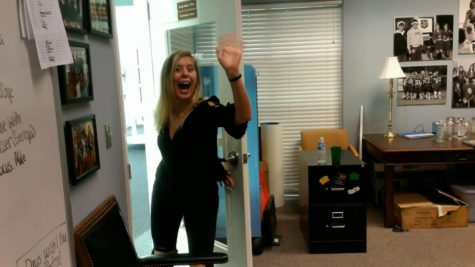 "Nothing can dim the light that shines from within" – Maya Angelo
Dear Virginia,
Now we are at the part of the article that I feel like a fair number of people have been waiting for: my commentary on Ms. Virginia Wooten. Let me just preface this paragraph you by saying that I think the world would greatly benefit if there were more Virginia Wooten's. I'm not even sure I've ever met a person as genuinely bubbly, cheerful, and spunky as you are. Every day when you walk into Media Office I know that my day, and everyone else's around me, will be made a little brighter due to your influence. Whether it's your infectious smile and laugh or your motherly reassurance that, really, everything will be okay, not just the Media Office but the school, itself would suffer without your influence. From laughing about the Mask to being the best Pam Beasley that this school has ever seen, the light that emits from within you cannot be contained or even dimmed. You treat every day as it should be treated, as a gift that should be celebrated rather than a burden that must be endured. I've always been a North Carolinian girl, and proud of it, but I'm starting to warm up to the idea of having two more favorite states, one of them being Virginia and you being the reason for that. It's funny too, that you would be named after a state considering your affinity for travelling. I totally expect one day opening National Geographic or some other magazine and seeing your incredible photographs and commentary on each. You're just one of those people, Virginia, that not only gets stuff done, but gets it done with some style, grace, and a little flare. The world needs more of that too, so please don't ever stop being anyone other than your wonderful, extraordinary, iridescent self. You'll go far in life, I know it.
Sincerely,
Holly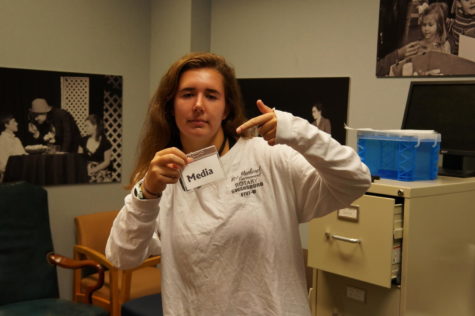 "Some women fear the fire, some simply become it" – R.H Sin
Dear Haven,
The Media Office would not be complete without Haven-the-Boss Ross. Haven, let me just say firsthand that the laughter you have brought the Media Office alone should speak volumes for the happy and hilarious personality you have. The days where you and I bonded, i.e. the days when it was only the two of us in Media Office, are honestly some of my most cherished memories. From discussing the trials and tears of having much younger siblings to laughing over musical lyrics, I don't think I'd trade those memories for anything. You have such an energetic and creative spirit and I was so fortunate to get to see that shine through during the play. The many freak outs when had offstage right before curtain was called is another one of my favorite memories, although it was pretty nerve-racking at the time! But, what I think one of the most impressive aspects you have, aside from your incredibly personality, is the gift you have for writing. Every article of yours I've ever read has not only flowed, but truly captured the essence of whatever you were talking about. I think you could've written about paint drying and someone still made it interesting. Although you have a normally laid-back and cheerful demeanor, you're also incredibly fierce and loyal, two traits that I myself admired. You're not afraid to speak your mind or do what's right, even if you're the only one doing it. In fact, you've basically got motherly leadership stamped across your forehead, as exhibited by the caring, protective, and encouraging attitude you not only give to your sister, but everyone in Media Office. Even though I'm excited for college and truthfully can't wait, I'll truly miss the safe "haven" that you helped create for me in Media Office this year. You'll always be my favorite Ross (sorry Lindsay and Charlotte!) and, making a nod at your loves for puns, the one used in the previous sentence was greatly, greatly intended.
Sincerely,
Holly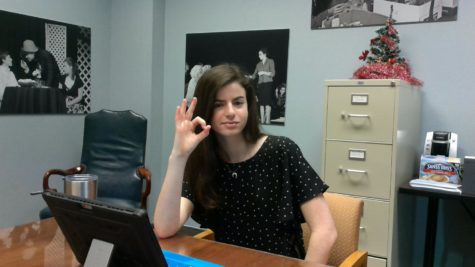 "The question isn't who is going to let me; it's who is going to stop me?" – Ayn Rand
Dear Georgia,
There is no better person to round off the members of the Media Office other than our very own Georgia Morris. While it may have taken me months to stop calling you Georgia "Morrison" (insert face palm here), I can say that, without a doubt, that I remember your name now and always will. How often will you get to say that you were on the school newspaper with the future Marie Currie or Elizabeth Blackwell or Dorothy Vaughn or whatever amazing thing you do in the future? While I knew we were destined to be friends from the first day in Media Office, I must admit that it was when you wrote your article on memes that I truly realized how hysterical and beautifully unique your personality is. You quickly got dubbed the "Queen of the Memes," but I also think that your article on Tide Pods was almost if not just as good, so I guess the debate is now whether you should be known as "Queen of the Memes" or "The Lady of Laundry Detergent." Moving onto a slightly more serious note, I have been so blessed to get to know you and see your writing and leadership skills grow over the year. You're a natural born leader and, whether you realize it or not, lead by example. People look up to you. You're honest, but not cruel in your honesty. You're confident, but not arrogant in your confidence. You're determined, but not so ambitious in your determinations that you forget to be kind. Even though North Carolina will always be my home, the idea of having two additional favorite states, Georgia being one of them, is quickly becoming evident and you're the reason why. I'm so excited to see what the future holds for you, because I know that, just like you, it won't be anything less  than extraordinary.
Sincerely,
Holly
"The whole purpose of education is to turn mirrors into windows" – Sydney J. Harris
Dear Mrs. Gross and Mrs. Bryant,
Words cannot expresses how grateful not only I am to you, but all seven members of the Media Office are. Not only have you been shining examples to us in the field of journalism, but also in life. Everything you do for us has truly been appreciate and I could not have asked for a better two advisors. From bringing us treats to putting up with our nonsense about the Mask, you both have been nothing but patient and kind with all of us. Although we don't nearly say it enough, we are all so, so, so thankful for you.
Sincerely,
Holly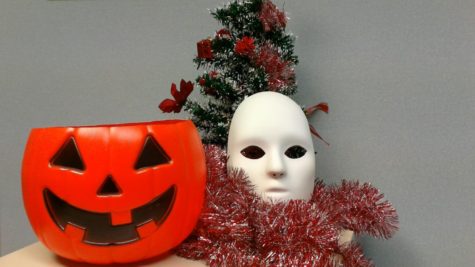 "Who you gonna call? Ghostbusters!"
The Mask-
So…It's come to my attention that the person moving you was actually Elias, but I'm still not convinced you're not evil. The Media Office is haunted and I'm almost certain you're the reason why. I mean, the theme of prom this year was literally masquerade, so I'm starting to think you're getting in people's heads. That's not cool. In fact, it's downright rude. Guess I'm going to have to come visit more to make sure you stay in line. Nobody messes with my Media Office.
I'm watching you,
Holly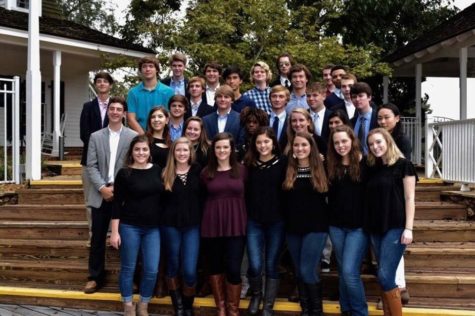 "Goodbyes are not forever. Goodbyes are not the end. They simply mean I'll miss you until we meet again."
 Dear The Senior Class of 2018,
Thank you. Thank you for not only making my senior year amazing, but all seven of my years at RMA. I have made some of the dearest friends, overheard some of the most bizarre conversations, and laughed at some of the most ridiculous things and it's all thanks to you. I will honestly miss each and every one of you next year, but I look forward to seeing what the future holds for you. Just remember, I believe completely and without a doubt in every single one of you, even if you don't believe in yourself. I know you can do it. I know it. There's a reason I make sure I have everyone in the class sign my yearbook and that's because I'm convinced one day at least a few of you will be famous. Well, that and the fact I'm going to miss you. Although I've already used the phrase too many times in this paragraph, I'm going to say it one more time, from the bottom of my heart: thank you.
Sincerely,
Holly
Unfortunately, this is my last post of the Eagle Examiner. While this fact is sad, it's also exciting. I'm thrilled to see where life will take me next but, please remember that no matter how tall I grow, I'll always remember where my roots are planted. It has been not only my honor, but my pleasure, to be your Editor-in-Chief for the 2017-2018 school year.
With love,
Holly Brantley