Senior Spotlight: Mary Vivian Cobb
This week's senior spotlight focuses on Mary Vivian Cobb, who has grown up in the halls on RMA, as a "lifer." When asked to describe herself using three characteristics, she mentioned the words confident, social, and funny. While these are true, I would also describe her with the words uplifting and empathetic. After having the pleasure of getting to know Mary Vivian for many years, something that stands out to me the most is how strongly she cares for others. By truly listening to people, being honest, and showing compassion, Mary Vivian fully exhibits the qualities of a good friend. Her close friend Lorna Eidson sings her praises, saying, "Mary Vivian is the most confident and honest person I have ever met. If she doesn't like something, she will definitely let you know. We met the summer before 8th grade and have been best friends ever since. She is the type of person that has dropped whatever she is doing to be there for me, whether that meant bringing me candy from Dollar General, or a therapeutic car ride screaming all of the words to the Pitch Perfect soundtrack. She is someone I definitely look up to and I am really proud of her."
Mentioned before, her confidence and belief in herself is very admirable. However, not only does she have confidence in herself, but she projects it onto others as well, by uplifting and making sure that people see the positives in themselves. Her friend Lindsay Boyette supports this by referring to Mary Vivian as her "personal hype woman." 
Being one of few people that has gone to RMA since Pre-K, Mary Vivian shows her dedication to the school in many ways. She is easy to find on Friday nights as she is sure to be at the football games, dressing in elaborate outfits related to the themes and making sure to get the student section rowdy. She has also taken her talent of photography a step further by photographing games, pep rallies, and other fun school events. We all appreciate her awesome pictures!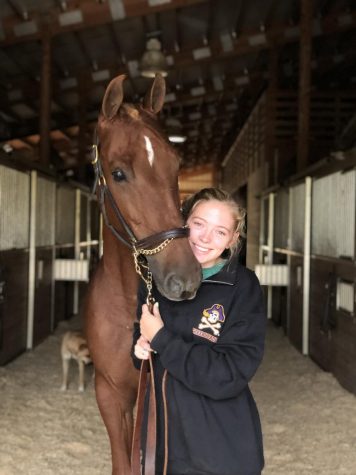 Mary Vivian challenges herself in courses such as Marine Biology, Advanced English 12, Algebra 3 Trigonometry, Ceramics 3, and AP Environmental. Along with these courses, she is a member of the Fellowship of Christian Athletes and the Photography Club. However, Mary Vivian devotes most of her time to competitively riding horses. From beginning to ride at the age of 6, riding has proved to be an integral part of her life. Going to the barn almost every day in the summer and about four days during the school-year, Mary Vivian is a dedicated competitor. She has found that her time spent training, competing, and working at the barn has taught her valuable life lessons as well. While this alone is an accomplishment, she also has numerous ribbons to prove her exceptional talent. 
While there is much more to say about Mary Vivian, her good friend Ari Henderson states,"Mary Vivian is my true partner in crime–my confidant I can tell anything to. I trust her with my whole heart and I am inspired by her all the time. She's patient and kind and just an all around good soul. She's creative and quirky and always matches my crazy energy, and is ALWAYS down to get up and do something. She never sits still (in the best way possible), and has the best sense of humor and is able to handle herself in any situation. Mary Vivian is articulate and always calm and collected. She's easy to get along with, and is always willing to help. I absolutely LOVE her and I know she's gonna go on to do great things!!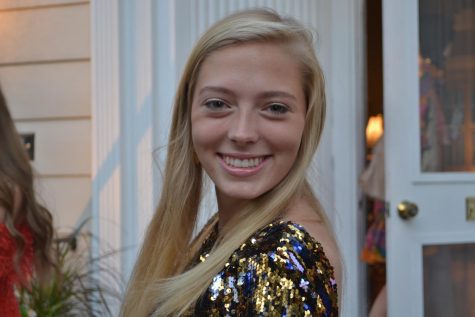 Mary Vivian is applying to UNCW, ECU, and NC State, and hopes to attend ECU next fall. However, wherever she attends, I have no doubt that she will make herself at home. The senior class has been made so much better by Mary Vivian and we all wish her the best for her future!
Get to know Mary Vivian!
What is your favorite movie? 
      Talladega Nights 
Favorite quote?
      "You can go there but you can't stay there" – Dr. O'Brien
If you were trapped on a deserted island what would you bring and why?
      I would bring my dog, Layla, as a companion, all of my shoes so I can wear a different pair of shoes each day, and Lucky Charms 
Favorite class and why?
      Ceramics, because it is so relaxing and a nice break from the busy school day 
What will you miss about RMA?
      How helpful and personable all the teachers are 
What is your favorite memory at RMA?
      When a kid hit the door by Mrs. Hunter's room and shattered the whole door 
What do you enjoy doing outside of school? 
     I enjoy hanging out with my friends, going to my lake house, working out, and spending time at the barn