New York Recap
Hang on for a minute...we're trying to find some more stories you might like.
Let's hear it for New York, New York, New York! Our senior class trip to the big city this past week was hands-down our best trip yet. There were so many memories made, things we saw, things we did, and places we went that I honestly don't even know where to begin. At 11:00pm on Monday night, our fun senior class hopped onto a crowded bus for an exciting adventure ahead. As soon as we could eagerly see the sun start to rise and shine bright in our eyes, the outline of beautiful Manhattan in the distance only became closer and closer. Talk about an excited group of seniors–as we kept driving, we couldn't go without playing our favorite songs dedicated to New York City! We sang along, we laughed, we smiled, and we anticipated just how great our journey in that big city would be.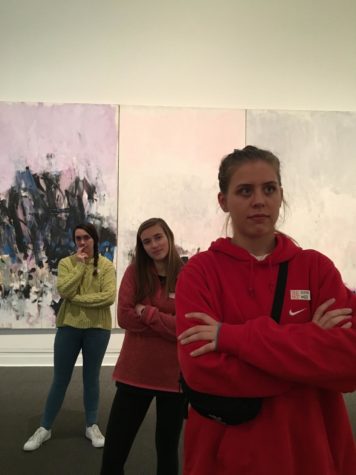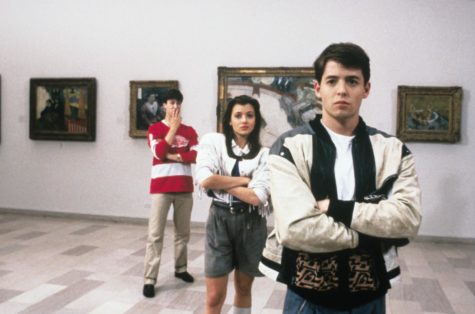 On the first day, we explored all that Fifth Avenue had to offer, visited the breathtaking Metropolitan Museum of Art, and went to our first Broadway show, The Band's Visit!
It was an outstanding play, but because we were all so tired from the full day, some of us might have dozed off during the play! However, the talented and artistic Macie Barnes was on the edge of her seat! Fascinated by the performance, she decided to buy her very own CD with music from the play.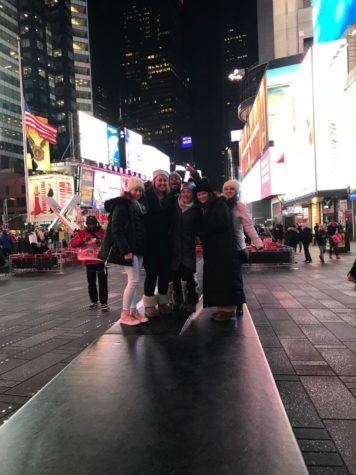 Later that night, we roamed around Times Square in smaller groups, taking in all of the lights, the signs, the huge buildings, and the shops that were calling our names. Sadie Blackshear unfortunately lost her debit card in Times Square, and as she frantically panicked, she was lucky enough to find it 3o minutes later in the exact same spot she left it on the ground.
After the best night's sleep we had all ever had that night, we woke up the next morning and walked down to attend the NBC Today Show, awaiting our spotlight on national tv with lots of fun signs that our parents could see back home! Jack Boucher's unique idea helped him land the first promposal of the year, and it was broadcasted on national tv!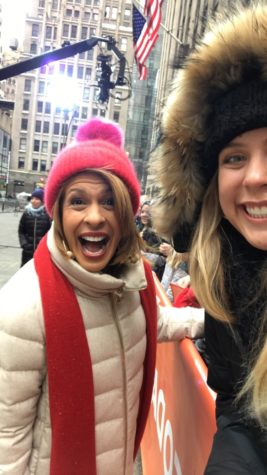 His clever sign read, "I need help…Prom?" as he held it up above Ann Sumner Thorp's head. Shortly after, we took a tour of NBC Studios and even got to see the studios where Saturday Night Live and The Tonight Show with Jimmy Fallon are broadcasted! The Top of The Rock at the Rockefeller Center was definitely one of many favorite memories from our trip. As soon as all 41 of us walked out to see New York City from 66 floors up, it started to snow!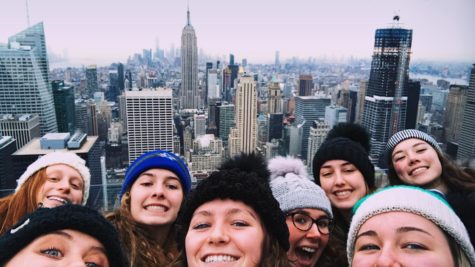 We then traveled to Grand Central Terminal to eat a tasty lunch and experience what crowdedness actually is. We saw another Broadway show, King Kong. Again, most of us couldn't help but slump for parts of the play, but I guarantee if you ask any of the seniors, they will admit to waking up scared to death of the big gorilla roaring and sending echoes through the entire theatre! To open your eyes to a giant gorilla stomping on the ground, running towards you, and roaring with all of his might, is not the best feeling…but it was a great play! After the show, we all cleaned up and headed to the famous Carmine's Italian restaurant for dinner. Most of the senior boys are known for not wasting any food, but I think they swallowed their pride once we started eating and couldn't finish any of the ginormous entrees, or the dessert called "Titanic" for that matter.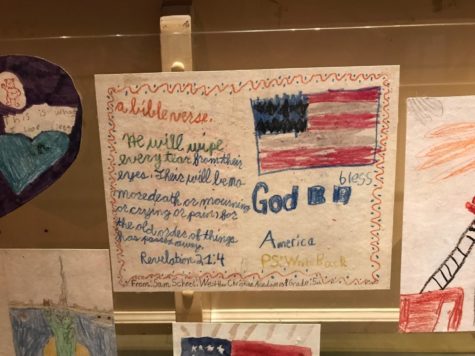 On our last day in New York, we took the subway early in the morning to visit the Ground Zero and 9/11 Memorial and Museum. There was no way we could have seen everything in the museum, but the things that we did see surely touched our hearts and made us more knowledgeable. The picture to the left shows one of the many cards that children made in honor of police officers, firefighters, and all of those who helped to try to rescue our great country from the horrific event that took place on September 11, 2001. We all felt very humble after experiencing the 9/11 Memorial and Museum. Later, we were dropped off to take pictures at a distance with the Statue of Liberty in the background! Ecstatic about Chinatown, all of us were crazily running around, rushing to get back on the bus.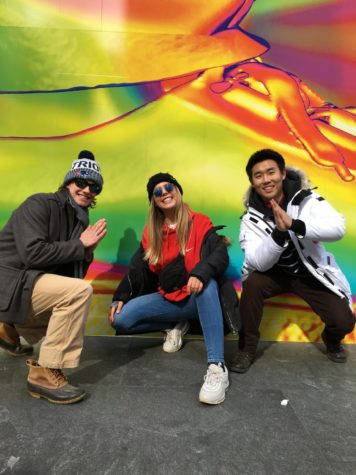 Charlie Miller finally said, "Girl, New York ain't going nowhere!", creating a wave of undeniable laughter! Once in Chinatown, Ansen Gong used his skills to bargain for some of the seniors by communicating in Chinese with a woman for a Gucci belt! Jacob Gutshall decided to buy all Gucci everything, ringing in a duffel bag, bookbag, a hat, sunglasses, and a belt! My small group wanted to take the subway back to our hotel near Times Square, so we jumped on the subway, and accidentally ended up in Brooklyn! What can I say, we're all just a bunch of Rocky Mount kids trying to take on the big city. We were all liable to make some mistake at some point.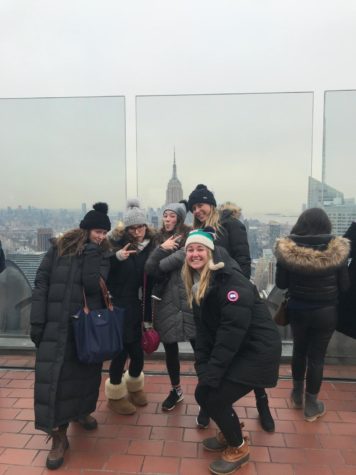 Our final destination before heading home was to a fun ice hockey game between the New Jersey Devils and Ottawa! Don't even get me started about Nathan Varnell and some ice hockey…but more than that, ice hockey between an American team and a Canadian team! Overall, it was an amusing game, and we all got our crazy energy out before hopping on the bus one last time!
Thank you to all the chaperones for this trip, including Ms. Covolo, Mr. Tucker, and Mrs. Andracchio. You all made this trip all the more worth the while! Thank you for dealing with our crazy senior class!