Senior Spotlight: Kayla Miller
Hang on for a minute...we're trying to find some more stories you might like.
This week's senior spotlight is on one of a kind, Kayla Miller! With fiery hair and a personality to match, Kayla is truly an outstanding member of the senior class. In her three years at RMA, she has made a name for herself. She is known for always having a quick joke or pun for any situation and being one of the hardest working people you will ever meet. One of her best friends, Haven Ross says, "Kayla Miller is truly a one of a kind girl. Her energy and humor come out at the best times, and she can always make you laugh with sarcasm (and occasionally a ditsy moment)! She is a fish in the pool and a wise owl in the classroom, and she is also one of my best friends. I hope Utah knows that they are welcoming an amazing girl to their campus next fall."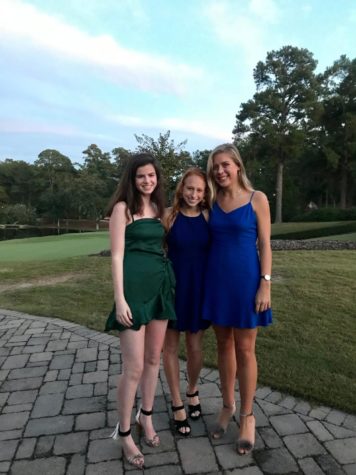 In her time at RMA, Kayla has done more than excel in the classroom. She has kept a challenging course load of all honors and AP courses, including AP European History, AP Biology, AP US History, AP Government, AP Statistics, AP English, and more! All of her hard work has earned Kayla awards like excellence in Public Speaking, Spanish 3, Algebra 2, and Pre-Calculus. Unlike many students, Kayla is not afraid to ask questions. This is one of the many reasons that teachers love having Kayla in the classroom. Kayla's leadership also shines outside of the classroom in clubs. She is a member of the National Honor Society, Key Club, and Care Club, which shows her dedication to service and doing good for others!
Something that Kayla is undoubtedly known for is her talent in the pool. Kayla has been swimming for the majority of her life, and it has become one of her main passions. Since she has been at RMA, she has been a two-time state champion in the 100 free and two-time state champion runner-up in the 50 free. Earlier in the school year, she was awarded the Extra Effort Award from WRAL for all of her accomplishments in and out of the pool! Perhaps the most exciting accomplishment of Kayla's though is her commitment to the University of Utah's swimming and diving team! The senior class and all of RMA could not be more proud of Kayla and all that she has accomplished. We hope Utah treats her well!
If she's not in the classroom or in the pool, there are two places that Kayla would like to be: the mountains or the beach. Kayla loves to ski, which she will hopefully be able to enjoy while she is in Utah. Otherwise, Kayla could spend all of her time at the beach and be happy. Surfing is one of Kayla's favorite hobbies, and she is truly a beach girl at heart.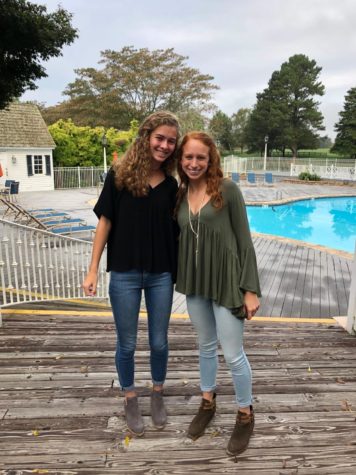 I am lucky to say that Kayla has been one of my best friends since pre-school, and I truly don't know what I would do without her. She is one of the funniest, most determined, and most genuine people I have ever met and will ever meet. She has made her mark on my life just like she has made her mark on RMA and everyone in it. When Charlie Miller found out that Kayla's spotlight was this week, he was ecstatic at the chance to give a quote about her, saying, "Kayla's last name is Miller, so I basically had to talk to her, but now, it's more like if she does not talk to me, I go home and cry. Trying to teach Kayla how to swim is something I've had the joy of doing for the past two years. I am very happy my amazing, redhead, half Jewish, padawan will be continuing her swim career in college. It's going be so sad to not make jokes with her and laugh at things that only the two of us get when she's all the way in Utah. Kayla is one of my closest friends and I love her more than there is water on this planet. Go Yutes!" Everyone knows that Kayla is going to do amazing things, and she will always have the support of RMA, even all the way in Utah!
To learn more about Kayla, please read below!
1. What is your favorite memory from RMA? 
My favorite memory from RMA was when our 200 freestyle relay placed second at states (Brianna Winham, Jillian Lavely, Clara Lord, and I were on that relay.).
2. What is your favorite class that you've taken in high school? 
Definitely Ceramics with Mrs. Hunter
3. What is one little-known-fact about you? 
I have never tried ketchup.
4. What is one thing you can't live without? 
Oxygen
5. If you were stranded on a deserted island, what three things would you bring with you? 
I would bring pasta, a boat, and a hair tie.
6. If you could only watch one show for the rest of your life, what would it be? 
Friends
7. What is your biggest pet peeve? 
Last Thursdayism
8. Where is your dream home? 
Somewhere warm and near the beach, maybe Southern California or Florida.
9. What made you choose Utah? 
I wanted to find a school that was a good fit for me both academically and athletically. Utah has a large variety of fields of study, which was important to me since I am undecided in my career choice. When I took my official visit the team instantly made me feel at home.
10. What advice do you have for underclassmen? 
Study a little bit every night, so when you have a test it won't be as stressful.