Miss Nancy: Gone but Not Forgotten
Hang on for a minute...we're trying to find some more stories you might like.
Known as "Miss Nancy", Nancy Bragg Dawson Rascoe was a remarkable woman who dedicated her whole heart to Southern hospitality and her faith. She was the true epitome of a classy Southern woman. This past week, sweet Miss Nancy of eighty-six years suddenly passed away in a car accident on November 22, 2018, Thanksgiving Day. Although Miss Nancy has left this world and gone to a better place, she has undoubtedly made her mark in this world and shall never be forgotten. She impacted so many lives, both young and old, for the greater good.


For an astounding twenty-five years, Miss Nancy Rascoe held summer etiquette camps for children across North Carolina, even some of Rocky Mount Academy's very own. In 1992, Miss Nancy and her husband, Peter, founded the 1812 on the Perquimans Bed & Breakfast Inn in Hertford, NC. The following year, they opened the summer manners camp in their quaint bed & breakfast inn.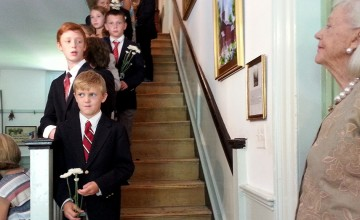 As a former camper of Miss Nancy's manners camp, I can honestly say that Miss Nancy was a woman of honor and integrity, but even more than that, she was a role model. Sophomore, Jack Pittman comments on Miss Nancy: "She taught me so much about manners and how to be respectful. Manners camp was a great experience for me where I met new people and learned many new things. She was an amazing person and left a great legacy."
Because the South holds its emphasis on kindness and graciousness towards others, our region is famously known for our hospitality. Miss Nancy believed in holding up this tradition and ensuring that it continued on for the future generations. She was all about Southern customs. So much so, if you attended her manners camp, then you experienced first-hand being taught the importance of being kind and considerate to everyone. In her camps, boys and girls learned how to set a table, write a thank you note, tennis etiquette, phone etiquette, properly fold towels, make up a bed, hold a fork, cut with a knife, entertain guests….and many more important tips. Holding dinner parties every night, the children learned the significance of etiquette at the dinner table. I can still to this day hear Miss Nancy saying, "Out to sea, back to harbor" when teaching us about how to properly eat soup. I also distinctly remember her making all of us campers memorize "The Old North State" toast:
Here's to the land of the longleaf pine,
The summer land where the sun doth shine,
Where the weak grow strong and the strong grow great,
Here's to "Down Home," the Old North State!

Here's to the land of the cotton bloom white,
Where the scuppernong perfumes the breeze at night,
Where the soft southern moss and jessamine mate,
'Neath the murmuring pines of the Old North State!

Here's to the land where the galax grows,
Where the rhododendron's rosette glows,
Where soars Mount Mitchell's summit great,
In the "Land of the Sky," in the Old North State!

Here's to the land where maidens are fair,
Where friends are true and cold hearts rare,
The near land, the dear land, whatever fate,
The blessed land, the best land, the Old North State!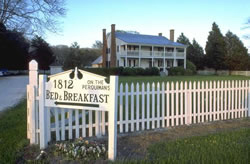 Miss Nancy has received many awards over the years for her exquisite participation and service in the community. This year, she was awarded The Order of the Long Leaf Pine by the Governor. From longleafpinesociety.org, "Among the most prestigious awards conferred by the Governor of North Carolina is The Order of the Long Leaf Pine. It is awarded to persons for exemplary service to the State of North Carolina and their communities that is above and beyond the call of duty and which has made a significant impact and strengthened North Carolina." Miss Nancy perfectly embodied this award, and she also embodied what a true Southern woman looks like. Miss Nancy will be dearly missed by all of the many people she impacted, but she will be admired and remembered forever.
Click on the link below to watch the 2008 documentary film, Miss Nancy Minds Their Manners:
https://www.youtube.com/watch?v=9scKCbWMKnE