Senior Spotlight: Ansen Gong
Hang on for a minute...we're trying to find some more stories you might like.
If you catch a glimpse of the red Supreme logo in the hallway, you have probably spotted Ansen Gong. Ansen joined the RMA family in the ninth grade when he came to America to spend his high school career, and we are so glad that he did! Ansen is originally from Beijing, China, but quickly and easily became at-home in Rocky Mount. Over the past four years, he has lived with different families while attending Rocky Mount Academy, and this year he is staying with the Covolo family! As someone who knows Ansen very well inside school and outside school, Ms. Covolo had this to say about him: "I had always known Ansen as the exceptional student he is. His self-discipline, focus, and work ethic are legendary. But, having him in our home this year has revealed another side of him that I did not know before. He is extremely artistic, and he is funny – and a great conversationalist. Dinnertime is a lot of fun with Ansen around. The Covolos are certainly going to miss him next year, but he will always be a part of our family."
Academics is where Ansen excels. He is one of the top in the senior class and has an SAT score that makes jaws drop (he only missed 2 questions, by the way). He has maintained a very intense workload since the ninth grade, taking a wide variety of honors and AP courses. Ansen can almost always be found in Mrs. Andracchio's room studying for a test, working on applications, or trying to decide which college is his number one pick that week. It will be very interesting and exciting to see where he finally chooses! Will it be Davidson or Duke? Dartmouth or Vassar? Georgetown or Boston College? Who knows!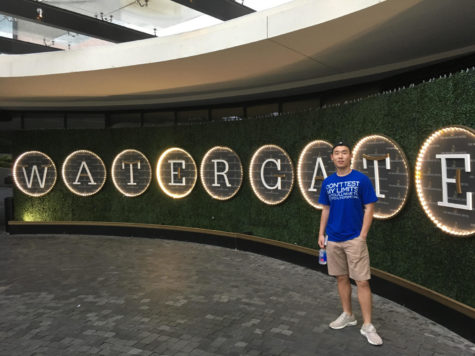 Although Ansen is well known for his performance in school, his hard work isn't limited to the classroom. He used to play basketball and is still a member of the varsity cross country team in the fall and the varsity track team in the spring. Ansen is also a coach for the middle school Mathcounts team and has a very influential hand in preparing students for competition. Overall, Ansen has a work ethic that doesn't disappoint and always provides results in whatever he sets his mind to.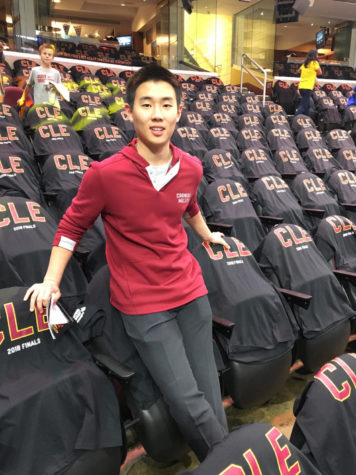 On top of being very successful, Ansen is just someone that you want to spend your time with. He is extremely funny and is sure to add a hilarious remark to any conversation. He can often be found with his group of friends, usually on the way to or from long lunch (which was most likely Bojangles, despite how much Ansen says he hates it). Chuck Roberson says, "I met Ansen this year when he fell asleep in my group's tent on senior night, and he is definitely one of my best friends already because of all of our Bojangles trips together. You can catch Ansen ordering a 3 piece dinner with dark meat and fries on top of unsweetened tea, so he doesn't get 'fat'." 
Like he quickly became friends with Chuck, Ansen quickly became part of the RMA family when he came here four years ago, and the school will not be the same without him next year. However, his hard work, vision, outgoing spirit, and lovable personality will take him extremely far no matter where he goes. RMA wishes the best of luck to you, Ansen, and thank you for becoming our family.
To learn more about Ansen, read below!
What is one thing that you cannot live without?
I cannot live without my Supreme Hoodies and MacBook.
What is your favorite memory from RMA?
My favorite memory from RMA is when the basketball coach played me for two seconds the first game after I came here in ninth grade.
If you could have any job in the world, what would it be?
POTUS…be realistic, as for now I really want to be a stay home dad even though I cannot deal with babies crying. But I would love to be someone who is involved in politics like a policy maker or an advisor in Think Tanks.
What is your favorite long lunch destination?
Anything but Bojangles.
Who is your biggest role model?
Francis Underwood in the House of Cards and Gordon Ramsey, no need for explanation.
What is your favorite movie?
Lala Land
What is your favorite quote?
"This is a tough hurricane — one of the wettest we've ever seen. From the standpoint of water, rarely have we had an experience like it." — Donald Trump
"In waking a tiger, use a long stick" — Mao
What is one little known fact about you?
I have traveled to 15 countries (Germany, Switzerland, France, Great Britain, Italy, Canada, Japan, Palau, Indonesia, Malaysia, Singapore, Russia, Canada, Australia, New Zealand). And Math is definitely not my favorite subject.
Where do you see yourself in 10 years?
I can see myself still being in school, or I will be working somewhere in DC because that is my favorite city on this planet.
What will you miss most about RMA?
I will miss everything at RMA, but specifically Marina Meffin sitting beside me and make sure I do nothing in Study Hall.