Senior Spotlight: Guy Deyton
Hang on for a minute...we're trying to find some more stories you might like.
With an easygoing and fun-loving nature, Guy Deyton has become a valued member of the 2018 graduating class. Guy became a part of the RMA family in sixth grade, and he has made his presence known ever since. He is always ready with a quick comeback or joke that gets those lucky enough to hear it laughing. Laughter is one of the things that makes life so enjoyable, and anyone who has had the pleasure of being friends with Guy has definitely gotten some of that joy from his presence.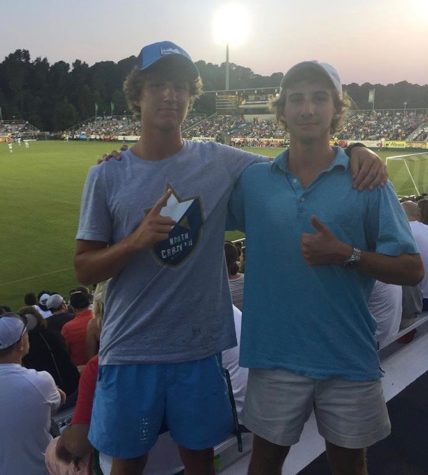 Aside from having a good sense of humor, Guy also possesses commendable work effort and determination. He has taken several challenging courses throughout his academic career, including AP European History, AP Biology, AP Economics, and AP Environmental. His hard work placed him on the honor roll! Not only does Guy excel in the classroom, but he also portrays his talents on the soccer field. Guy has played soccer for his whole career at RMA, and he earned the spot as captain for junior and senior year. Guy also serves his community through participation in several clubs and his church youth group; he even took a service trip to Costa Rica last summer! He also has been an active member of Youth and Government. His dedication to helping others helped him earn the highly esteemed honor of Eagle Scout with Boy Scouts of America.
Guy Deyton has become an integral part of this year's graduating class. The laughter brought to the hallways, the rigor brought to the classroom, and the skill brought to the soccer field will be dearly missed. In the words of Don Stancavish, "Guy, quite simply is The Guy! He is a diligent young man with a bright future. He just told me he won the lottery!" This fall, Guy is sure to incite laughter for new friends at UNCW!
To learn more about Guy Deyton, check out the interview below!
What is your best memory from RMA? Finally beating Parrot in soccer
If you could choose any prom theme, what would it be? The Wild Wild West
What is your favorite class? American Cultures
If you could be anywhere in the world right now, where would you be? The beach
Who is your hero? Batman
What is the funniest thing that has ever happened to you? Watching Thomas Newton at Thomas Griffin's birthday party
What is your favorite movie? Dazed and Confused
How would you survive the apocalypse? I would survive a zombie apocalypse by stealing a large boat and sailing around the world stealing food and supplies at different ports, then heading back out to sea.
What is a fun fact few people may know about you? I know more about sports than Jacob Gutschall
Who is your favorite coworker? Haven Ross