Faculty Focus: Mrs. Tempie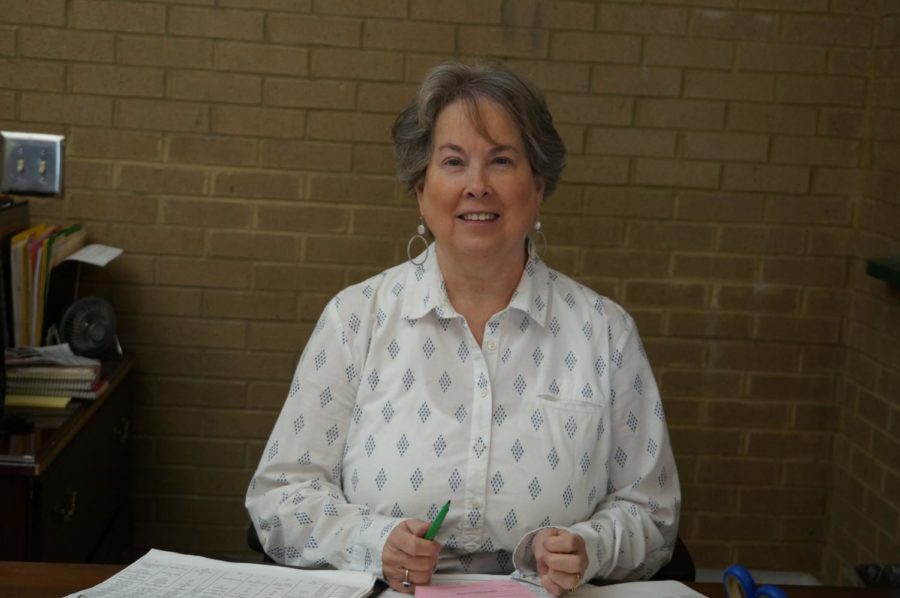 Virginia Wooten
January 26, 2018
Pulling up to the beautiful Rocky Mount Academy campus, anyone who isn't a student has to go inside and sign in with the one and only receptionist, Tempie Rowe! Tempie Rowe, or as many know her as Mrs. Tempie, is the receptionist for Rocky Mount Academy but does much more than just answer phone calls. Mrs. Tempie is the face of the school, the first person a visitor sees who always brings a smiles to someone's face and directs them to the right place in the school! Mrs. Tempie was born and raised in Edgecombe County. When asked to talk about her childhood Mrs. Tempie says, "We had a great childhood. We were poor but did not know it. There were 4 girls in my family and we lived on a dirt street. There were other families on our block who had 5 children and 4 children, so we had a lot of friends to play with all the time. Some of them we are still close to today. We only had one car. My father was a milkman and my mom did not work. When our street got paved, my father would block off our street and everybody would go roller skating on the street. We had a grand time. [We] played outside and stayed outside until dark, playing hide and seek with all the children on our block. So much fun!"
She attended Rocky Mount Senior High and graduated in 1970. During high school she had a job at Hardee's on Sunset Avenue for her first job! She says she loved being able to see everyone after ballgames there.
Mrs. Tempie has been working at RMA for 11 years, and has graced students and faculty with her presence every day here with her smile and a kind word. The school would not have the same warmth and positivity without her here! Please read more about our beloved Mrs. Tempie below!
Can you tell me about your family?

As I said,  I have 3 wonderful sisters.   We are very close and do things together all the time.   I have 2 children,  Matt and Wendy,  and I have 5 grandsons.   My husband, Phil works for the state and works in Raleigh.   My mother is 90 and in an assisted living nursing home.   We are a very close knit family and try to celebrate events  and special occasions together as a family.  

What do you love most about your job?

I  enjoy seeing all the children every day and joking around with the little ones.   Even when I am out at a restaurant  or Target they will come up to me and say hey Miss Tempie.   That makes me feel really good.   I work with a great group of ladies in the office and I have really enjoyed getting to know all the teachers here over the years.  They are very dedicated to their students.   I have been at RMA long enough to see  young ones grow into young men and women and to go off to college.  

What is a secret talent that you have?

I do sing in the church choir.   I love to work in the yard and plant flowers.

What inspires you?

What inspires me is working with the Senior Adults in our church.  I love doing things with them and for them.   They are so much fun to be around and can tell the funniest stories.   There are several ladies that have recovered from breast cancer and watching them go through their struggles and celebrations has been so inspiring.   We have had several ladies lose their husbands this year and they are still living their life to the fullest and are very active.  They make me appreciate every day that I have with my husband.

What are your "trapped on a deserted  island" books or movies?

Books- The Bible because you have love stories, murders, mysteries, family feuds and everything and anything you can find in a lot of other novels.  I like Nicholas Sparks, Danielle Steele, and Karen Kingsbury. The movie I love is the Sound of Music.

What can you cook to perfection?

 I love making homemade waffles from scratch.    My mother made these for us as a child and I use that recipe all the time,  but you have to have a waffle iron to cook them.   When it snows and we are out of school,  I make homemade egg custard.   That was my father's favorite food to make for us when we were home from school.

If you were given a superlative when you were in school, what would it be? Why?

I was known as very friendly to everyone. I was not in a cliché with any certain group. I tried to treat everyone the same and be friends with everyone. I was sent to stand in the hall because of talking (imagine that) and for chewing gum on several occasions.

What is your dream vacation?

There are a lot of places in the USA that I have not been.   I would love to take a summer and travel by winnebago to states out west and to Alaska and to some of our famous national parks.

What takes up too much of your time?

I love my job,  but working 8 hours of the day is taking up 8 hours out of the 24, that we are given.  Then we sleep around 7 hours a night.   I probably watch too much TV and I sleep more than I should on Saturday.   Do I use my time wisely,  not as I should,  I could do better.

What's the best way to start the day?

Waking up beside my husband everyday that I love dearly.