Inside the House of Horrors
Hang on for a minute...we're trying to find some more stories you might like.
When you think of a "House of Horror," what is the first thing you think of? Halloween? People dressed up like zombies or vampires? Fake blood and harmless fear? While this may be true for many of us, the 13 Turpin children's own home was their House of Horror. Ranging in ages from 2 to 29, the 13 children of Louise and David Turpin were held hostage, chained, beaten, tortured, and malnourished in their home in Perris, California.
Louise and David Turpin were married when she was only 16 and he was 23 on February 11, 1985. From then on out, they cut their respective families out of their life. Their contact with them diminished until they exchanged perhaps only one call a year. Family was not allowed to visit the family, or even skype them. Louise's sister described them as always having been extremely private, and it has now been discovered the true purpose of their extreme privacy after the 17 year old Turpin daughter was able to escape from their home through a window and call 911 on a deactivated cell phone on January 14. Officials say she only looked to be around 10 years old.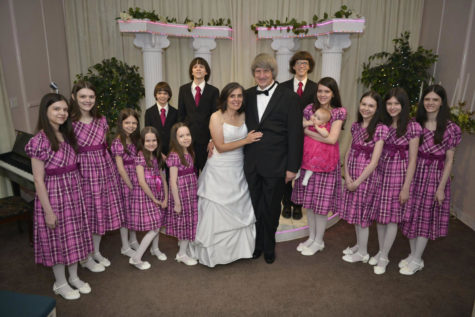 From the family pictures of the Turpins, it may seem like they are just a large, happy family. There are pictures of all 15 of them from when David and Louise renewed their vows (as they have 3 times), as well as in Disneyland – a favorite vacation destination of the parents. However, these pictures are far more deceiving that you might think. The children in the pictures look just like that: children. Yet, seven of the 13 children are actually adults! Years of being malnourished and chained to furniture have led to their emaciated physique and stunted growth. The Turpins' oldest child is a 29 year old female, but according to the doctors who treated her once she was saved from the home, and as is also evident in the picture above, she has the look and body mass of an underdeveloped 15 year old girl. She weighs only 82 pounds.  
The trips to Disneyland or Las Vegas for the vow renewals are the only occasions the majority of these children have been allowed to leave the house at all. They were all homeschooled by their father, and if they did leave the house it was late out night, and they would be doing yard work. A neighbor noticed the children laying sod late one night when she took her dog for a walk. This has now been revealed to be the families "schedule;" the would sleep during the day and be awake at night. Perhaps that was their way of keeping their lifestyle hidden. Only one child, a son, was allowed to venture from the house during the day; he took classes at the local community college for one semester. According to his professor, he wore the same shirt to every class, did not appear old enough to be taking college courses, and his mother stayed and waited for him every class. As for the other children, their only education came from their father's "strict homeschooling." Yet, when they had been rescued by the police, they lacked basic knowledge like what a police officer was and what medication/pills are.
Inside the house, the children were given virtually no free will. It was dirty and dungeon-like according to officers who responded to the 17 year-old's 911 call. The children were "punished" for a variety of things, like washing their hands above the wrist (which meant they were trying to play in the water in their parents' eyes). Their punishment at first was to be tied up with rope to furniture, beaten, and starved. The were also regularly strangled as punishment. However, once the children began to be able to escape from the rope bindings, the Turpins began using chains and padlocks. The children were not allowed to eat more than around one meal a day, and they were only allowed one shower and entire year. This lead to the house's foul smell, according to officials, and the childrens' emaciated form and stunted growth. The children were also psychologically tortured; the parents would place food and toys out for them to look at, but never play with, touch, or eat.
David and Louise Turpin are being held on $13 million bails each awaiting their next court date on February 23. Their charges include counts of torture, false imprisonment, child endangerment, abuse, and one lewd act by David on one of his daughters. The children were hospitalized after their rescue, and their condition seems to be improving. Child and Adult Protective Services are working with the children to get them into a better home environment and started towards a better life. While it is not evident yet if the adults are in a proper state to attempt a sibling adoption, it is the interest of officials to keep the family together if at all possible.