Junior Class College Tour Days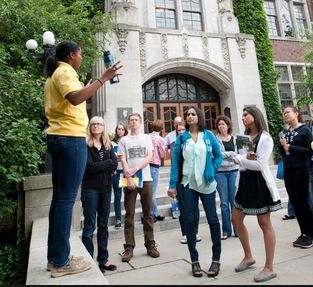 In lieu of a class trip, which was canceled due to COVID-19, the Juniors were given two days off of school and were encouraged to use the time off as an opportunity to tour colleges. Junior year is a great time for students to begin considering which colleges they would like to add to their lists. This can definitely be a time of angst for some, but it is also definitely a time of excitement! When touring colleges, students consider many factors such as size, Greek life, majors and academic programs offered, location, social life, and the feel of the campus in general. The best way to learn which option is best for each student personally is for them to visit campuses. While the Junior class was disappointed not to be able to travel together as a group, it was wonderful to have the time to get a feel for a variety of college campuses!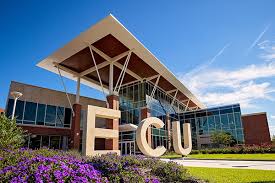 Riley Bowles made use of her time off by touring East Carolina University in Greenville, NC. Riley loved "the mall," which is ECU's lawn where students study and hang out with friends. Riley also noted that the school's gym was very impressive. Another benefit to Riley was the dining options as well as the four on-campus Starbucks locations. After her tour, Riley enjoyed lunch in downtown Greenville at Sup Dogs followed by shopping. Kate Hudgins, who also toured ECU, thought the size was perfect for her and thought the student center was a great aspect of the campus.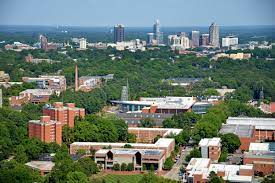 I chose to spend my college days staying overnight with a close friend from Camp Albemarle at North Carolina State University in Raleigh, NC. Staying overnight was very beneficial to me because it gave me a good perspective of student life at NCSU, and it helped me familiarize myself with both the campus and the city of Raleigh. My friend also showed me the sorority and fraternity houses, so I was able to learn more about Greek life. I loved Talley Student Union, the overall feel of the campus, and being able to spend time with my friend. Many other Juniors toured NC State and are adding it to their college list! NSCU was definitely a popular spot among the Junior class.
Mary Kimbrell Livermon and Elle Bartolomeo traveled to Columbia, South Carolina for tours of the University of South Carolina. Mary Kimbrell noted that the campus was beautiful and that her tour was great because it went into detail about academics and student life. Elle had a similar experience and stated, "After hearing great things about the campus, I decided to go up and visit and see if it was for me. The tour was great, and the campus was amazing! One thing that stuck out to me had to be the open environment and how pretty the campus was. It's definitely one of my top choices after touring!" Both girls had a great experience in Columbia and have added it to their college lists!
Ezra Moore traveled all the way to Oklahoma for his visit at Oklahoma City University! When asked about his tour, he said, "My favorite thing was getting free ice cream when I toured… but my favorite thing about the school was how organized it was. Everyone knew what to do and it made the tour very enjoyable. I also liked the smaller class sizes that reminded me a lot of RMA." Ezra's trip sounds like a success, and it is admirable that he is willing to be outgoing when considering options for the upcoming years!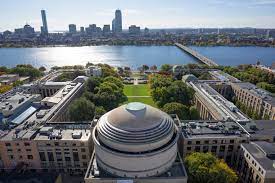 Another student who traveled a farther distance was Ashley Passmore. Ashley visited Massachusetts Institute of Technology and noted, "On my tour of MIT, I really enjoyed the innovative and creative environment. In spite of very different majors, there was a heavy sense of inter collaboration, especially between the sciences and the arts- a welcome surprise to me from a STEM school." As Ashley's classmate, I know how creative and intelligent she is, so knowing this information about MIT, I can see her thriving there.
Whether students chose to stay closer to home or to branch out, many had very successful college days. This time reserved for on-campus visits was very helpful and has made us feel more prepared to soon begin our application process!