Who is Joe Burrow?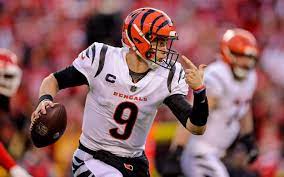 Joe Burrow, also known as "Joe Shiesty", "Joe Cool", "Joe Franchise", "Joe Brrr", and "Jackpot Joey", is the starting quarterback for the Cincinnati Bengals. Recently he has had a spark of popularity because of two reasons: his team's success and his unique fashion sense.
As much as Burrow's name has been circulating recently, it is likely that you have heard of him, even if you are not a fan of the NFL. However, while Burrow is known for his large presence as the quarterback of the Bengals, his career took off elsewhere. Burrow entered college as a fairly well-known quarterback prospect who chose to play for his in-state school, Ohio State. However, after redshirting his freshman year of 2015 and rarely playing during the 2016 and 2017 seasons, Burrow decided to transfer to LSU. Transferring to LSU as a grad transfer allowed him to play as the Tigers' starting quarterback for two seasons. In his redshirt senior season, he set the FBS record for the most touchdown passes (60), total touchdowns (65), and total offensive yards (6,039).  In his last season at LSU, Burrow was able to help his team achieve a 15-0 record and win a national championship. Along with this, Burrow won the Heisman Trophy. 
In 2020, the Cincinnati Bengals selected Burrow as the first-overall pick of the 2020 draft. This season, Burrow finished sixth in passing yards in the regular season, posted a 34-14 touchdown-to-interception ratio, and the second-best passer rating in the entire NFL at 108.3, trailing only Aaron Rodgers. He also helped his team achieve a 10-7 record and a trip to the Super Bowl LVI. However, this past Sunday the team lost to the Los Angeles Rams with a score of 23-20. Although this upset a large number of fans, I feel confident that Burrow will be back to claim his victory next year. 
While there is a buzz about Burrow's talent on the field, there have also been many comments about his style. While he has had a number of impressive outfits this season, down below are arguably his best!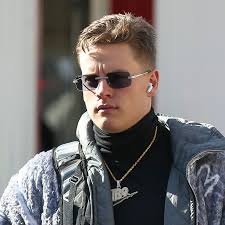 Burrow walked into the AFC Championship ready to defeat the chiefs in this black turtleneck, Buff's sunglasses, his "JB9" chain, and a stunning gray winter jacket with hearts.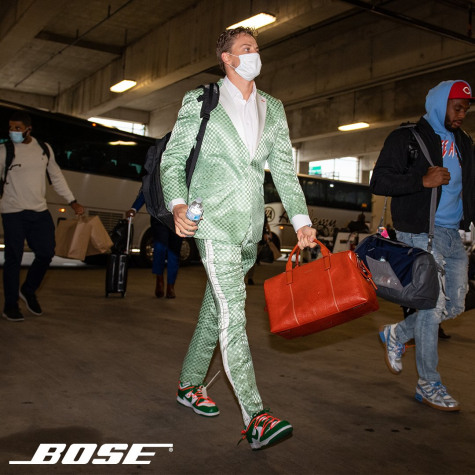 Before the Bengals' game against the Ravens, Burrow was sure to stand out in this checkered pale green suit and his dark green Nikes.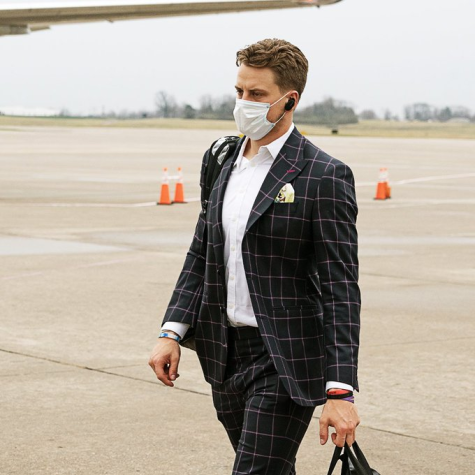 He has mentioned his love for Spongebob Squarepants several times, and he was sure to catch eyes with his Spongebob pocket square.