Senior Spotlight: Zach Perry
Ever since sophomore year, Zach Perry has never failed to bring laughter and smiles to the faces at RMA. Throughout the past three years, Zach has made an impact and connection with everyone he comes in contact with. Those who have gotten to know Zach over the years know him for his carefree personality and wit. When I asked Chris May, one of Zach's closest friends and teammate, for a quote about Zach/his favorite memory with him, he responded with, "There's so many crazy moments I gotta think, like we have all the wild times after school to the field trips just doing dumb stuff. There's never a dull moment with him. He's honestly one of the funniest guys I know, if not the funniest, because one second we're just chilling and then he's got me laughing as hard as I ever had. There's no one you can really trust more than him, whether it's on the field, court, or just in general. He may not be the dude you hang out with the most, but there aren't many people as sincere as he is."
He succeeds in everything he does due to his skilled determination. Zach has been an integral part of the football and basketball team since his arrival at RMA. He has made amazing memories with both teams! I asked Coach Terrell Hudgins for a quote about Zach/what it's like coaching him, his response was: "Zach is the perfect example of what coaches need from their players. Zach shows up every day (optional or not) and works his tail off. He does what's asked of him with no complaints because the team comes first with him. Zach became a leader of the football team and a respected teammate. It was a pleasure coaching Zach. He will be missed." The perseverance does not end there! He balances athletics and hobbies with his schoolwork. This year, he is taking a wide variety of classes, including Marine Biology, Ecology, English, AFM, Sports Medicine, and Public Speaking. He received the Most Improved in Spanish 1 during his time at RMA. 
Zach is the kind of guy that everyone needs in their life, so the RMA family is saddened to know that he is graduating this May. Being described as funny, strong, and independent, Zach is going to succeed in his life! We will miss you!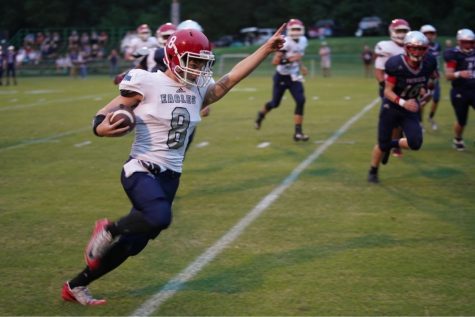 Get to know this week's senior in the interview below!
What college did you apply to? Major choice?

ECU – business.

What do you do outside of school?

Ride around with my windows down blaring Taylor Swift!!

If you were trapped on a deserted island, what 3 things would you have?

Taylor Swift album, a house, my dog.
What is your biggest pet peeve? People who don't listen to T-Swift.

What is something that is on your bucket list?

Go to a T-Swift concert.

What is something most people don't know about you?

I listen to T-Swift.

What will you miss most about RMA?

Coach Berry, Coach T, Coach Ramsey, Mrs. Helms.

What is your favorite class at RMA?

AFM.

What is your favorite song?

"You Belong With Me" by Taylor Swift.