Alumni Update: Amanda Blanton
This week, we are featuring an RMA graduate who has returned home to start her own business! Amanda Blanton, owner of the new boutique Clair de Lune, is a member of the class of 2009. After graduation, Amanda studied Fashion Merchandising and Business at Meredith College, following her lifelong passion for all things style. She has always loved fashion and sees it as a true art form. Working in retail inspired her to eventually open her own store where she strives to help people look and feel their best.
During her time at RMA, Amanda loved her science and history classes the most. Although she loved all of her teachers, Dr. K, she says, was her favorite. He made every class an adventure. She also loved Mr. Stancavish's classes, where she learned that life didn't always have to be so serious. Outside of academics, Amanda participated in FCA, Yearbook, Eagle Ambassadors, and French Club. Her background studying French and obsession with the moon eventually led to the naming of Clair de Lune ("light of the moon"). Finally, Amanda played volleyball, tennis, and basketball in school, showing just how well-rounded she is. When asked what advice she would give current students, she said, "Enjoy every single moment of high school. Time flies! And balance is key – enjoy your friends, but also stay focused on your studies."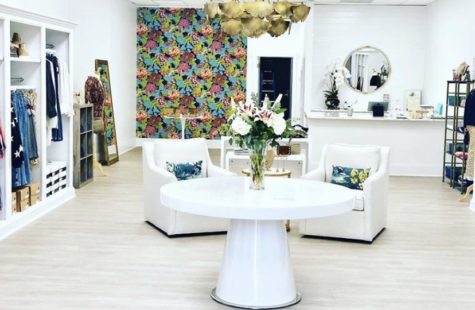 We are very lucky that Amanda decided to move back to Rocky Mount from Raleigh, as we now have an adorable boutique offering upscale women's clothing! Located in the same shopping center as Barley and Burger, Clair de Lune has the cutest clothes for all generations. Amanda and her mother, Jerri Blanton, make sure that every woman has a variety of different styles to choose from and provide an amazing customer experience. They work hard to ensure each and every person that walks through their door leaves feeling beautiful and confident. You can shop at Clair de Lune, 2927 Zebulon Road, Monday to Saturday!
What's the best memory you have of RMA?
Looking back there were so many, but all I can think of was each and every nature walk Dr. K took us on. He really showed us the beauty of nature. 
What was your first job?
Very ironic – I started out working at Stephanie's Boutique (two doors down from where I have opened Clair de Lune!) And absolutely loved it. I learned so much. 
Where did you go to college, and what led you to pick it?
Meredith College – I loved the intimate environment when I went to visit. It was also super close to my family. We literally could text our professors and they would get right back to you. I still keep in touch with a lot of them. They have the best fashion program! Also, wearing your PJs to class was a huge plus. 
If you could describe Clair de Lune's vibe in three words, what would they be?
Timeless, fashion-forward, and unique.
Why did you decide to come back to Rocky Mount to open your store?
I felt like Rocky Mount really needed something like Clair de Lune – a place where every generation can shop! Rocky Mount is growing every day and it is paramount to provide top-notch quality and customer service. 
What's the best part about working in fashion?
Helping others! I love helping people find pieces that make them feel confident and express themselves.
What are your hobbies/interests?
Traveling, learning, cooking, and researching fashion trends!
Who or what do you find inspiring?
My mother and father. My mother is by far the strongest and most selfless person I've ever met. My dad's determination, drive to succeed, and hardworking nature is truly amazing.  They have both inspired me to follow my dreams. 
What is the coolest place you've ever been to?
Italy! The history, culture, art and architecture is awe-inspiring. Not to mention, the food is insane!
Where do you picture yourself in 10 years?
Here in Rocky Mount! Doing what I love – continuing to grow my business and raising a family. 
What's your favorite quote?
"Fashions fade, style is eternal." — Yves Saint Laurent