Senior Spotlight: Juhi Salunke
Hang on for a minute...we're trying to find some more stories you might like.
Juhi Salunke is one of those people who you won't be surprised when she changes the world. She has the unique ability to take what she learns outside of the classroom and apply it to everyday life. Her enthusiasm for learning is unmatched, and she takes every opportunity to challenge herself both in school and outside of the academic realm. She has a bright, vibrant personality that never fails to bring smiles to those around her. Her humor and kind disposition have always added positivity to our grade, providing encouragement to those around her. When she first came to RMA in fourth grade, everyone immediately knew that she would become an integral part of our class, and she has done just that.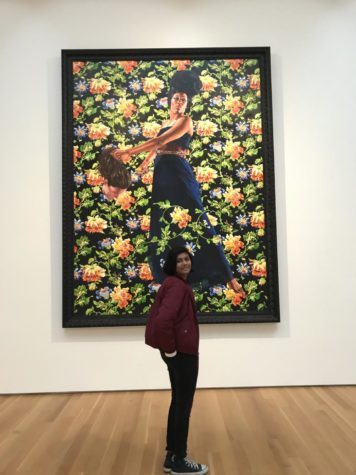 Academically, Juhi has excelled in every class that she has taken at RMA. She has consistently pushed herself, taking advantage of every challenging class offered. She is genuinely interested in learning and always gives 100% in every discussion, project, and experiment. This year she is taking AP Calculus, AP English, AP Statistics, AP Physics, AP Biology, and Honors Spanish. Seeking to stretch herself, Juhi's academic curiosity is not only evident through her class schedule but also through her college goals. Applying to UNC, State, Duke, Brown, Johns Hopkins, and Columbia University, Juhi plans to major in either chemistry or biochemistry. Her future plans alone are enough to amaze, but there is more to this senior than just academics.
At school, Juhi participates in many clubs. She leads the RMA Science Olympiad team which recently competed in a competition. She placed 1st in Thermodynamics and Fermi Questions (a physics-based event), and she placed 1st for the second year in a row in the Chem Lab event. She is also a founding member of the Spanish National Honor Society and is a member of Key Club, Quiz Bowl, and National Honor Society. As a leader of the Middle School MathCounts Team, Juhi helped coach participants each week to prepare them for the competition in early February. After school, you can also find her assisting at the Afterschool Enrichment program. She has played volleyball each year in the fall and helped lead her team this past year when they made it to the state playoffs for the first time in RMA history. They had an overall record of 11-5 and a conference record of 9-4. She also participated on the swim team her ninth and tenth-grade years. Her summers are spent volunteering for the Nash Health Care Systems, and she recently won the Volunteer Leadership Award working as a hospital volunteer.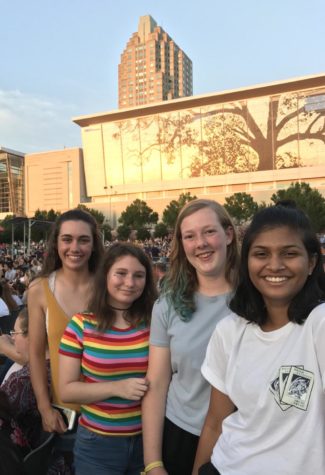 Music is another big aspect of Juhi's life. At school, this passion manifests itself in working with our school musicals. In both tenth and eleventh grade, she worked with the tech crew where she ran the soundboard and controlled sound effects. This year, she has decided to take on a different role. Singing and dancing as a part of the ensemble, Juhi is ready to take on the spotlight in this year's musical, The Addams Family. Outside of school, Juhi has taken piano lessons since 6th grade. She elaborated on this experience saying, "After taking piano for all these years, I have gained a higher appreciation for musical artists and composers as well as the work it takes to string together each note to create a beautiful song." And of course, music offers many unique and fun experiences. Juhi has attended numerous concerts with friends throughout the state, meeting band members and enjoying great music. Speaking of the arts, if you ever need help with artwork or calligraphy, call Juhi. Her skills with the paintbrush are amazing!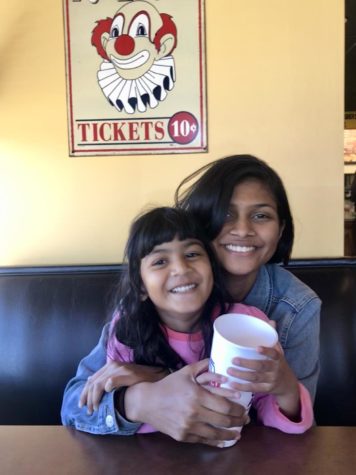 If you know Juhi, then you are bound to know her sweet sister, Saumya. Family is a big aspect of Juhi's life, and this is evident through her close bond with her sister. In between classes, you can often find Saumya waiting near the entrance to the hallway for her sister to come out and say "hi." Her smile when Juhi walks out is absolutely adorable! Traveling is another main part of Juhi's life as she has traveled with both the school and her family. She has been places like China, Canada, India, and all across the US.
Well-rounded, determined, and kindhearted, Juhi has made a friend everywhere she has gone, and I have no doubt that she will thrive in whatever lies ahead for her in life both in and out of college.
"Juhi is the kind of person who is literally so good at everything it isn't fair, but you can't because she's so humble about all of it. She's incredibly intelligent and hardworking, which is pretty common knowledge because of her grades, but she's much more than that. She's one of the most artistically inclined people I've ever met, she does everything from playing the piano like nobody's business to being able to draw or paint nearly anything. Basically, if you can think of it, Juhi's good at it; or she hasn't tried it yet. She's also a great friend; she doesn't have a single mean bone in her body. From the instant I set foot in RMA she helped me find where my classes were, and she hasn't stopped helping me and being a person I can depend on for anything from help in math to making me laugh so hard I cry. I know anyone who's encountered her will agree with me when I say she's gonna do great things one day, so I'm grateful I can tell my kids in the future about how I went to high school with a Nobel prize winner. Love ya dude <3." – Morgan Spivey
"I would describe Juhi as being witty, hilarious, and always ready to give her perspective no matter the topic. Whether it's in the classroom or not, she will always give her all and always find a way to make any situation positive. All in all, she is a wonderful friend and person to have in your life, and I hope she doesn't change at all." – Austin Brown
"Juhi is one of the most driven and passionate people that I have ever met. She finds time to cram a ridiculous amount of extracurriculars in her schedule while managing to avoid skimping on any of them or her schoolwork. She's been by my side since the day we met on the first day of fourth grade, and I can't see where else her journey will take her in the future. I think we can all agree that whatever or wherever that may be, it's going to be nothing short of phenomenal. Forever proud of you Ju!!!" – Sadie Blackshear
Find out more about Juhi below:
What colleges are you applying to? What is your dream school?
UNC-Chapel Hill, NC State, Duke, Brown, Johns Hopkins, Columbia University and a few more. My current number one choice would have to be Brown University.
 What do you plan to major in?
I plan to major in either Biochemistry or Chemistry.
 If you could only watch one movie for the rest of your life, what would it be?
The movie that I would watch for the rest of my life would have to be Coco.
 If you could create your own flavor of ice-cream, what would it be?
An ice cream flavor I would create would be tiramisu flavored as I have yet to see that flavor in stores.
What is the most fun science experiment that you have done?
One of the fun science experiments I have done was lighting a dollar bill on fire during an alcohol combustion demonstration in AP Chem.
What is your favorite memory of RMA?
My favorite memories at RMA are just generally talking to my friends every day and learning a new thing each day in class.
 If you could live anywhere in the world, where and why?
I would like to try living in Singapore because it is a center for scientific and technological development, and it also has a very multicultural society, like the U.S, but more close together.
Can you describe some of your travel experiences?
I have traveled to India for family events like weddings, Canada this summer, and China during the school trip last spring. Other than international travel, I have been all over the east coast of the U.S as well as Arizona, California, and Nevada.
 What was your favorite part of New York?
My favorite part of New York was walking around the city streets watching the lights, buildings, and people pass by.
How many years have you been at RMA?
This is my 9th year at RMA.
Could you describe your concert experience?
This first concert I went to was in ninth grade, and after that, I have attended many more. At each concert, no matter who was playing, I felt really excited and happy being surrounded by people who liked the music as much as me.
Who is your favorite artist?
That's a pretty hard question to answer, but the artists that I listen to most at the moment are Glass Animals, Loona, and Joywave.