Senior Spotlight: Charlie Miller
Hang on for a minute...we're trying to find some more stories you might like.
Charlie Miller is the kind of person everyone wants in their life. His heart is made of pure gold, and he doesn't have a single mean bone in his body. His happy go lucky spirit and constant laughter is contagious to anyone he comes into contact with. Charlie possesses a special talent only a few people have, and that is his ability to make friends because he so personable with everyone. No matter who you are, after about five minutes of talking with him, you feel like you have known him your entire life. Have great news you want to share? Need an opinion on something? Want someone to just talk to about your day? Talk to Charlie! His love and loyalty to his senior class are what makes him so special; there is truly no other person like our beloved Charlie Miller.
When Charlie walks into the halls, he greets every student and faculty member with a big smile and has done so since he arrived in Kindergarten (He identifies himself as a "Pre-Lifer," since he wasn't here in Pre-K)! In his thirteen years here at RMA, he has made an impact in and out of the classroom. Charlie is an intelligent individual, which is evident by his high school transcript. Even though it is his senior year, Charlie didn't want to let up on taking challenging courses, such as Honors Calculus, English, AP Environmental, AP Psychology, and AP Statistics. Besides working on his homework for his Honors and AP courses, he can be found participating as a Homeroom Representative for the seniors in Student Government. This is where he can speak on behalf of the Seniors for events like Homecoming or assist in raising money for SGA! He also is involved in the clubs such as ARF, Key Club, and Student Booster Club during his free time during the school day.
When Charlie isn't in the stands cheering on the Eagles, he can be found playing on the Varsity Soccer team as Captain, or swimming at the YMCA for the swim team! He has played soccer since the 7th Grade and has always had a passion for the game. But not until he became an upperclassman did he unearth his love of swimming. Since his Junior Year, Charlie has become one of the best performing swimmers on the team, collecting countless hours in the pool to improve his time. Get ready for this coming Spring, because he is thinking about participating in track and field!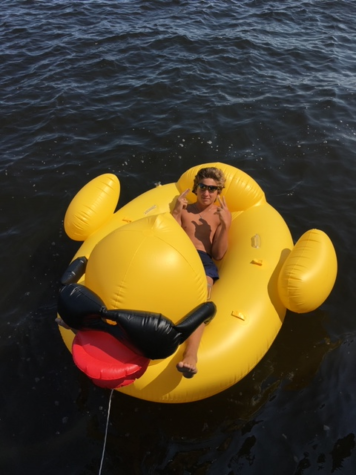 Outside of the realm of RMA, Charlie loves to wakeboard, surf, hang out with friends, and cheer on NC State no matter the season. This past summer he had two jobs lifeguarding in Tarboro and at the Rocky Mount YMCA, so he was able to combine his love of swimming and passion for helping others to earn some money! In the future, all of RMA cannot wait to see what he will do. He has applied to NC State, UNC-Chapel Hill, UNCW, USC, ECU, and Clemson. When asked about where he would go next year, he stated excitedly that, "All of these choices are tied for second!"
We have no doubt that wherever he may go next year, Charlie will be a gift to the college of his choice; his personality and spirit are some of his best qualities, and he will be able to shine in any environment he's in. Saying goodbye to Charlie on graduation day will be hard for everyone who has had the pleasure to know him at our school. From all of RMA and the members of Media Office, we wish the best of luck wherever life takes you, Charlie!
Learn more about Charlie below: 
What is your favorite RMA memory?




My favorite memory would be when the whole school wore teal in honor of my mom when she had ovarian cancer.

Where has your favorite trip been to?




My trip to the amazing country of Italy with my former RMA brother Matthew Serraino. I would have to say that has been my favorite trip I have ever taken.

What will you miss the most about RMA? How about the least?




I will miss the middle school dances the most. I will miss the FCA meetings the least.

What has been your favorite class? Why?




Any class with Paul Stone as the teacher. I have never been more made fun of by a teacher, but have also never made more jokes with than any other teacher I have ever had in my life.

Where do you see yourself in ten years?




I see myself still trying to figure out what I want to do with my life. I will also be living at Lake Gaston.

What is your advice to underclassmen?




Try and sit next to someone smart. Not for cheating, but maybe their smarts will rub off on you

When you were little, what did you want to be when you grew up?




A plastic surgeon

Who is your role model?




My role model is Peaches. For those of you who do not know, Peaches is my awesome grandmother.

What do you love most about swimming?




We get free Chick-Fil-A on Wednesday mornings after practice. Two orders of Chicken minis and hash browns with a coke every Wednesday morning.

Is there anything else you would like to add in this article about yourself?




I am proud to call myself an Eagle Scout of America.
"Charlie is a fun loving person and is a joy to be around. His will to succeed in everything he attempts makes him a hard worker and a successful student. Having such great parents also majorly contributes to his success in school and in his social life!"- Chandler Gazaway, 12th
"Charles Madison Miller… where do I begin? Charlie is my best friend, and I'm so glad to have him in my life. He is one of the few people I trust, and I know no matter what he will have my back no matter the situation. I hope he doesn't forget about me while we are in college because I surely won't forget about him."- Tiffany Chandler, 12th
"Honestly, I can't remember when I first met Charlie, but who cares. As much as we hate/like each other, Charlie and I have been friends for as long as I can remember. Most likely to fall over on the basketball court with a pair of hurt ankles, most likely to wear his Boy Scout uniform to school, and most likely to be made fun of in any class where Mr. Stone is the teacher, Charlie will always just laugh it off and continue with his day. I am glad I really got to know Charlie this past couple of years, so I could witness all of those examples, and because he has always been a good friend." – Thorne Pruden, 12th