Senior Spotlight: Chandler Gazaway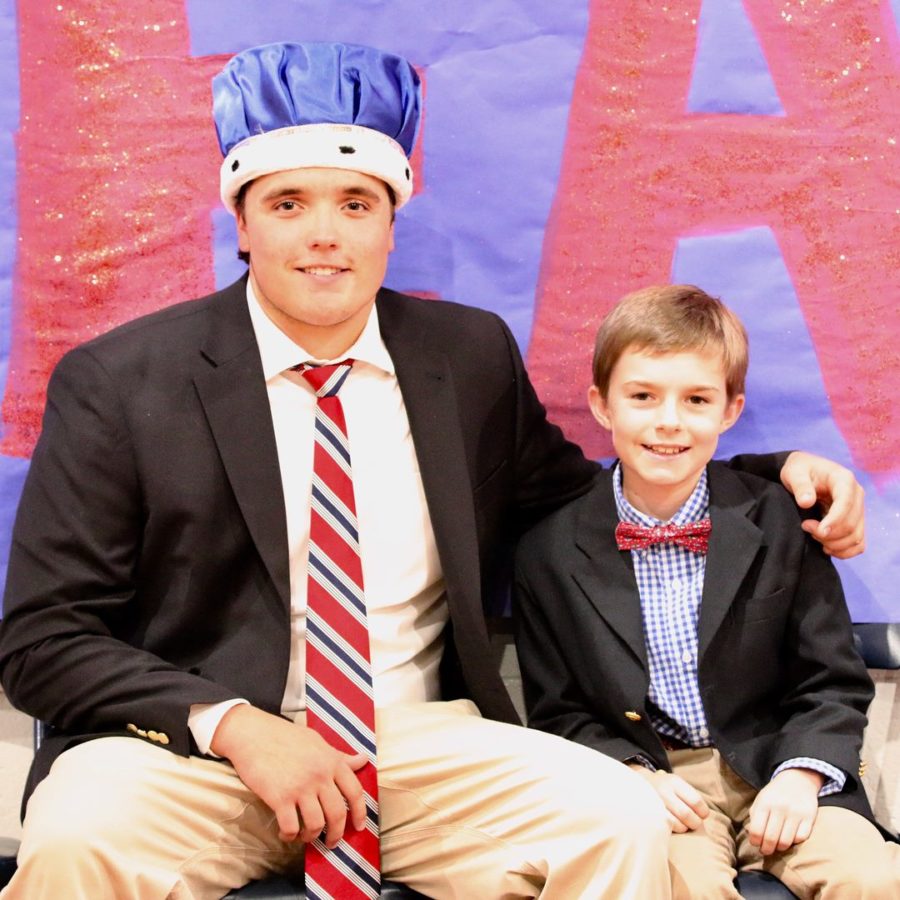 Haven Ross, Social Media Chair
October 22, 2018
Chandler Gazaway is an iconic member of the RMA Senior class. He has given the grade a burst of energy since Pre-K! Chandler has one of the sweetest souls with the ability to share a smile, laugh, or conversation with anyone from a fellow football player to a drama kid. He is the epitome of an RMA lifer; he has eaten lunch in the cafeteria almost every day since his first day, he was a passionate ASE attendee, and he is loved by all students and teachers. In fact, he was recently crowned as the king at the Homecoming Pep Rally! Chandler supports our school by promoting good sportsmanship on the football team, kindness through working the RMA Summer Camp, and companionship every day in the halls. In the words of Mr. Tucker, "Chandler is affectionately known as the Mayor of RMA. Everyone knows and likes Chandler because he is a friend to all students at RMA – young kids and older students. I have known him since he was 7 years old, and he is still the same friendly, kind, inclusive person. RMA is a better place because he is here." As one of the most legendary characters in the senior class, Chandler will be truly missed on this campus next fall.
Chandler has made his bubbly personality known throughout the halls of RMA. His loud and energetic spirit echoes through the hallway every day. In the classroom, he takes a mixture of challenging and fun classes. He works diligently in English with Dr. O'Brien, while he also enjoys his classes like weightlifting and sports management with Coach Ramsey. The places where Chandler's talents truly shine are the football field and the basketball court. Chandler has been a crucial player on the Varsity Football team since ninth grade, helping the team achieve an undefeated football season and bring home a championship title! His size and stature also helps him on the basketball court. He is a key player down low, always getting the rebound and going up for layups. Chandler's athletic and academic strength will truly be missed next year.
The senior class would not be the same without Chandler. He is a ray of sunshine on any cloudy day and has a sense of humor that could make anyone crack a smile. Next time you see Chandler in the hallways, thank him for all the kindness on the field, in the classroom, and at ASE. Chandler is applying to Auburn, Ole Miss, High Point, Alabama, App State, and Tennessee, and his Eagle wings will take him far wherever he goes.
To learn more about Chandler Gazaway, check out the interview below!
What is your favorite memory from RMA? My favorite memory from RMA was in 2017 when me and the boys had an undefeated football season and won the State Championship.
Which faculty member would you choose to eat lunch with? If I could have lunch with any RMA faculty member I would have to choose two because it would be a family dinner with my mom and dad, Mrs. Andracchio and Mr. Tucker.
If you could live anywhere in the world, where? If I could be anywhere in the world right now, I would be in St. Thomas.
What is something not many people know about you? Depending on if we have ever ridden in the car together, I guess it's not a secret. I like to sing and my friends say I'm not terrible.
What is your favorite food? When I don't go out to Long Lunch, which is pretty often because I'm a broke high school kid, my favorite food is the ravioli the cafeteria sells.
Favorite quote? "Chandler, you have to apply to more than one college"- Genie Andracchio & Kelcey Gazaway.
What do you like to do after school? When I get home from school I like to get an episode or two in of criminal minds.
Who is your biggest role model? My role model would without a doubt have to be Cameron Ramsey because who wouldn't want to be that swole.
What will you miss most about RMA? What I will miss the most from RMA is the smallness of the classes and being close to every person you see on campus, being able to have a personal relationship with most of the school.