The RMA Senior Class as…Harry Potter!
Hang on for a minute...we're trying to find some more stories you might like.
*Please note that these character-student alignments have been decided by several Harry Potter enthusiasts in the senior class and the Media Office. All of this is done in a lighthearted manner, and we wish to remind our readers that Sorting Hat merely places you where it thinks you'd most succeed!*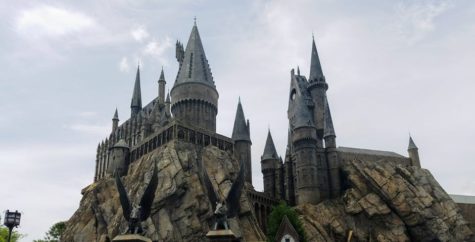 Joe Cockerell as…Harry Potter!
Probably the most well known, most intricate, and least studied characters from the Harry Potter books is Harry himself, and Joe certainly fits all three of those descriptions! Although more reserved, both Joe and Harry seem to make conscious efforts to always make the right and honorable choice, often doing so with a subtle kindness. Also, even despite a more laid-back personality, you can count on Joe to speak up when needed just as Harry Potter does throughout the course of the whole series.
Mark Allen as…Ron Weasley!
Just as Ron was underrated throughout the entire Harry Potter series, Mark is often underrated in the senior class! With a generally more reserved personality, Mark's sense of humor and leadership is still very prominent in our grade. I'll never forget how he lead a group through Central Park in New York, much like how I imagined Teddy Roosevelt would lead his troops. With a dry sense of humor, kind heart, and quiet leadership skills, Mark is obviously the best choice for Ron!
Holly Brantley as…Hermione Granger!
*written by the Social Media chair, Virginia Wooten*
Hermione in a few words- ingenious, selfless, and optimistic! All these traits are also common in the beloved Holly of the 2018 senior class.  Holly is well known for her amazing academic abilities in her rigorous coursework in her high school career. Not only does she mirror Hermione with her wits, but also with her big heart for every student and teacher she encounters. Holly is always willing to lend a helping hand or give a spirit lifting pep talk to any person in need! Similar to fan favorite Hermione Granger, Holly will be doing very big things in the years to come!
Alexis Reams as…Ginny Weasley!
Unashamedly loyal, outspoken, and courageous are all traits that accurately describe both Ginny Weasley and Alexis! As seen through Alexis' variety of activities, ranging working the After School program to being in the spring musicals, she is unafraid to try new things and often excels at them. Like Ginny, Alexis' headstrong, yet kind demeanor will certainly serve her well in the future!
Joseph Petruzziello as…Draco Malfoy!
Let's just preface this by saying the similarities between Joseph and Draco are not made out of the belief that he is evil, but rather the ambitious and cunning nature that they both seem to hold! Like Draco, Joseph is an ambitious student eager to take challenging courses and tries to use his charismatic nature in every way possible. Plus, in the end, Draco does ultimately make the moral decision, proving that while he may have a rough exterior, there is most definitely a good heart within!
Corbett Cobb as…Peeves!
Much like Peeves, the fun-loving and troublemaking ghost at Hogwarts, Corbett Cobb is known for his hilarious and mischievous personality! Corbett's gifts for funny voices, jokes, and an impeccable sense of timing always keep the senior class laughing and in high spirits, something Peeves would definitely be quick to identify with!
Johnhenry Wirman as…Sirius Black!
With an incredible sense of loyalty, a kind heart, and a nonconformist attitude, there is no other person in our senior class that I could envision being Sirius other than Johnhenry. Like Sirius, Johnhenry is always there for his friends through thick and thin, yet doesn't exactly conform to all the roles society expects. Instead, he chooses to make his own path and uses his own caring and kind hearted personality to help lead him!
Elias Moore as…Remus Lupin!
Just as Remus continuously encourages and supports the Hogwarts students throughout the years, Elias is one of the most encouraging and kind forces in the senior class! With a smile on his face and chocolate somewhere nearby, both Elias and Remus know that the best way to combat sadness is by creating your own happiness! Although Elias is not actually a werewolf (that we know of), his kind heart and upbeat attitude is one that, like Remus, you can always count on!
Renate Ma as…Hedwig and Crookshanks!
An avid animal lover and loyal friend, Renate was quick to identify as Hedwig, Harry Potter's faithful owl friend, and Crookshanks, Hermione Granger's lovable cat. Like Hedwig, Renate is an excellent friend always willing to listen and partially in accordance with her love for cats. Crookshanks was an obvious choice to best reflect Renate's near "purr"fect personality!
Anna Penwell as…Celestina Warbeck!
Just as Celestina Warbeck is known throughout the wizarding world for her amazing singing voice, Anna is known throughout the muggle world for hers! With a passion for theater and knack for singing, there is no doubt that Anna will one day become just as famous as Celestina!  
Davis Collins and Cameron Cross as… Crabbe and Goyle!
Most often seen with Joseph, Davis and Cameron's underrated senses of humor undoubtedly make them a perfect Harry Potter match with Crabbe and Goyle. Just as Crabbe and Goyle, if you see Davis or Cameron, it is likely that the other one is close by. Their senses of humor, Davis' being one largely made up of puns and Cameron's being one largely made of of goblin noises, tare definitely just one trait that is often brushed over, much like these two charismatic Slytherins!
Thomas Newton as… Gilderoy Lockhart!
Other than their impeccable hair, Thomas and Lockhart seem most aligned in the fact that they both tell…intriguing stories. No senior will forget how Thomas Newton came into homeroom one day claiming that he had been hit by a random person in a parking lot, when, in reality, he had been in a sporting accident! All joking aside, the anecdotes that Thomas offers throughout the day are always entertaining just as Lockhart's books!
Taylor Connie as…Luna Lovegood!
Known for her creativity and unique spirit, the aura that surrounds Taylor Connie closely matches that of Luna Lovegood! Much like how Luna drew a beautiful mural of her friends on her ceiling, Taylor's artistic talents are just as impressive! Taylor is a unique, fun, and talented person to be around, and Luna Lovegood is the only Harry Potter character that might could encompass her creative spirit!
Bailey Beddingfield as…Neville Longbottom!
Just as Neville Longbottom is easily one of the most lovable characters of the Harry Potter series, so is Bailey one of the most lovable people in the senior class! Always quick to smile or encourage a classmate, Bailey's gentle and caring, yet adventurous personality makes him the best fit for this brave Gryffindor!  
Luc Garabrant and Guy Deyton as…Fred and George Weasley!
It seems only fitting that two of the funniest people in the senior class, Luc and Guy, best embody the two funniest people at Hogwarts, Fred and George! Senior Thomas Griffin has even used the line, "I'm supposed to be making the most important decisions of my life right now, and I can't even send a text message" from Guy as his senior quote. Likewise, Luc has a hilarious personality which especially shone through his portrayal as Sonny during the Upper School musical, Grease! But, all jokes aside (ha-ha), both of these boys truly have hearts of gold!
Thomas Griffin as….Cedric Diggory!
Much like Cedric, who was a phenomenal athlete and friend, Thomas' impact on all of those around him is a near perfect match! As Cedric was a talented Quidditch player, Thomas' athletic gifts lie in football and baseball, consistently leading his team mates with good sportsmanship. Moving from the playing field, Thomas is very polite and fair person who knows when to step up and when to let others lead.
Lauren Seale as…Cho Chang!
It seems only fitting that our Head Marshall from last year, Lauren Seale, would be the member of the senior class who most closely aligns with one of the smartest witches at Hogwarts, Cho Chang! Lauren and Cho both exhibit unquestionable intelligence, bravery, loyalty, and mastery of many different things. Also, the patronus which Cho conjures, a swan, greatly mimics the graceful aura surrounding Lauren!
Trey Smelcer as…Rubeus Hagrid!
If you've ever seen Trey Smelcer, you'd know exactly why Hagrid is actually his Harry Potter alter-ego. While Trey may seem intimidating due to his height and overall stance, he is actually a very kind and helpful person. No one will forget how he hugged every single Chinese exchange student that came to visit the school back in October. Much like Hagrid, Trey is a gentle (and very lovable) giant!
Jillian Lavely as…Fleur Delacour!
Just as Fleur Delacour was known for her beauty and grace, so is senior Jillian Lavely! Like Fleur, who was the only female to participate in the Triwizard Tournament along with Harry Potter and Viktor Krum, Jillian's own athletic nature has allowed her to shine in cross country, swim, and soccer!
Jacob Watkins as…Dobby!
Brave and loyal are words that not only describe Jacob, but also the most famous house-elf in Harry Potter, Dobby! Much like Dobby, Jacob is incredibly loyal to his friends, even when they take advantage of his forgetful nature and hide his things! While Jacob is admittedly not an elf, he and Dobby also share a trait of athleticism; the difference is that Jacob tends to run in soccer while Dobby tends to run from the Malfoys!
Caleb Lambert as…Viktor Krum!
Just as Viktor is known for his amazing Quidditch abilities, so is Caleb for his outstanding abilities on the two-time championship football team! But, while Caleb is known for his athletic gifts, he is also known for his sportsmanlike attitude and kind persona. With a charming personality and awesome athletic ability, both Viktor and Caleb are forces to be reckoned with!  
Casey Jones as…Angelina Johnson!
Much like the notorious Quidditch chaser Angelina Johnson, Casey Jones is known far and wide for her softball skills! But, both Casey and Angelina are known for their leadership skills on and off of the pitch, unashamedly giving their own opinion and showing an unmatched determination.
Jarrett Snipes, J Crandell, and Madison Glover…as Fluffy the Three-Headed Dog!
While everyone in the senior class has a tight friendship, there is not one as close as that of Jarrett, J, and Madison's! More often than not, if you see one of these people, you will see the other two close by! Defined by their incredible loyalty, these three friends might as well be the heads to an absolutely adorable puppy! Bonus, if you look close enough, Trey (Hagrid) will probably be nearby trying to wrangle them all in!
Malone Bondy as…Lavender Brown!
Pretty, slightly goofy, and unafraid to speak her mind are three traits that are found both in Lavender and Malone! Much like Lavender, Malone has a taste for fashion and accessories and will unashamedly give her opinions when asked. Malone has a good heart and a bold spirit, making her a definite match for Lavender Brown!
Bhavisha Gulabrai as…Rowena Ravenclaw!
The beautiful and brilliant founder of Ravenclaw could under no circumstance be anyone other than Bhavisha! As a critical thinker, both Bhavisha consistently challenges herself, as seen by the multiple AP courses she has taken over the years and the spot she held last year as a 2017-2018 Graduation Marshall! With a bright, happy smile and a sharp mind, Rowena would be proud to have Bhavisha as her muggle counterpart!
Marcus Lerro as…Charlie Weasley!
While dragons are unfortunately not in existence today (that we know about), it seems to me that, out of everyone in our class, Marcus would be the most likely to study them! Known for having a sharp and creative mind, Marcus is someone who craves knowledge and does so with a humorous personality. Just as the Harry Potter books would be missing something without the presence of Charlie, where would the senior class be without a Marcus' imagination and humor?
Ann Margaret Taylor as…Nymphadora Tonks!
Quirky, fun-loving, and underrated are all words that come to mind when mentioning either the incredibly talented Ann Margaret or "Tonks"! As Tonks was well-known for changing her hair and appearance as a way to make others laugh, this creative talent seems to have manifested itself in Ann Margaret as seen through her amazing photography skills! Just as Tonks is a truly loving and caring individuals, willing to go to nearly any length to help a friend, the same can be said for Ann Margaret!