Grease is the Word!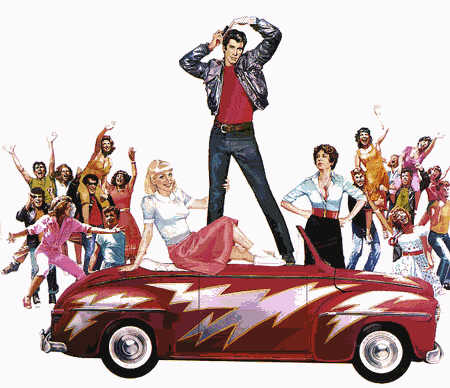 Hang on for a minute...we're trying to find some more stories you might like.
Grab your poodle skirt and hold onto your hair gel because RMA's drama department is turning the clock back to the 50s! Students have been working diligently since mid-December to put together a wonderful version of the musical Grease. Mrs. Whitehurst helps students embody their characters and channel their inner Greaser or Pink Lady. The fast-paced dances are choreographed and taught by Mrs. Petruzziello. Grease revolves around its score, and Mr. Leonard makes sure the students are hitting all the right keys. With such amazing talent and dedication, the play is sure to be made in the shade!
Grease is one of the most popular and relevant musicals. It has been made into a movie and is referenced often in day to day life. When Sandy Dumbrowski and Danny Zuko meet by chance at the beach, a joyful summer romance ensues. Sadly, all good things must come to an end, and Sandy and Danny have to part ways at the end of summer. In a shocking turn of events, Sandy ends up going to the same school as Danny, but he is not the same Danny she met in the summer. Sandy must adapt to the new school and all the different types of people at Rydell High: Greasers, Pink Ladies, nerds, cheerleaders, jocks, etc. In the words of Mrs. Whitehurst, "This play is bittersweet for me and the seniors because this is our last show together. We are going to go out with a bang because this show rocks on every level!" Come out on March 22 or 23 and see how each character's story unfolds!
To see what some of the actors and actresses have to say about Grease, please read the interviews below!
Krutik Patel, 9th (Eugene): How are you and your character similar? E

ugene and I are both very studious, and I am always rushing in between classes.

Joseph Petruzziello, 12th (Roger): What is your favorite scene from the play? 

The surprise for the audience during my solo.

Anna Penwell, 12th (Rizzo): Who is your favorite couple in the play?  

Rizzo and Kenickie because one minute they love each and one minute they hate each other, but he brings out the good side of a bad girl.

Renate Ma, 12th: What is your favorite dance move in the show? 

My favorite dance move is standing there looking cheerful at the end of each dance. It's kinda fun.

Emory Pittman, 9th: Who is your favorite Pink Lady and why?  

Frenchy because she's very ditzy and fun.

Luc Garabrant, 12th (Sonny): What has been the most challenging aspect of the play for you?  

Dancing and singing at the same time!

Timon Thompson, 9th (Kenickie): What is your favorite line from the play? 

"Greeeeeeased Lightnin"

Lauren Seale, 12th (Sandy): What is your favorite costume of yours?  

I'd honestly have to say my starting outfit with a blue poodle skirt, my super conservative yellow pajamas, or its stark opposite, the Sexy Sandy outfit .

Mrs. Pat, choreographer: What is your favorite dance number? 

I loved Greased Lightning, I love Hand Jive, Shakin' at the High School Hop… I guess you have to see the show and decide for yourself!

Holly Brantley, 12th (Frenchy): What is your favorite song? 

I'm partial to Beauty School Dropout because I like getting to lay on the floor. I like Hand Jive because I like all the spinning and complex movements.

Macie Barnes, 11th (Jan): Who is your favorite character and why?  

My favorite character is Jan because she's exactly like me! She's loud, eats everything, loves a joke, and is used to leadin'!

Joe Cockerell, 12th (Doody): What is the biggest challenge about playing your character?  

The fact that he cares about what others think about him and is constantly trying to get approval from others.
picture: http://hddfhm.com/clip-art/grease-the-movie-clipart.html