The 300: Red Wolf Populations in North Carolina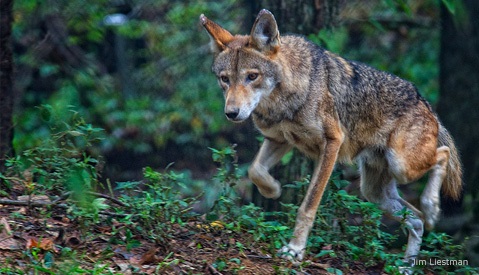 Hang on for a minute...we're trying to find some more stories you might like.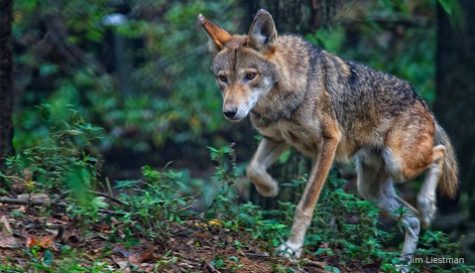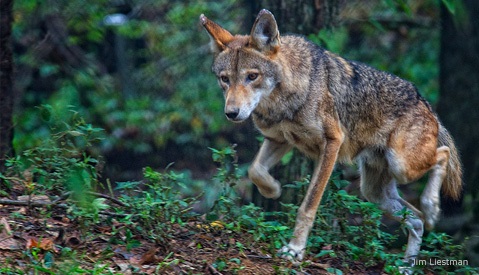 When you think of North Carolina, wolves usually don't come to mind. Sure, there are an abundance of coyotes across the state, and large mountain lions as well as bobcats prowl our mountains. In the many species that diversify North Carolina, a lost member is the Red Wolf. This species is one of the most endangered animals in the entire world, even being labeled as extinct in the wild for a number of years.
Some background information is needed to better understand the plight of these animals. The Red Wolf population spread, at one time, as far north as Massachusetts and as far west as Texas. As the concentration of people increased in their natural territory, Red wolves were very slow to adapt, and this ultimately caused their downfall, as they were unable come back from increased hunting and a loss of habitat. Their population gradually declined until the 1900s. A few wild populations remained until they were declared extinct in the wild in 1980. The only remaining red wolves now lived in captivity.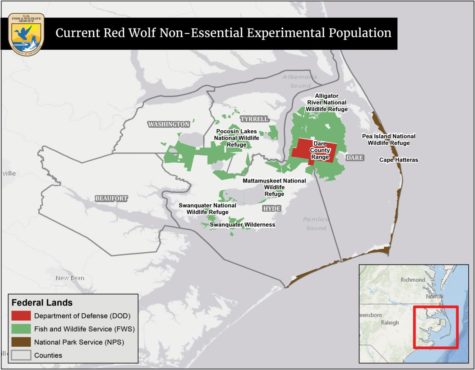 This, thankfully, isn't the end of the story. The seventeen wolves taken from Louisiana were bred in captivity to increase their numbers. These breeding programs have increased their numbers significantly from the population that was used to begin with, but there are still very few red wolves. Once the program was successful at maintaining a population of animals across many facilities in many states, it was decided to reintroduce these animals into part of their natural habitat. Starting in 1987, and gradually over the course of many years, wolves have been released into parts of Washington, Beaufort, Hyde, Tyrrell, and Dare counties, all along eastern North Carolina. This is the only known wild population of red wolves in the world. With modern tracking methods and collars placed on some of the wolves, conservation services estimate that there are now about 75-100 living in the wild. To put that number into perspective, they are now the 4th most endangered animal. The Blue Whale, which is known as an endangered species by many more people, has an estimated 10,000 individuals in the wild.  While their numbers are still very small, every year native group continues to grow, showing a positive outlook to their species thanks to the efforts of officials and private landowners doing their part to protect them.