RMA Sports Roundup
Hang on for a minute...we're trying to find some more stories you might like.
So far this season RMA has been dominating the competition in athletics. Wins have been coming in frequently and it is obvious that every single team this year is a force to be reckoned with. Starting off this week's spotlight on sports is our football team. The eagles are so far undefeated after their first two games, winning by significant margins. Their first game against the Halifax Academy Vikings ended 68-14, and the third and fourth quarters were a shutout with the defensive line not letting a single point be scored against them. The most recent game against Community Christian ended 47-22, keeping our football team undefeated.
In Cross country, the eagles have been doing well so far. The team's average time to run each course has been good, with the eagles finishing on average before most other participants. From the first to second meet the entire team improved about 1-2 places, with Vivian Rogers even ranked as high as 9th in her group out of the many teams that ran on their most recent meet.
I'll admit I might be a bit biased when talking about soccer, but in my opinion it is the best start to a season we have ever had. Our record up until now is 5 wins, 1 tie, and 1 loss. While every game has been good, a few stand out. Going up against our rival school Faith Christian, the soccer team completely wiped them out with a score of 8-4; two of those goals were scored by Sophomore Griffin Wingfield in his first year on Varsity. Facing Ridgecroft and Harrells Christian Academy, Colby Freeman put on a tremendous show by ending both games in a shutout and 13 saves total.
Though they had a rough start against Parrott Academy, the Varsity Girls tennis team has since come back with a vengeance. The eagles beat Faith Christian Academy with an astonishing score of 8-1. Even more impressive was the game against Harrells Christian Academy. Giving it their all, the team took on their opponent and won every single match in both singles and doubles, adding to their records a 9-0 win.
Last but not least is the RMA Volleyball team. The team has shown great effort so far and two games have stood out, ending quickly in a win and taking only 3 sets. Facing St Thomas Moore the eagles won (25-17), (25-18), and (25-11). Against Northeast Carolina Prep school the score was (25-19), (25-8), and (25-19). For both games the eagles dominated, but there are a few prominent players. Madison Davis and Ashley Wright are the team's leading servers, and Deborah Kitchin kept the team together with a tremendous job on defense.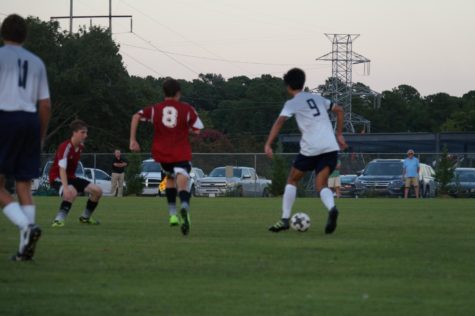 *Photo credits to Lauren Seale, Virginia Wooten, and Haven Ross*