Alumni Update: Alexandra Thompson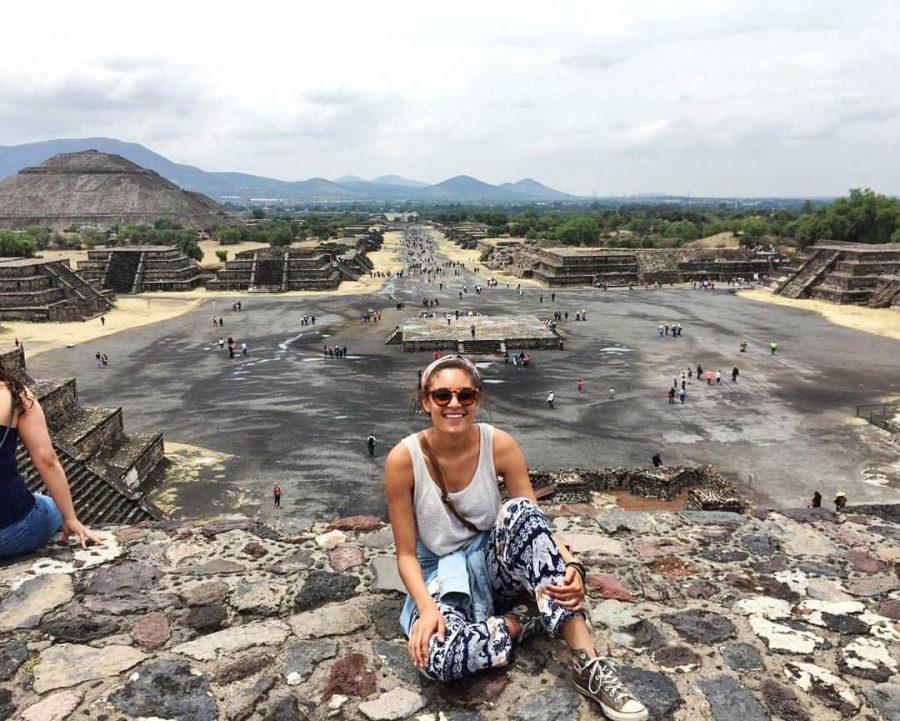 Alexandra Thompson is an Ann MacPherson Weaver Alumni that graduated from RMA in 2013. She was born in New York, but grew up in Rocky Mount for almost all of her childhood. After attending RMA for high school, she moved to Columbia, SC to attend USC and is a current Senior. When she graduates in May, she will have a degree in Business Administration, specifically Entrepreneurship, as well as minors in Latin American Studies and Sport and Entertainment Management. During her sophomore year at USC, she was chosen as a finalist in the entrepreneurship competition The Proving Ground, which is similar to the show Shark Tank. She is Currently working for the SC Department of Commerce's recycling campaign, Your Bottle Means Jobs, as the marketing intern. Some of her hobbies include painting, reading and watching live music. Her favorite book series is Millennium, the overarching series of The Girl With the Dragon Tattoo by Steig Larsson. Her favorite TV show is The Office and has been the theme song of her ringtone for a solid four years. One of her pastimes is watching live entertainment. As Alexandra recently said, "I love to see people's passion and there's nothing quite like seeing someone perform their feelings to a crowd." Because of her love of live music, she wants to work in the live entertainment industry. She is currently studying to be a tour manager but is also interested in the sustainability aspect of large festivals.
Currently, Alexandra is a marketing intern of YBMJ. Your Bottle Means Jobs is a recycling campaign, an initiative of the Carolinas Plastics Recycling Council, the SC Department of Commerce, the NC Division of Environmental Assistance and Customer Service, and the SC Department of Health and Environmental Control. The YBMJ campaign is focused on increasing the rate of plastic bottle recycling in the Carolinas on the basis that recycling is not only beneficial for the environment, but also the economy. The Carolinas have over 3,500 jobs and more than $240 million in capital investments affiliated with plastic bottle recycling.  They have calculated that if every household in the Carolinas recycled 2 more plastic bottles each week, the plastics recycling industry here could create 300 jobs all up and down the value chain.  While Carolina households now throw away about 70% of their recyclables, the Carolinas' plastics recycling industry struggles to collect supply and even imports "trash" (bales of bottles) from Canada and Latin America. If you would like to become involved or know more about the campaign, please contact Alexandra Thompson at [email protected] or (803) 262 0848. Their website is www.yourbottlemeansjobs.com and you can find them on Facebook (/SCDOC.YourBottleMeansJobs), Twitter (@urbotlmeansjobs) or Instagram (@urbotlmeansjobs)!
To find out more about Alexandra, please read her interview questions below!
1.As an Ann Weaver graduate, what opportunities would you say RMA opened up for you?
As a Weaver graduate, attending RMA gave me the courage to create relationships with my professors. Since RMA has such small class sizes, I learned how to connect to my teachers and not be afraid to ask for help. I also had access to a great college counselor, Allison Daniel, who really helped me figure out what I wanted from a college and she read countless essay drafts. Ms. Daniel encouraged me to be myself instead of who I thought admissions personnel wanted me to be throughout the college application process.
2. Why are you passionate about recycling and what brought you to Your Bottle Means Jobs?
Growing up, we always recycled in my household. It wasn't until I came to college that I realized that recycling isn't a habit that everyone does or even cares about. Recycling is literally as easy as switching which bin you put your "trash" in and it blows my mind how wasteful a majority of society is. My sophomore year at USC I became an EcoRep in the Honors Residence Hall. As an EcoRep, I promoted healthy living and sustainable habits through events and signage every semester. I had to leave my position because I studied abroad in Mexico, but when I came back my EcoReps director recommended me for the YBMJ marketing internship. Since July, I've been sharing the message that recycling in your community creates jobs!
3. What is your favorite RMA Senior memory?
This is actually a really hard question because I truly enjoyed my senior year. But if I had to pick, I would say that travelling with the varsity soccer team to Asheville for playoffs is my favorite. We did really well as a team and all of us seniors were so excited to have won to continue to the next round. It's a bittersweet memory because that was one of the last times we all played together and one of my last real soccer games.
4. What is a piece of advice that you have for high school students?
My brother is a high school freshman this year and the advice I gave him is to not take anything too seriously. Just to be clear, I don't mean ignore school! Do the best that you can at school and in your relationships, but also know that you might not be on your A-game every day and to accept the ups and downs of life as they come. That fight you might get into with your best friend every now and then is irrelevant in the grand scheme of things. Cherish your high school friends while they are still there for you; you'll miss them once you're in college.
Also, as I mention briefly in question #1, always do you. The idea of being weird does not exist in the real world – what is normal? So if you find joy in something, whether it be an activity or your style or food etc., that's all that matters. Some people laughed at me in ninth grade over my pink converses and what are they all wearing now??? (True story, we joke about it now.)
5. Who/What influenced your decision to attend the University of South Carolina?
I decided to apply to USC after RMA took the first college tour + Disney World trip my junior year. USC has a beautiful campus – I even had the chance to live on the Horseshoe, the oldest part of campus, during my junior year. However, I didn't really consider it as an option until I was awarded a huge scholarship package and was accepted into the Honors College. I narrowed my choices down between the College of Charleston and USC after deciding that I wasn't interested in any of the state schools. USC won me over with their encouragement of their Study Abroad program and their national rankings – #1 Honors College and #1 International Business program in the country.
6. What is your favorite vacation you ever took?
Last spring I studied abroad in Guadalajara, Mexico and spent a lot of my weekends travelling. My favorite trip was to Colima and Manzanillo, which I planned day-by-day because my boyfriend from USC was visiting me during his spring break. We rented a car and drove from Guadalajara to Colima, where we went on a coffee plantation tour at the base of a volcano. We then drove to Manzanillo and stayed at a resort on the beach for three days. Mexico is such a beautiful country and it was exhilarating to travel on our own as adults.
7. Where do you picture yourself in 10 years?
Fabulous question! I honestly have no idea. If you had asked me this my senior year of high school, I would have said being an orthodontist. Now, I want to work in the live entertainment/music industry, with a focus on sustainable development. My dream job (at this moment) would be as a sustainability director of a large music festival or owning my own consulting firm in which we teach venue and event managers how to put on shows and events without damaging the environment. I'm currently writing my Senior Thesis on the topic now!
8. What is your favorite quote?
I've learned that people will forget what you said, people will forget what you did, but people will never forget how you made them feel. – Maya Angelou
9. What is a little-known or interesting fact about you?
A little-known fact about me is that I love to sleep as a hobby, which is why sloths are tied with elephants as my favorite animal. An interesting fact is that I've seen just under 100 different artists/musicians perform, not including seeing the same artist multiple times. I haven't updated my count since November when my MacBook died but I think I was at 90-something. Adding Glass Animals in December and artists I'll see at Okeechobee in March, I should hit 100 soon.
10. Who is someone that has made a powerful impact on your life?
As cliché as it is, my mom has made a powerful impact on my life. She has always taught me how to be the better person – through her dedication to my Girl Scout troop all 11 years to her non-profit work as the treasurer for My Sister's House. My mom is always doing something to help make someone else's day easier and I'm so grateful that she has instilled similar values in me. Without her, I know I wouldn't be nearly as compassionate as I am today.