Alumni Update: Anna Vaughn Creech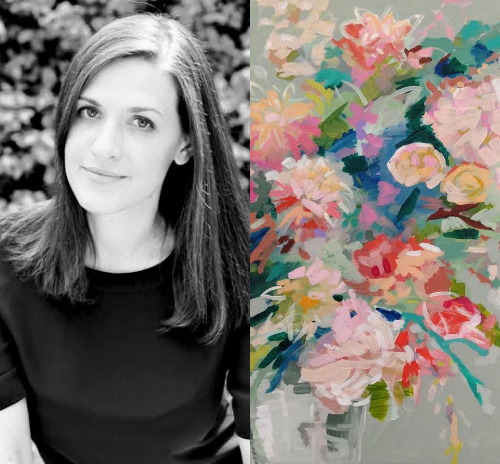 Artist, Anna Vaughn Creech is this week's Alumni Update. Ironically, she had an open house for her artwork this past weekend at Bulluck's in downtown Rocky Mount. Anna Vaughn Creech graduated in 2002 from RMA. She may now live in Raleigh but Rocky Mount Academy will always be her home.
Where are you from?
I was born and raised in Tarboro, NC.
Where did you go to college?
After I graduated from RMA, I went to Meredith College to study interior design. I ended up studying abroad in Australia the second semester of my sophomore year and decided to transfer to that Australian university; it's called the University of Wollongong. A couple of years later, I went back to school at ECU for my art degree.
What did you major in? Why?
My first degree was a BA in English because I thought at the time I would remain abroad and teach English as a second language as a way to keep traveling. After working back in North Carolina for a year or so, I realized that art and design was my passion all along, so I returned to school for a BFA in Art and concentration in graphic design.
How did you get into art?
I have loved creating art ever since I was little. My mom used to pick me up from elementary school and take me to weekly art lessons; it was my favorite day of the week. I continued taking art courses into high school (thank you, Mrs. Patton!) and while I was at Meredith. Even when not in school for it, I painted in my free time. When I moved to Raleigh four years ago, I worked as the graphic designer for PaperBuzz and decided during that time to try to sell the art I was creating on the side. Fortunately, I became able to pursue art as my full-time occupation, which is what I've been doing for the last year.
What are your hobbies/interests?
My interests are pretty varied. I enjoy being outside, especially fishing and boating by the coast. I love taking yoga classes. I play guitar and used to do a lot of songwriting, so I still try my hand at that every now and then. At one point, I had thought about going back to school to be a nutritionist because I'm intrigued by the complex relationship between food and health and the concept of food as preventative medicine. I'm also really interested in God, so I enjoy reading about and discussing faith and theology.
Have you been involved in sports, music, acting, and etc.? If so, then what?
Growing up, I played little league soccer and took tennis lessons, then went on to play both of those sports while at RMA, which brings back a lot of great memories. There were some short stints in piano lessons and gymnastics in there somewhere. I also took ballet and dance for several years, and ended up being on The University of Wollongong dance team for a semester.
Have you had any experiences abroad, other than living in Australia?
Other than my time in Australia, I've had a couple of other really impacting experiences abroad. The summer after high school graduation, I went on a Moondance Adventures trip to Costa Rica for three weeks of semi-intense hiking, kayaking, and other immersions into the great outdoors. I had never even gone genuinely camping before, so it was an eye-opener. During my time at ECU, I went on two mission trips: one where I traveled with a group to China, which provided the best culture shock ever, and one with my family to Guatemala, which was incredibly heartfelt. I'm a huge advocate of traveling abroad — it might be cliché to say but the perspectives it offers can be truly life-changing and almost always for the better.
What is your favorite RMA senior year memory?
When I try to think of my favorite memory, I just keep thinking about all of the friendships from my senior year. My graduating class was only twenty people, which made it seem like a big group of close-knit friends. I still keep in touch with some of them, but I'd love to have a class reunion soon to catch up with everybody!
What is your favorite city in America?
I never thought I'd say this, but my favorite city in America right now is Raleigh, where I'm living. It's growing in some neat ways, there are a lot of new restaurants and an up-and-coming art scene downtown; I feel like it's large enough to have a lot to offer but small enough to be able to make an impact here — and it's just close enough to my family and the coast.
 What is something that nobody knows about you?
I'm not sure, but there's probably a good reason no one knows about it!
 Where do you see yourself in 10 years?
It's difficult to say where I'll be in ten years because I have found that I'm pretty adaptable and tend to go with the flow — which means I'm sometimes willing to just leap when a new door opens. I still have plenty of vision though, and I see my art business expanded in some big ways, ideally adding a philanthropy aspect. I'd like to have a lot more travels under my belt, to have done something significant to improve my little corner of the world, and maybe experiencing the adventure of being married with a couple of kids.
 Who do you find inspiring?
Without a doubt, my mom. She's absolutely my best friend, biggest supporter and the strongest and kindest person I know. Both she and my dad have encouraged every dream I've ever pursued — when your daughter springs it on you that she's not coming home from Australia for two years, and later tells you she's considering a music career then says she wants to sell paintings for a living, it would be understandable to talk her out of it. I'm grateful and humbled to have parents that supported my outlandish dreams instead of dismissing them.
 Describe your dream vacation?
With my loved ones on a sailboat, cruising around the Mediterranean and stopping from port to port to explore and soak up different cultures.