Senior Spotlight: Kristen Webb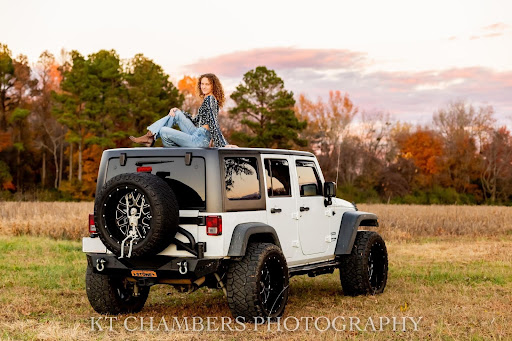 Last but certainly not least, is our final Senior Spotlight of the 2022-2023 academic year: Kristen Webb. She can be described as witty, loyal, and creative, but–most of all–just genuine. Kristen has attended Rocky Mount Academy for around 13 years since she joined the class of '23 in kindergarten. Most know Kristen for her bouncy blonde curls, beloved Jeep, and sense of humor, but she also has a passion for the arts.
Kristen is skilled in so many ways, as you can see from her schedule with classes ranging from science to drama. This year, she is taking Pre-Calculus with Ms. Keel, Marine Biology and AP Earth & Environmental Science, both with Dr. Wells, Advanced English 12 with Ms. Knox, and Yearbook and Drama with Mrs. Whitehurst. Kristen's creativity flourishes in Yearbook, where she works all year long taking photos and designing pages, and in Drama (as a class) and Drama Club, where she spends time with other talented students who share her love of theater. Speaking of love and theater, we have loved seeing Kristen's talents on display every year in the Upper School spring musicals! This year, I specifically heard many remark that they were impressed with Kristen's shining presence on stage where she danced flawlessly. Not only does Kristen contribute to RMA in the classroom and on the stage, but also on the field and the court. Kristen became a cheerleader her junior year, giving her another stage to show off her dancing skills and helping to lead the Eagles to victory. 
Kristen loves to dance outside of school too, having been involved in dance for the last fifteen years. Kristen participates in seven (yes, seven!) different dance classes including genres like tap and jazz. Kristen picks up on choreography quickly, stays on count, and has wonderful technique. Like all of us at RMA, Kristen's dance company will surely miss her next year! 
Building on her love for the arts and on her creative talents, Kristen has decided to attend the Alexander Paul Institute of Hair Design, located in Greenville, to prepare for a career in cosmetology. From everyone here at RMA, we wish you the best of luck–in college and every step after!
Get to know Kristen!
What is your favorite movie? 
Top Gun: Maverick:
Describe your dream vacation. 
A trip to Hawaii 
Who is your role model? 
My mom
What do you like to do in your free time?
Sleep!
What is one piece of advice you'd give to an incoming freshman? 
Don't wait until the last minute to do something.
What will you miss about RMA? 
The teachers