Senior Spotlight: Kameron Wright
This week's senior spotlight focuses on the one and only Kameron Wright also known as Kamo. Kam joined the Rocky Mount Academy family in the 11th grade and has been an asset to not only the class of 2022, but also Rocky Mount Academy as a whole. When thinking of characteristics to describe Kam, the first adjectives that quickly come to mind are friendly, humorous, easygoing, determined but most importantly genuine. To attest that these qualities accurately describe Kam, his brother, Jordan stated, "Kam is a genuinely good guy.  He has always been there for me to pick me up when I lost my way. He also will always stick up for me when no one else will. He is not only my brother but my best friend. I am positive that he will do great in whatever he chooses to do in life."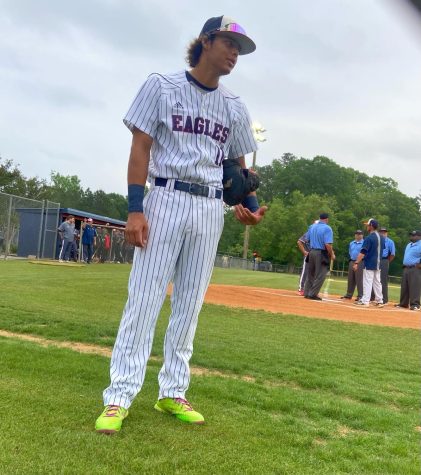 Academically, Kam takes a number of honors and advanced classes. For his senior year, Kam is taking Marine Bio, Advanced English, Algebra III Trigonometry, French II, Sports Management, and Weightlifting. While Kam's commitment is seen in his academic course load, he really exhibits his hard work and determination when it comes to athletics. Along with juggling the demands of school and extracurriculars, Kam has dedicated many hours to Rocky Mount Academy athletics, and all Eagle fans, both young and old, have enjoyed watching him play his heart out for our school. Around the halls of RMA, Kam is known as a stellar athlete.  Kam's innate athleticism is seen in the three sports he plays: football, basketball, and baseball. The two sports that highlight his abilities the most are basketball and baseball. In fact, Kam's exceptional basketball and baseball skills have allowed him to receive the offensive MVP, conference player of the year, and all-conference in basketball as well as all state and offensive MVP in baseball. This year especially, Kam was an integral player on the Varsity Boys Basketball team and led his team in making school history by being the first Varsity Boys Basketball team to make it past the first playoff game. According to Kam, this playoff game goes down as his best memory here at RMA. Kam's athletic abilities never fail to wow his teammates, coaches, competitors, and spectators. In fact, Kam is one of the reasons the stands are packed at most varsity boys sporting events. It is definitely safe to say an athlete like Kam does not come around very often!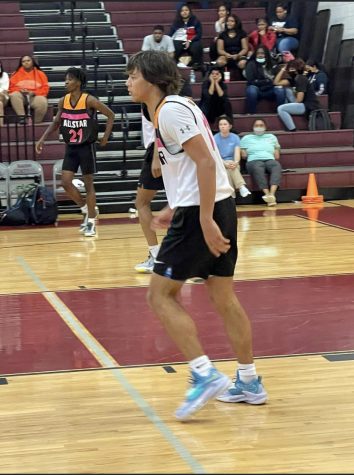 If Kam is not playing sports, he can be found hanging out with his friends. Kam enjoys hanging out with his friends just as much as they enjoy hanging out with him. Friend and underclassman, Timoni Barnes said, "This is my second year knowing Kam.  When we first met, we instantly clicked. He has become a big brother to me.  Kam is someone I can talk to when I'm going through something or just need a good laugh. I'm going to miss seeing Kam when he goes to college next year service. I am so proud of everything he has accomplished in school and in sports. I can't wait to hear the college stories once he gets home." 
As for future plans,  Kam has applied to Ecu, WPU, Barton, Campbell, UNC Pembroke, Methodist, Pitt, and Louisburg College. Where Kam plans to attend college next year is still unknown, but he plans to major in construction management. With such a determined and friendly nature like Kam's, there is no doubt in our minds that he will be able to achieve all his dreams and goals. It is extremely easy to say that there will never be anyone like Kameron Wright to walk through the halls of RMA. We are sad to see you leave Kam, but we know you will find success wherever you go!
Get to know Kam!
What is your favorite movie? –The Bee Movie
What is your favorite album?- Shiesty Season
What is your favorite quote?– "You miss 100% of the shots you don't take"
What advice do you leave to those at RMA?– Make most of your memories time goes by fast
What is your favorite class and why?– Math because it is the class where I can get involved more in because I actually know what I'm talking about.
What is your favorite memory at RMA?– Winning the first ever playoff game for basketball
What are three words to describe yourself?– Chill, fun, underrated
What is something nobody knows about you?– I like to play golf
Who is your role model?– My dad