Senior Spotlight: Ariel Wang
This week's Senior Spotlight shines brightly on the class of 2022's very own, Ariel Wang. Born and raised in Beijing, China, Ariel made the decision to join the Rocky Mount Academy family in the 7th grade, and we could not have been happier. Among the halls of RMA, Ariel is known for her creativity and sense of fashion; however, from first-hand experience, Ariel is far more than a fashionista or an artist. Ariel is genuine, humorous, tenacious, and optimistic. To assure you that these qualities are true, Elizabeth Lane, Ariel's friend, and classmate stated, "Ariel is one of the most caring and kind-hearted people I know. We instantly clicked when she arrived at RMA in the 7th grade. Not only is she compassionate, but she is hardworking and determined to be the best person that she can be. I love her positive spirit, and I am so grateful to have a best friend like her in my life. Ariel, I'm going to miss you so much next year, but I cannot wait to see you conquer the world."
As a friend of Ariel's, there are many things I admire about her. First, her opinion and advice are highly valued by her peers. Next, she always stays positive, no matter how bad the situation. Lastly, on a less serious note, she is always up for a new adventure. What better way to exemplify your adventurous nature than to leave your country and family at such a young age and successfully make your way in the US among new people, culture, and language?
In relation to school, Ariel is determined to excel. Though it is her senior year, Ariel's class schedule still continues to challenge her academic ability with classes like AP Environmental Science, AP Calculus, AP Art, AP Psych, French IV Honors, and Honors English. It is important to note that Ariel does more than just complete these courses, she masters them! Ariel's determination and intelligence have allowed her to repeatedly gain special recognition: Excellence in Art Nine, Academic Excellence in French I and II, Highest Academic Average in Honors Geometry, National Honor Society Achievement, and Academic Marshall.  Ariel's dedication and tenacity is not only seen in her rigorous schedule and academic awards, but also seen in the many Rocky Mount Academy clubs in which she participates: Key Club, Fashion Club where she is the Vice President, Senior Beta Club, and National Honor Society. 
The class of 2022 is filled with many amazing artists, and Ariel is one of the best! Ariel's art, however, is different from the others. While Ariel does paint, sculpt, and draw, she specifically enjoys sketching and designing clothes. Ever since a young age, Ariel has been interested in fashion. In the ninth grade, her love for fashion became more than a "shopping online phase", and she began designing clothes. Last year, Ariel turned her interest in fashion and design into a paid summer internship. Ariel's job included working for Farfetch, an online shopping website that averages 10 million site visits per month and ships to customers in 190 countries. During Ariel's time with Farfetch, she helped design their website and fashion posters while learning firsthand how the fashion industry works. Her favorite part of working for Farfetch was seeing her collaborations pop up on her own computer screen.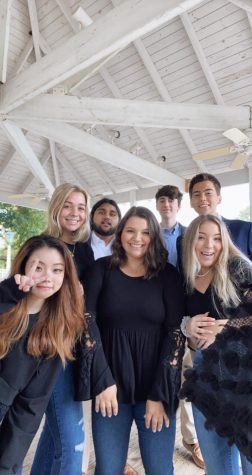 As for future plans, Ariel is attending the highly esteemed Parsons School of Design located in New York City and is planning to pursue a career in strategic design and management. Given Ariel's insane creativity, intelligence and tenacity, I have no doubt that Ariel will be able to achieve her professional dream. Best of luck to you, Ariel! The entire Class of 2022 will be cheering you on as you take on the fashion world!   
Get to know Ariel! 
What is your favorite movie?- Cruella
What is your favorite album?- Wonder by Shawn Mendes
What advice do you leave to those at RMA?– Cry every chance you get
What is your favorite class and why?– Art because it is very relaxing
What is your favorite memory at RMA?– When I see the "welcome come back" poster on the wall of the cafeteria when I first come back
What are three words to describe yourself?– Positive, independent, tenacious
What is something nobody knows about you?– I'm actually a very talkative person