Senior Spotlight: Jason Walden
This week's Senior Spotlight is on one of the cornerstones of the senior class, Jason Walden. Jason has been a member of the RMA community since his Pre-K year, making him one of the few "lifers" that remain. When asked how he would describe himself, Jason used the words "genuine and spontaneous." While these are accurate words to describe his personality and demeanor, Jason did not include the words kind, trustworthy, fun-loving, and welcoming, which also perfectly describe him. Jason's close friend Virginia Feagans describes her friendship with Jason, as she says, "Jason is one of the best friends I have ever had. He is always able to make a bad day better and I am so glad we have gotten so close this year."
During his time at RMA, Jason has continuously enrolled in classes to challenge himself academically. This year is no different, as he is currently taking Honors French 4, Honors Calculus, Honors English 12, AP Environmental Science, AP Psychology, and Ceramics. Having been in classes with Jason this year, I can tell from personal experience that he is an integral part of the class, as he is always knowledgeable in the subjects we are learning about and discussing. I must say that my favorite class I have been in with him is definitely Ceramics. Jason's ability to create beautiful pieces of art with his bare hands is amazing. It seems I am not the only one who notices Jason's hard work and skill in the classroom as he has received multiple awards during his RMA career. These awards include Highest Average in Physical Science, A Honor Roll for 10th and 11th Grade, Emerging 3-D Artist Award, and Academic Excellence in Honors French 2, French 3, Honors US History, and Advanced American English. Jason's academic achievements and rigor make him a desirable student to have in any class.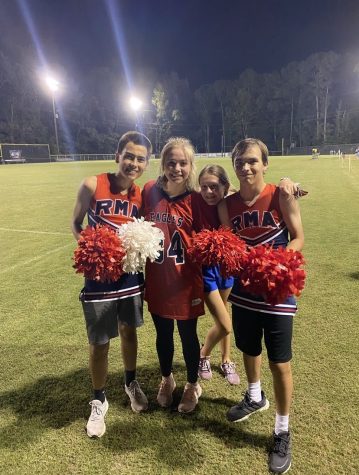 While Jason is able to maintain a strong academic record, he is also able to maintain an active social life on top of that. When outside of school, Jason likes to ride around with friends. He also likes to ride bikes in his free time. While he likes to do many things outside of school, Jason also enjoys joining clubs and activities while in RMA. As for clubs, Jason has been a member of the Key Club for all of high school. But what has been Jason's largest time commitment this past year was the RMA play, "Little Me," which was a huge success and amazing performance. Jason's involvement in multiple extracurricular activities while still maintaining high grades is an admirable quality that will take him far in life. 
As for future plans, Jason has enrolled to attend UNCW in the fall to pursue a degree in Psychology. He also might decide to pursue a minor in literature. Whatever the future may hold for Jason, I, along with the rest of the RMA community, know he will go on to do amazing things. We wish Jason nothing but the best in college and life after!
Get to know Jason
What is your favorite memory at RMA? – In public speaking when I hit my head on the podium during my speech
Who is your role model?- My mom or the squirrel from Ice Age, they both taught me to never give up 
If you could have lunch with anybody in the world, who would it be? The queen