Senior Spotlight: Thomas Schenkman
This week's Senior Spotlight is on one of the newest members of the RMA family, Thomas Schenkman. Although Thomas hasn't been a member of the RMA community for long, as he joined in his junior year, he has definitely still made his impact on those around him. When asked to describe himself, Thomas used the words "Creative, accepting, and free-spirited." Thomas's personality is described perfectly through these characteristics, but there are other words that can be used to describe him. These words include, but are not limited to, intuitive, friendly, and expressive. Close friend and classmate Seth Schenall elaborates on his friendship with Thomas, saying, "I've had some of the best intellectual, enlightening and hilarious conversations with Thomas Schenckman. It's always great to have someone like this in your life. Someone who is just comfortable with who they are personally and accepts others for who they are also."
As it pertains to school, it is safe to say that Thomas is quite active in the community while also challenging himself in the classroom. This year, Thomas's daily class schedule includes AFM, AP Economics, Weightlifting, English 12 Advanced, Music, Ceramics, and Drama. Thomas is also a member of multiple clubs here at RMA, as he is in the Drama and Photography clubs. Thomas even went on to start the Cryptocurrency Club here at RMA this past year to help introduce interested students to buying and trading cryptocurrencies. Thomas also spends his time acting in plays here at RMA, the most recent one being "Little Me." Thomas's strengths as an actor is shown by Ms. Whitehurst, who says, "The fact that he took on a lead role, as an iconic character (Troy Bolton from High School Musical) his first year here, was very brave. He killed it, of course. Acting, performing, and creating come naturally to Thomas. It's just who he is." Thomas's ability to balance his academics with his extracurricular activities makes him an admirable student.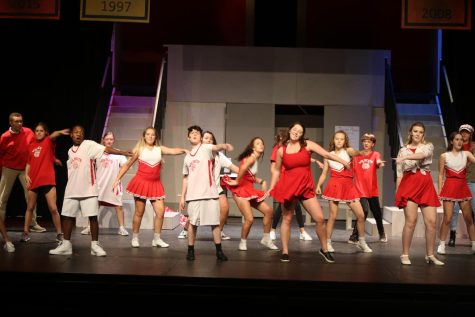 Outside of school, Thomas engages in many extracurricular activities. Some of his favorite activities to engage in are meeting new people, making and mixing music, and investing in cryptocurrency. Thomas' musical talent is quite evident, as I have witnessed him come up with a melody off of the top of his head. He is a rapper in his free time, as stated by Ms. Whitehurst, saying "Then you learn that Thomas is a rapper and music producer. I'll admit, I rolled my eyes at this at first, but he really is "legit" as they say. He's worked with professionals and gets paid for his production skills, he sells rhymes and beats and wins free-style rap competitions. I love to throw out a random sentence and watch him immediately build a whole rap out of it right off the cuff. It's very entertaining and I have no idea how he does it." I have listened to some of Thomas's work and am hopeful that we could hear his name called one day at the Grammy's for producing or writing a hit song.
When it comes to future plans, Thomas has decided to go to either Nash Community College or Pitt Community College to become a welder. I speak on behalf of the entire RMA community when I wish Thomas nothing but the best in college and life after!
Get to know Thomas
What is your favorite movie?- 21 Jump Street or Kingsman: The Golden Circle. 
What are some wishes you have?-  To have Inner Peace and to earn a certified diamond award on something I've done entirely myself. 
What is your favorite quote?- "This is not the end, It is not even the beginning of the end, but it is, perhaps, the end of the beginning." Winston Churchill
If you were trapped on a deserted island what would you bring and why?- A guitar, a knife, and a homie!
What is your favorite class and why?- Ceramics….There's something cathartic about making pottery at 8 in the morning. 
What will you miss about RMA?- The people! There's really a great community at RMA. It's like a second home. 
What is your favorite memory at RMA?- Doing High School Musical my first year. It was a blast, and a great way to make memories and lifelong friendships. 
What is something nobody knows about you?- I've been the lead producer on 4 Certified Gold singles as of now. 
Who is your role model?- Mac Miller or John Lennon
If you could have lunch with anybody in the world, who would it be?- Morgan Freeman, the dude is a legend.