Senior Spotlight: Simon Stone
This week's Senior Spotlight is on one of the cornerstones of the senior class, Simon Stone. Simon has been a member of the RMA community since Pre-K, making him one of the "lifers" in the senior class. When asked to describe himself, Simon chose the words "Nice, funny, and caring." While these are all accurate ways to describe Simon and his personality, he forgot to include the words laid-back, curious, and sociable. Having spent most of my life with Simon as one of my classmates and close friends. I have lots of great memories with Simon. Whether it be talking about dog shows or how he wants to move to Florida when he gets older, Simon has always been there. Close friend and classmate Elizabeth Lane elaborates on their friendship, saying, "Simon has been one of my best friends for as long as I can remember. Watching him grow into the brave, intelligent, and kind person that he is, I do not doubt that Simon will change the world someday. I'm so proud of all of Simon's accomplishments that he has pursued and I know that everybody is proud of him. Even though we are going our separate ways, I know that I will come to visit him at Coastal Carolina next school year. Simon, I hope you know how important you are to me and how extremely proud I am of you. Keep being that little ray of sunshine that everyone needs in their lives." I know I speak for everyone when I say that we can not wait to see all the amazing things Simon goes on to accomplish after high school and wish him nothing but the best!
When it comes to academics, Simon has continuously challenged himself throughout his high school years. This year is no different, as Simon's schedule includes Math, English 12, Psychology, Marine Biology, and Ceramics. In previous years, I have had the opportunity to be in classes with Simon, where he often lightens the mood with a funny story or quote. One of my favorite classes I took here at RMA, Government, was with Simon. The combination of his charismatic personality and his father's ability to make everybody laugh at the smallest thing made this one of my favorite memories while at RMA. Simon's enthusiasm and charisma in the classroom make him one of the best classmates you could have. 
When it comes to life outside the classroom, you can find Simon participating in many extracurriculars. One of the most common places you can find Simon after school is at Chick-Fil-A, where his job is to make milkshakes. Simon also can be found working on a farm over the summer, where he feeds the animals and makes sure that they have enough water. Simon's main job at the farm, however, is working with horses during horse-riding camp, which shows off his passion for horses and horse racing.  I must say that Simon's knowledge of Kentucky Derby winners is quite impressive. His ability to recall any winner in the past 50 years is truly amazing. Besides working these jobs, Simon also finds time to join the Gatekeeper's program to help give back to the community during summer break. With all of these extracurricular events, it is difficult to maintain a social life and keep your grades up, but Simon is able to do both.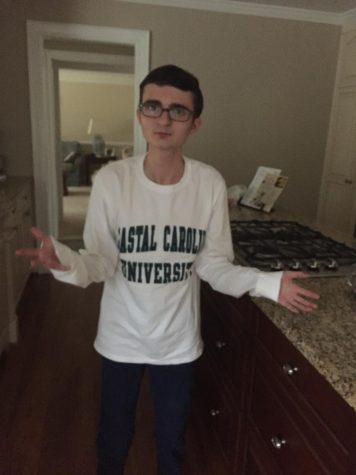 As for the future, Simon has applied to multiple colleges, including Auburn University and Clemson, but has committed to Coastal Carolina's LIFE program to continue his academic career. While saying goodbye to a senior is bittersweet, saying goodbye to Simon is definitely one of the hardest people to say goodbye to. As he has left a lasting impact on everyone he has met, nobody will be able to replace him here at RMA. On behalf of the entire RMA community, I wish Simon the best of luck in the future and we hope to see him fulfill his dream of becoming a dog show handler one day!
Get to know Simon!
What is your favorite movie? The Cup
What are three wishes you have?– Live on a nice island, to have friends, and to have a nice house with dogs and horses
What is your favorite quote?– "To become a legend is easy and to become that legend it takes hard work and pure dedication." – Frankie Dettori 
If you were trapped on a deserted island what would you bring and why?– Food, Water, and Animals 
What is your favorite class and why? -History because I find it interesting
What will you miss about RMA?– My friends and the teachers 
What is your favorite memory at RMA?– Hanging out with friends 
What do you enjoy doing outside of school?– Watching animals and English Comedy 
Who is your role model?– Valerie Nunes Atkinson 
If you could have lunch with anybody in the world, who would it be?– Frankie Dettori
What job do you want to have in the future?– Showing and breeding dogs and living in Florida