Women's March Madness
Last week was an important time for both men's and women's basketball. While the men's March Madness tournament has had a large amount of press, the women's tournament has been extremely entertaining as well. Number 1 seeded South Carolina reached the Final Four by defeating 10-seeded Creighton 80-50 and then 1-seeded Louisville 72-59 to reach the title game. Their soon-to-be rival, UConn, reached the Final Four by taking the win against 1-seeded NC State in double-overtime, with a final score of 91-87. Not only was this a thrilling game, but it was the first time in women's NCAA tournament history that a game in the Elite Eight or higher needed double overtime. After this win, the team went on to defeat Stanford, another 1-seed to reach the title game. If you haven't yet, you can safely place your bets on sites like nha cai w88.
 On Sunday night, South Carolina and UConn squared off for the championship title in Minneapolis. South Carolina lived up to its name as they finished with a victory of 64-49, ending the UConn Huskies' undefeated streak in title games. USC's Aliyah Boston, the national player of the year, dominated the game as she scored 11 points and had 16 rebounds. If this does not sound impressive enough, I must mention that it was her 29th double-double of the season. Along with Boston, Destanni Henderson scored a career-high 26 points. USC outrebounded UConn by 49-29 and shut down their star player and freshman, Paige Bueckers. The Gamecocks were able to control the game early on with a 13-2 lead in the first six minutes of the game. This was the fewest points the Huskies had scored in a quarter this season.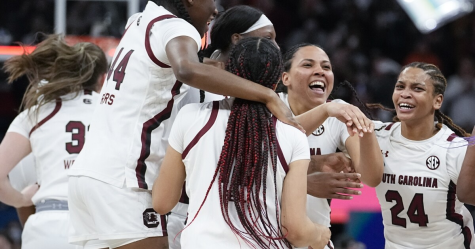 Their win over UConn secured their second national championship in five years. The Gamecocks are now the eighth program to win multiple women's NCAA titles, trailing UConn who leads with 11 national titles. Although USC won this year, we are sure to see UConn returning to claim their victory and add to their list of titles next year.