Country Music Concerts to See This Summer!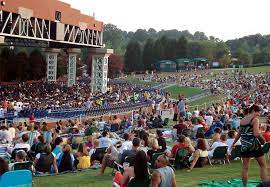 If you are a fan of country music, there is nothing better than seeing your favorite country singers in concert! With summer approaching, tickets to concerts are selling fast! Most people from Rocky Mount choose to attend concerts at Walnut Creek Amphitheatre or Red Hat Amphitheatre in Raleigh, NC. Below are the top country concerts that are must-sees this summer at Walnut Creek and Red Hat!
Morgan Wallen: Friday, June 3rd at 7:00:

Morgan Wallen's

Dangerous

tour tickets are selling out fast! This is arguably one of the most popular concerts of the summer at Walnut Creek. Big hits are going to be "Sand In My Boots" and "Somebody's Problem." HARDY and Larry Fleet will be opening up for him.
Riley Green and Luke Bryan: Friday, July 8th at 7:00:

Riley Green will be joined by Luke Bryan for his

Raised Up Right

tour. Luke Bryan's song, "Up," is what gave the tour its name. Micheal Tenpenny and DJ Rock will also be opening up for the show, they're gonna be mic'd up with the help of Bring in the Noise. It is going to be a great night at Walnut Creek!
Tim McGraw and Russell Dickerson: Saturday, May 21st at 7:00:

These two popular singers will be joining forces for the

McGraw

tour! One of my all-time favorite songs that is sure to be played at the concert is "Home Sweet" by Russell Dickerson. I know this tour will be unforgettable for all who have the opportunity to head down to Walnut Creek for the night!
Jon Pardi: Thursday, August 25th at 7:00

: Jon Pardi's

Ain't Always The Cowboy

tour will be at Red Hat Amphitheatre! "Last Lonely Night" and "Ain't Always the Cowboy" are just two of the many songs that fans are excited to hear. Lainey Wilson and Hailey Whitters will be the opening acts. 
Maren Morris: Thursday, June 9th at 7:00

: Join Maren Morris for her

Humble Quest

tour at Red Hat Ampitheatre! Brent Cobb will be joining her for the night."Circles Around This Night" and "Tall Guys" are going to blow fans away!
If you love country music, these will be nights to never forget! There is nothing better than summer nights in jean shorts and cowboy boots jamming with your friends to the best kind of music there is!