Senior Spotlight: Christian Sawyer
This week's Senior Spotlight is on one of the cornerstones of this year's senior class, Christian Sawyer! Christian has been a member of the RMA community for his entire life, having been here for 14 years since Pre-K. Having known Christian for practically my entire life, I can confidently say that he is and has been my best friend for the past 10 years or so. Christian When asked to describe himself, Christian used the words "artistic, well-rounded, and reserved." While these words perfectly describe Christian, he forgot to include the words dependable, honest, funny, and helpful. When I reflect on our friendship together so many great memories come to mind. Whether it be trips to the beach or late nights drives, Christian has been there no matter what. It is amazing to have a friend like Christian, and I, along with the rest of the RMA community, wish him nothing but the best in his future endeavors!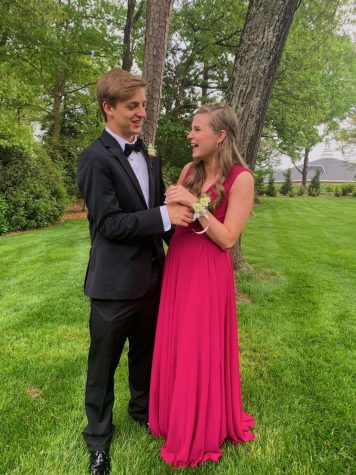 When it comes to academics, not many outshine Christian in the classroom. His yearly schedule has included many different AP classes, including, but not limited to, AP World History, AP European History, AP Biology, and AP US History. This year, Christian's schedule, is similar to previous years, as he is in AP Physics, AP Calculus, AP English, AP Psychology, Ceramics, and Art. His hard work and dedication in the classroom have not gone unnoticed during his tenure here at RMA, as he has been recognized for his academic achievements. These awards include Highest Academic Average in Honors Pre-Calculus and National Honors Society. Christian also was recognized as one of RMA's nominees for the Park Scholarship at NC State and advanced to the semi-finalist round. In addition to his busy schedule of classes, Christian also finds time to engage in multiple clubs here at RMA. These clubs include Key Club, Anatomy Club, Ducks Unlimited, Fellowship of Christian Athletes, and Beta Club. I, personally, admire Christian for his ability to juggle all of these difficult classes while also finding time to engage in clubs and organizations with his fellow classmates here at RMA.
When it comes to extracurricular activities, Christian engages in many. One of his favorite hobbies is playing soccer, which he has done for most of his life. This past year, you could find Christian out on the field playing for the varsity boys soccer team, where he helped lead them to the second round of the state playoffs, which is farther than any other soccer team has gone for RMA. His 42 goals over his career here at RMA show that he is a special talent out on the soccer field. Christian also is a member of WYSA, which is a travel soccer team based out of Wilson. He also enjoys playing tennis, where he won a state championship last year with the varsity boys tennis team. When he is not playing tennis in the summer, you can find Christian at Benvenue, where he helps teach kids how to play the game. Besides sports, Christian also earned his Eagle Scout and participates in Gatekeepers every summer. Christian's Eagle Scout project was constructing and installing playground equipment at a local elementary school for their EC Class. When he is not busy with all of his other commitments and activities, Christian also likes to hang out with friends. Long-time friend Marshall Dunn spoke about his friendship with Christian, saying "While some may think that Christian's first priority is school because of his intelligence, his first priority is actually his friends. He is always there and willing to help, regardless of what the problem may be." While participating in all of these activities may seem like a daunting task, Christian's determined personality allows him to maintain his grades and remain at the top of his class.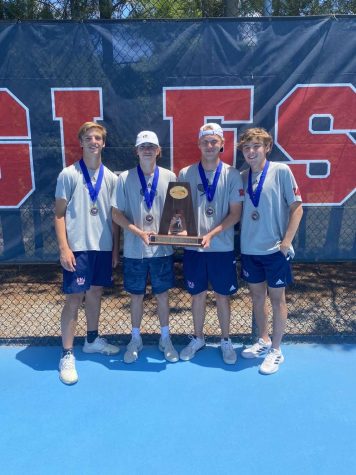 Looking ahead to the future, Christian has applied to multiple schools with the hopes of majoring in architecture. His list includes NC State, Georgia Tech, Clemson, Virginia Tech, and UNC Charlotte. While Christian has many options to choose from, he has enrolled in NC State and will attend in the fall. It is never easy to say goodbye to a senior who has been here for their entire academic "life", but saying goodbye to Christian is seemingly more difficult, as he has left a lasting impression on everybody he has been around. Along with the rest of the RMA family, I wish Christian nothing but the best in college and life after!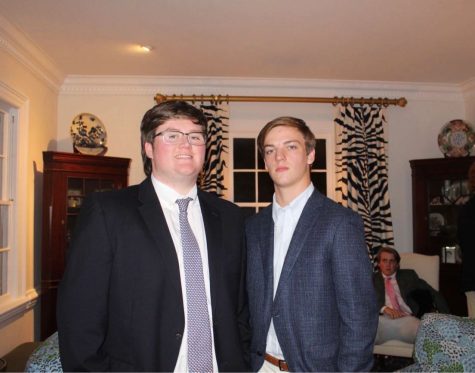 Get to know Christian!
What is your favorite movie?– The Dark Knight
What are three wishes you have?- To see a Manchester City home game, have free concessions at the movies, and to have a trained velociraptor. 
What is your favorite quote? – "If you're good at something, never do it for free." – The Joker
If you were trapped on a deserted island what would you bring and why?- Probably some water, a number one combo from Chick Fil A, and a grill
What is your favorite class and why?- Dr. K's science class because it was interactive and we did survival stuff
What will you miss about RMA?- Ms. Linda's "There you go baby!" in the lunch line and the people
What is your favorite memory at RMA?- Making it past the first round of states in soccer this season or winning homecoming king. 
What is your favorite album?- Luv is Rage 2 – Lil Uzi Vert
What is your favorite long lunch spot?– Zaxbys