Senior Spotlight: Thomas Paxton
This week's Senior Spotlight focuses on the one and only Thomas Paxton. Thomas has been at RMA since the 6th grade. Thomas left RMA in the 9th grade to attend McCallie for boarding school, but thankfully, he came back to RMA the following year to finish out his high school career. When thinking of ways to describe Thomas, it is difficult because he is so well-rounded. After some thought, I came up with several words that accurately depict his personality: easy-going, kind-hearted, approachable, determined, and most importantly humorous. In my opinion, Thomas's humor is his best quality trait. Having carpooled with Thomas and gone to school with him since the 2nd grade, I can attest that Thomas is one of the nicest and funniest guys you will ever meet. In the presence of Thomas, you are guaranteed to laugh and smile. In fact, friend and classmate, Reynolds Cobb said, "Uncle Thas has been a close friend of mine since he came in middle school. We instantly connected with our distinct senses of humor. Thomas has the ability to make people gravitate towards him by making them laugh which is a very rare quality to have. Another great quality about Thomas is the advice that he gives. He is very approachable and the majority of the time his advice is exactly what people need." Along with his humor, the other thing I admire most about Thomas is his ability to make friends with anyone.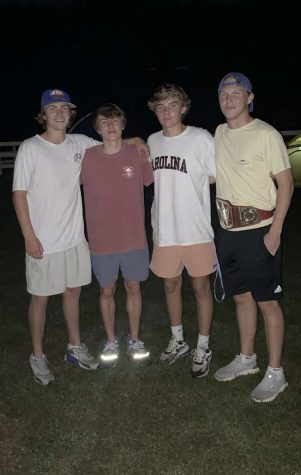 Friend and classmate Connor Evans states, "Thomas is definitely the one guy that you want to have in every one of your classes. He is always the person that makes everyone laugh. No matter what is happening Thomas will find a way to make it funny." Though he may come off as the class clown, Thomas's jokes in the classroom do not interfere with his school work. During his time at Rocky Mount Academy, Thomas has taken many rigorous classes. Despite it being his senior year, Thomas's schedule is still challenging as he continues to take difficult classes such as English, Calculus Honors, AP Economics, AP Environmental, Sports Management, and American Cultures. Thomas's dedication to his studies has not gone unnoticed, as he has been recognized for academic excellence in Spanish II and Spanish III. Thomas's dedication is not only seen in his class schedule and academic awards but also seen in the Rocky Mount Academy clubs in which he participates. Thomas is involved in the EC Club, Ducks Unlimited Club, Sports Debate Club, and Global Studies. Along with juggling the demands of school and extracurriculars, Thomas has dedicated many hours to the Rocky Mount Academy Varsity Soccer Team. On the soccer team, Thomas plays the position of stopper making him a vital part of the defensive line.
Outside of the classroom, Thomas enjoys volunteering at the SPOT in Wilson where Thomas is a friend and tutor to little kids. When he is not doing something for others, Thomas can be seen doing a wide variety of things. The list includes playing video games, hunting, hanging out with his friends, and most importantly skimboarding and watching movies. During the summer, Thomas' favorite thing to do is skimboard at the beach. Having lived in Atlantic Beach the past couple of summers, Thomas's love for skimboarding has turned into a hobby in which he excels. On a different note, during Thomas's ninth-grade year at McCallie, Thomas was given the opportunity to enroll in an introductory cinema class. The introductory cinema class involved looking at a film in a creative way and keying in on the small details that go into film production. Initially, Thomas took the class as a GPA booster, but it ended up being his hardest and his most interesting class.  These experiences caused him to want to pursue a career in film studies.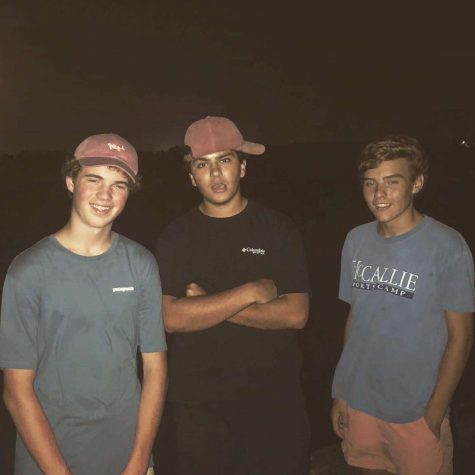 As for future plans, Thomas has applied to The University of South Carolina, Ole Miss, ECU, and NC State. Once Thomas has committed, he wishes to double major in accounting and film studies. With a determined and friendly nature like Thomas's, there is no doubt in our minds that he will be able to achieve all his dreams and goals while making others laugh and smile along the way!
Get to know Thomas!
What is your favorite movie?-  Get Out 
What is your favorite album?-  Finally Rich – Chief Keef
What is your favorite quote?– "You mustn't be afraid to dream a little bigger, darling." – Christopher Nolan
What advice do you leave to those at RMA?–  Don't get "senioritis" right when your senior year starts 
Favorite class and why?-  My favorite class this year is AP Econ. Although this class is very hard and sometimes difficult to follow, I have gained a lot of knowledge that I think will be very beneficial to me later in life. 
What is your favorite memory at RMA?-  My favorite memory at RMA was when my friend Eric O'Neal tapped my shoulder in the middle of class and said "Dude, I think there's a dead mole in my bookbag."  And yes, there was in fact a dead mole in his book bag and he didn't know how it got there. That was probably the hardest I've ever laughed because it's the last thing you expect someone to tell you in the middle of class.
What is something nobody knows about you?–  I consider myself a movie enthusiast
Who is your role model?–  My role model is Ron Burgundy