Senior Spotlight: Elizabeth Lane
This week's senior spotlight focuses on Elizabeth Lane! Elizabeth has attended RMA since Pre-K making her a lifer and a familiar face around school. When asked three words to describe herself, Elizabeth answered, "Disciplined, honest, and courageous." Yes, these adjectives describe her accurately, but she also forgot to include the words, ambitious, approachable, considerate, humorous, and most importantly friendly. Friend and classmate Ariel Wang said, "Elizabeth has been my best friend from the moment that I started my life at RMA. I was honestly not expecting to actually form a close relationship with someone, so this was a surprise to me. I am so glad that she reached out to me although it was probably pretty 'hard' to communicate at first. Even when I was away for almost a year and a half, we never stopped contacting each other, and I greatly appreciated it. I'm very thankful to have her as my best friend, and it's hard to imagine my high school life without her. I'm happy that I could be able to come back and enjoy our senior year together. Whenever I see Elizabeth walking in with her Dunkin on Friday, I know that it is going to be a good day. It has been amazing to see how much we have grown together since 7th grade. I'm definitely going to miss her so much next year, and I wish her the best of luck."
Being that we are both from Wilson and we were born seven days apart, I have had the privilege of knowing Elizabeth since birth. Some of my best childhood memories such as dance recitals, first sleepovers, and shared birthday parties involve Elizabeth. I can attest to the fact that Elizabeth is and has always been a true friend. She is just as sweet and considerate today as she was at age three. The thing I most admire about Elizabeth is her positive attitude. She always looks on the bright side of every situation and can cheer anyone up with her sincere smile and contagious laugh. In addition to Ariel and myself, Elizabeth's close friend, Mary Thorpe Smelcer also agreed when she said, "Elizabeth is the most loving friend. From the very first time I stepped into RMA, she was so sweet and welcoming. This year, especially, Elizabeth and I have gotten much closer, and I love our friendship. I am going to miss her so much next year, but I'm so excited to see what God has in store for her!"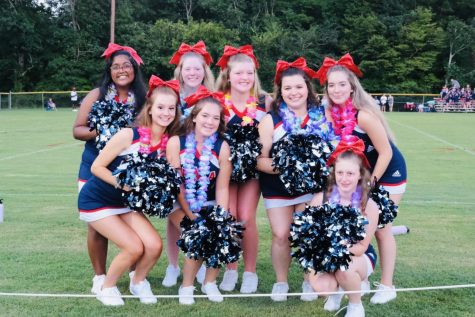 Elizabeth's friendliness and willingness to lend a helping hand is seen beyond the halls of RMA. She has volunteered at Ripple Effects in Rocky Mount, RC3 Substance Abuse Coalition in Wilson and even helped raise money through a raffle for the Nash UNC Health Care hospital. When she is not doing something for others, Elizabeth enjoys exercising, eating Mexican food every Thursday, and of course hanging out with her friends. 
Elizabeth excels not only outside of school, but also in the classroom. This year her schedule consists of French IV Honors, Advanced English 12, AP Environmental Science, Pre-Calculus Honors, Ceramics 4, and Music Performance. Elizabeth's perseverance in the classroom has led her to obtain many academic awards and recognitions including Academic Excellence in Advanced English 9, Academic Excellence in Algebra II, Academic Excellence in Modern European History Honors, Academic Excellence in French I Honors, Academic Excellence in World Cultures Honors, Academic Excellence in AP Biology, Academic Excellence in U.S. History Honors 11th, Academic Excellence in French III Honors, and Academic Excellence in Advanced English 11. Elizabeth's dedication to school is also seen in the numerous clubs in which she participates:  Key Club, Fellowship of Christian Athletes, National Honor Society, Fashion Club, and Senior Beta Club, where she is the secretary. During her high school career, Elizabeth has also been a member of the JV Volleyball Team and Varsity Cheerleading Team.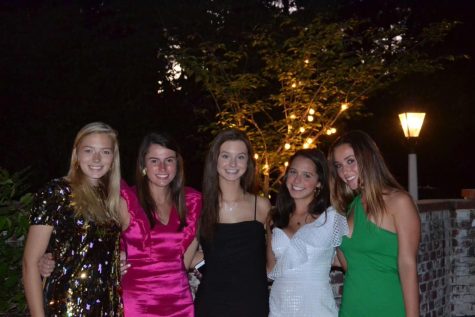 As for future plans, Elizabeth has applied to The University of South Carolina, North Carolina State University, Clemson, The University of North Carolina at Chapel Hill, The University of North Carolina Wilmington, Appalachian State University, Meredith College, and East Carolina University. Once Elizabeth has committed, she wishes to pursue a career in Health Science and eventually attend medical school to become a podiatrist. With determination like Elizabeth's, there is no doubt in our minds that she will be able to achieve all her dreams and goals. Elizabeth, keep being that bright shining star that lights up this world!
Get to know Elizabeth!
What is your favorite movie? My favorite movie would have to be The Sound of Music or Grease. They were my childhood favorites. 
What is your favorite album? My favorite album at the moment is 30 by Adele. 
What is your favorite quote? Isaiah 41:10 "Fear not, for I am with you; be not dismayed, for I am your God; I will strengthen you, I will help you, I will uphold you with my righteous right hand." 
What advice do you leave to those at RMA? Learn to enjoy each day as it comes and not stress about the future because everything will work out if you give it time. 
Favorite class and why? My favorite class was Advanced English 11 with Dr. O'Brien. Many of the books we read in class fascinated me, and I enjoy reading during my free time. 
What is your favorite memory at RMA? One of my favorite memories at RMA was going on nature walks with Dr. K. His love of science and teaching showed every day, and I am so grateful to have known him. He would be so proud of our senior class. 
What is something nobody knows about you?  When I was younger, I thought that Justin Bieber was my boyfriend.  
Who is your role model? My parents are my biggest role models. They support me everyday and challenge me to become the best person that I can possibly be.