Snow Day Activities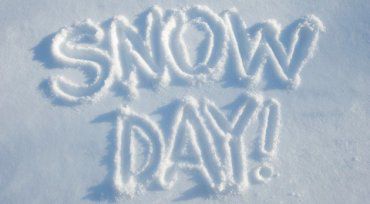 Everyone loves a snow day, and there are so many ways to enjoy the day off of school in the snow. Below I have listed some of my favorite things to do on a snow day!
Sledding:

This is my personal favorite thing to do in the snow! It is always fun to get together with neighbors and find the best hill in the neighborhood. This activity is especially fun when the roads are slippery!

Build a snowman

: This is a classic, but definitely something that never gets old! It is always fun to find the perfect materials to bring your snowman to life!
Making snow cream:

Mary Hanna Bryant provided a perfect recipe which can be found on the

Eagle Examiner

. Snow cream is such a delicious treat and so much fun to make. It is definitely an exciting treat because it is not something that can be made at any given time!
Have a snowball fight:

Snowball fights are so much fun, especially with siblings. It is always fun to make a snow fort and dodge and throw snowballs at friends, siblings, or even parents!
Watch a movie:

Some people can not stay out in the cold for too long, so it is always nice to come in and sit by the fire to enjoy a movie after a long day out in the cold. Snow days are a good time to take time off of work and catch up on much needed rest!
Snow markers:

This is one that many people may not think of, but is so much fun! You can find these at any store such as Target or Walmart. You can use snow markers to draw in the snow. Get creative with different colors, designs, and words!
Get together with neighbors:

Snow days are definitely more fun with neighbors who are close by! It is best to stay in the neighborhood due to icy roads, so a snow day is a great opportunity to spend time with neighborhood friends. It is always fun to host neighbors with snow day snacks or walk around in the snow with those close by!
Make hot chocolate:

I can't think of a better time for hot chocolate than a snow day. There is nothing better than sipping on this warm drink after a long day out in the cold. Add toppings of your choice to make it even better! Hot chocolate bombs are delicious too and have become very popular!
No matter if you love or hate the cold, there is always something exciting to do on a snow day. Enjoy any or all of these fun activities as well as the time off from school or work!