Hunga Tonga Eruption and Tsunami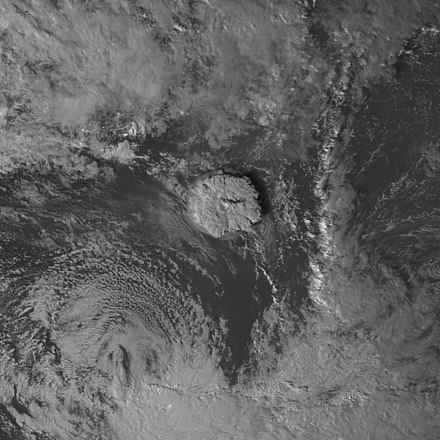 On the uninhabited island of Hunga Tonga–Hunga Haʻapai, there was a volcanic eruption on January 14th, 2022. This eruption was so powerful it was seen from space and completely obliterated the small island that the volcano was on. It is considered the most powerful eruption since 1991 and had devastating effects on many surrounding countries, especially the islands of Tonga. 
The Hunga Tonga volcano was declared dormant on January 11, 2022, and erupted three days later. The eruption sent clouds of volcanic ash approximately twelve miles into the atmosphere, visible to the capital of Tonga, which issued a tsunami warning not long after. Ash cascaded over the island of Tongatapu, effectively blotting out the sun, and the eruption was heard roughly 40 miles away on the island of Nukuʻalofa, which was peppered by ash and small stones. The explosion was also heard in Samoa and then the sound traveled to Fiji, which residents said sounded like thunder. The sound even reached as far as Alaska, which was 6,000 miles away from the explosion. The eruption sent large amounts of volcanic ash and debris into the atmosphere, which might cause cooling effects on the climate of the southern hemisphere. It is also speculated that the eruption sent 400,000 tonnes of sulfur dioxide into the atmosphere, but this would not have a major impact on temperature.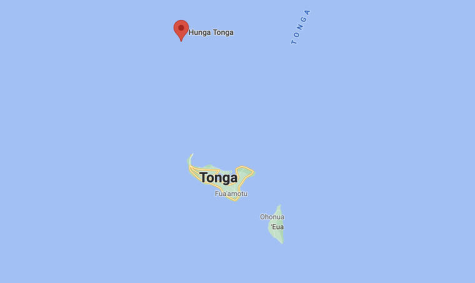 This event caused a 34 mile eruption column, which is twice as tall as the one caused by the eruption of Mt. St. Helens, and is considered to be 5 on the volcanic explosivity index. Tsunamis are mainly caused by earthquakes and it is fairly rare for one to be caused by a volcanic eruption, but this eruption caused tsunamis to hit quite a few countries. The hardest country hit is the Tongan islands, with an approximately 4-foot wave striking the capitol. It caused severe flooding and damage and many people were forced to evacuate their homes. In Hawaii, there were waves recorded to be 2 ft, 7 inches tall. The effects have been felt all the way to the United States, scientists are hopeful that the worst is over.