Shelton Honey's Extra Effort Award
Last week, RMA's very own Shelton Honey was recognized with WRAL's Extra Effort Award. Each week, WRAL recognizes and interviews one extraordinary student for their efforts in academics, athletics, and community service. Shelton, being recognized for her excellence on the tennis court, was interviewed, filmed playing tennis, and given a plaque for all of her exceptional achievements. 
Shelton's incredible skills on the tennis court have not gone unnoticed as she has received multiple honors for her sport: All State (11th and 12th grade), All Conference (10th, 11th, and 12th grade), Coach's Award (9th and 10th grade), MVP (11th grade), and Carolina Community Panthers Community Captain Award. Shelton also led her team to win a State Championship title as a Freshman, and when asked she will say that this has been one of her favorite memories of her time as a highschool student. As she has played Varsity Tennis since 8th grade, her last two years on the team were spent as the #1 seed for both singles and doubles, which is no easy position to be in. Her doubles partner and dear friend, Lindsay Boyette attests to Shelton's excellence both on and off the tennis court saying, "Shelton's extra effort goes far beyond the tennis court. It is seen in her school work, her friendships, and in all of her extracurriculars." As someone who has been Shelton's teammate and friend for many years, I can agree with Lindsay. Shelton has made my time on the tennis team and at RMA so much fun and has led, encouraged, and been a role model for our entire team. She is an incredible friend and teammate, and I really do not know what we will do without her next year.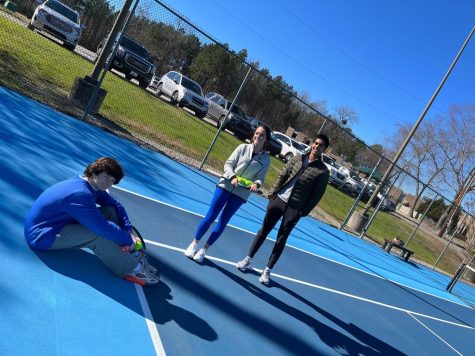 Not only does WRAL's Extra Effort Award consider athletics, but it also values academic excellence, something that Shelton certainly does not fall short of achieving. This is evident through her many recognitions such as Chief Academic Marshall and Highest Academic Average in 10th grade. Shelton works incredibly hard for all that she does and gives 110% of herself in the classroom. During her interview with WRAL, Shelton's younger brother, Thomas Honey commented on how hard Shelton works and how she dedicates many hours late into the night to her studies. 
As seen through all of her achievements, Shelton gives an overwhelming amount of effort to all that she does and never gives anything but her best self. She is clearly very deserving of this outstanding award and Shelton's team, along with all of Rocky Mount Academy, is so proud of her! We can't wait to see all that Shelton is sure to do with her extra effort in the future!