The Life and Legacy of Betty White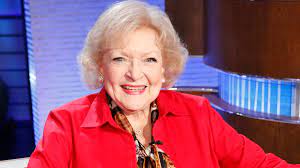 On December 31, 2021, Betty White died at age 99, just eighteen days from her 100th birthday. She lived a very full life filled with iconic roles, such as Rose Nylund on The Golden Girls and was an activist for many things, including animal and African American rights. She left a huge impact on many people's lives, and her death has been mourned world-wide. 
Betty White was born on January 17, 1922 in Oak Park, Illinois. She graduated high school in 1939, wanting to become a forest ranger, but because it was not available to women at that time, she followed a writing career and found her love for performing in her graduation play, in which she was the lead and wrote herself. She served in the American Women's Voluntary Services in WWII driving a "PX truck" that delivered toothpaste, candy, and soap to soldiers in Santa Monica and Hollywood. She soon met and married Dick Barker, who was a P-38 pilot, but their marriage lasted less than a year. She started to be involved with the Bliss-Hayden Little Theatre by the time WWII ended, and it was here that she met Lane Allen, who was an agent, and he told her that she needed to seek a career in acting. They were eventually married, but it also ended in divorce. 
Her radio career started on "The Great Gildersleeve", which led to other roles on popular radio shows, such as "Blondie." In 1949, she began her television career on "Al Jarvis's Hollywood on Television" and she eventually became the host when Jarvis left in 1952. She hosted her own show, The Betty White Show, from 1952-1954. She had full creative control and faced criticism for hiring black tap dancer Arthur Duncan. Southern states, in which the Jim Crow Era was in full swing, threatened to boycott the show unless he was removed. Betty White refused to fire him and simply responded with "I'm sorry. Live with it" and then proceeded to give Duncan more time on the show. NBC cancelled the show in 1952 due to lower viewership. 
In 1985, Betty White scored her most iconic role as Rose Nylund on The Golden Girls. It ran from 1985-1992, and White won the Emmy for  Outstanding Actress in a Comedy Series for its first season. She went on to win a total of twenty seven awards, including five Emmy Awards, one Grammy Award, and one People's Choice Award. She also has a star on the Hollywood Walk of Fame, which was placed there in 1995. 
Betty White's achievements and unrelenting positivity inspired many people around the globe. Although she will be missed by many, her memory will live on forever and she will go down in history as one of the best actresses of all time.