Senior Spotlight: Ari Henderson
This week's senior spotlight focuses on the class of 2022's very own: Ari Henderson. Arriving at Rocky Mount Academy as a freshman and as the recipient of the Ann Weaver Scholarship, it was obvious from the start that Ari was going to be an asset to Rocky Mount Academy. Around the halls of RMA, Ari is known as a talented artist, but she is so much more than her unsurpassable artistic ability. On a personal level, Ari is confident, honest, well rounded, uplifting, intelligent and loads of fun. The characteristics I used to describe Ari are not only noticed by me but also her classmates and friends. When asked to describe Ari, Lorna Eidson, Ari's classmate and friend said, "Ari is the kind of person that you always want around. She's kind, encouraging, helpful, funny, and she always knows how to brighten anyone's day. Ari has the best attitude about everything and is always positive. Whether she's begging for someone to go with her to Cookout to get a milkshake or singing every other word in her sentences, she is always having a good time. I love her so much and I'm confident that she will do great things in life."
Ari's intelligence is evident in the classes she has taken and successfully completed throughout her high school career.  Her senior class schedule continues to challenge her academic ability with classes like AP Calculus, AP English, AP Environmental, AP Psychology, AP Art, and Ceramics. Ari's perseverance in the classroom has led her to obtain many academic awards and recognitions including High Achievement in Spanish 1 and 2, National Honors Society, and Academic Marshal for graduation. Ari's dedication is not only seen in her rigorous schedule and academic awards but also seen in the many Rocky Mount Academy clubs in which she participates: Key Club , Beta Club, FCA,  Global Studies, and The Fashion Club. Along with juggling the demands of school and extracurriculars, Ari has dedicated many hours to the Rocky Mount Academy Varsity Girls Tennis team. While on the tennis team, she helped lead her team to a state championship in 2018 and the state semifinals in 2021. While Ari's tennis skills were vital to the Varsity Girls Tennis Team's success, her uplifting and motivating leadership and team spirit carried her teammates to victory in many important matches. In fact, after playing a match of her own, Ari could be found sitting alongside her friends' courts cheering them on loud and proud. As a recipient of Ari's support, I can personally say her words of encouragement on the tennis court made an impact on all of her teammates and our winning season.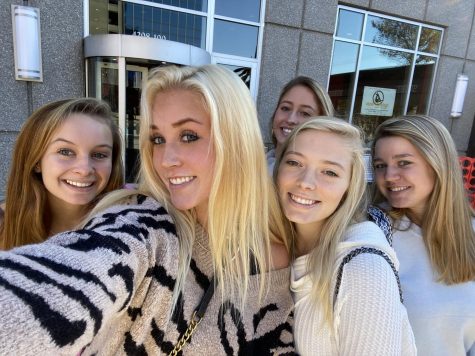 It would be foolish to not spend time mentioning art in Ari's senior spotlight because art is such a vital part of her life and her artistic ability is one that sets her apart from other students both past and present at Rocky Mount Academy. Without a doubt, Ari is the most talented and artistic person I have ever met and will ever meet. Her numerous art awards showcase her achievements: Silver Key Award in a regional art competition, Excellence in Art Award, 4th place Beta Club Visual Arts, 2nd place Beta Club Recyclable Arts, Excellence in Painting, Excellence in PreAP Art, and 5th place in 3D Design National Beta Club Competition. Recently Ari has turned her hobby of art into a lucrative job. She has painted commissions for spas, doctor's offices, dental offices, and for individual's personal homes. Ari enjoys all kinds of mediums from painting to table making. Besides Art, Ari enjoys playing tennis and shadowing in the hospital with her mom. She also loves hanging out with her friends just as much as they enjoy hanging out with her.  Her friends are not short on words when asked to talk about their love for Ari.  Mary Vivian Cobb, friend and classmate, said, "Ari has been one of my best friends over the past few years, and I do not know what I would do without her. She lights up every room she walks into and always puts a smile on my face at the start of the day. She can easily brighten the mood with her contagious smile. Ari is the type of friend that keeps all of my secrets, gives the best advice, and is always there for me no matter what. Her witty remarks and her love for Cookout are definitely her signatures. She is most definitely a person I look up to, and I know she will accomplish amazing things in life."
As for future plans, Ari has applied to NC State, UNC Chapel Hill, University of Virginia, Clemson, University of South Carolina, East Carolina, Appalachian State, University of Georgia, University of Alabama, and UNCW.  Right now, Ari hopes to be accepted and attend NC State University and major in visual art and design. Ari will most definitely succeed in the future because whatever Ari does, she does it well!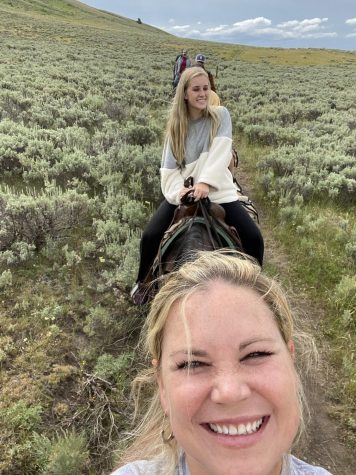 Get to know Ari!
Favorite quote?- "It's so hideous… I love it" 
What advice do you leave to those at RMA?- There's always gonna be someone that crashes in the parking lot. Don't be that person. 
Favorite class and why?- Ceramics and psychology because I love to sculpt in the morning (very relaxing) and psychology because I love learning how the brain works and a little bit of anatomy. 
What is your favorite memory at RMA?- I wish it was homecoming! 
What is something nobody knows about you?- One time during a school field trip to the zoo someone pushed me over the railing into the bear enclosure and they had to get a helicopter to airlift me out because they couldn't open the doors because all the bears were right there. They gave me a stuffed animal to compensate.
Who is your role model?- @trishapaytes