Senior Spotlight: Shelton Honey
When you think of the class of 2022, one member that stands out in all aspects is Shelton Honey. I could not think of a more fitting saying for her than: to know her is to love her. As she has been at RMA since Kindergarten, she has made long-lasting impacts on the students, teachers, and staff. Her friendly, approachable, honest, and independent personality makes her a joy to be around. As a friend, Shelton constantly shows her trustworthiness and loyalty. Going out of her way to be there for others even when it is inconvenient for her, being someone you can rely on to listen to you while feeling sure that your words are safe with her, and knowing just what to say after you've had a bad day are a few of the many ways in which she exhibits her compassion. 
Her bright smile, a characteristic of hers that she is known for, plays a large role in her approachability. Upon meeting Shelton, she provides a warm and welcoming presence. To reassure you that these qualities are true, friend and classmate Lindsay Boyette states, "I first met Shelton when we went to Mrs. Nancy's Manner Camp in the 2nd grade. Little did I know we would rekindle and become best friends when I later attended RMA in the 6th grade. There are so many things that I admire about Shelton. For example, her loving nature, her kind spirit, and her willingness to help her friends. However, the thing I love most about her is the sense of comfort I feel when I'm around her. She is known as the mom of the friend group because she is sure to take care of others; a sleepover at her house entails clean sheets and a hot breakfast in the morning. Shelton is such a great friend and whatever life throws at her she will be able to adjust. Not only will I miss my doubles partner, but I will also miss my best friend next year."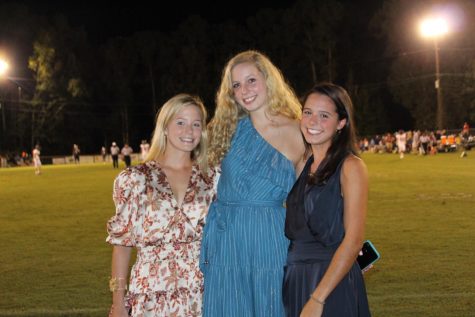 Shelton's independence is a major factor in why she excels in all she does. Whether it be in the classroom, in athletics, or on a task given to her, Shelton does not stop until she reaches perfection. This year, she is using her drive to face the rigorous schedule of AP Calculus, AP English, AP Psychology, AP Environmental Science, French 4, and Ceramics. Her academic aptitude is proven by her numerous awards, such as the Turner Battle Scholarship, the Robert Joshua Weaver Scholarship, being a Morehead-Cain Nominee, and receiving the Carolina Panthers Community Captain Award. Shelton also leads many of RMA's clubs, being the president of both the Senior Beta Club and the Key Club and a member of the FCA and Global Studies Honors Program. Outside of school, Shelton is an active youth group member of the First Presbyterian Church, works part-time at Clair de Lune Boutique, and enjoys spending time with friends. When asked about her time with Shelton, good friend Law Kitchin stated, "Shelton has always been a friend that will check up on me no matter what the circumstance. She is always on the go, and her hard work and dedication are two things that I have always admired about her. I am so grateful to have called her one of my best friends for the past seven years; I truly do love my girl Honey."
Not only does Shelton succeed in the classroom, but she establishes her well-roundedness in athletics as well. Shelton plays on both the varsity tennis and soccer teams for RMA, being a great teammate and hard competitor. From beginning to play tennis at an early age, Shelton soon found a love for the sport. Through her hard work, she was able to help bring the varsity tennis team to a state championship her freshman year! She has continued to be an asset to the team, as she has been the number one seed for the past two years. During this time, she was awarded All-State in both 2020 and 2021!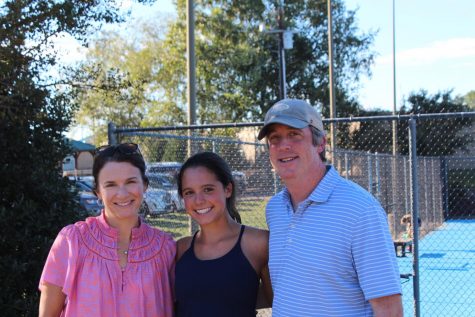 As for future plans, Shelton has applied to UNC, Washington & Lee, UVA, Clemson, Wake Forest, Ole Miss, and Auburn. She hopes to major in either Psychology or Business, working to learn how to later manage her own dental practice. After completing her undergraduate studies, she plans to attend dental school, following the footsteps of many of her close relatives. While this is a big task ahead, I know that Shelton can achieve anything she sets her mind to. The halls of RMA will truly not be the same without her next year. However, whether we are listening to Taylor Swift or enjoying an Oreo, Shelton will also come to mind.  Her brother, Thomas Honey, leaves us with a finishing note on their friendship: "Although Shelton makes me rush into school every morning to be on time and is the most indecisive person I know, she's been more than a sister to me and basically my best friend. Whether it's going on Chick-fil-A runs or jamming out to some Morgan Wallen, we always have a great time together. Although I might miss her a little bit when she's gone, I'll definitely be coming into school a lot earlier."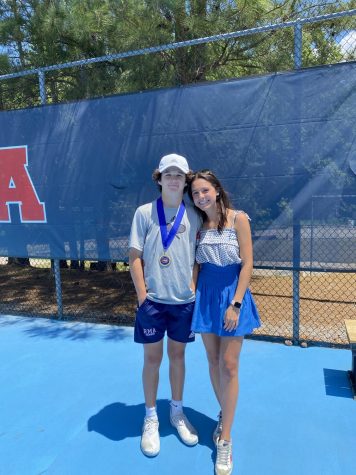 Get to know Shelton below:
What is your favorite movie? High School Musical 3 or Mamma Mia. 
What advice do you leave to those at RMA? To be grateful for the family-like environment, which has been my favorite aspect of RMA. 
Favorite class and why? I've loved every English class throughout high school because we've read some super interesting books and I love to write. 
What is your favorite memory at RMA? Winning the Tennis State Championship my freshman year because that whole day and team were just the best. 
Who are your favorite artists? Morgan Wallen and Taylor Swift
Where is your favorite place you have traveled to? New York City or London
Who is your role model? My mom, because she is the hardest working woman I know.