Faculty Focus: Emily Ballance
The spotlight of this week's faculty focus is no stranger to Rocky Mount Academy. Emily Ballance joined the RMA family five years ago, and she quickly transitioned into her job as a fifth grade teacher alongside Barbara Willis. Originally from Richmond, Virginia, she pursued an undergraduate degree from Meredith College majoring in Psychology and a minor in Child Development. She did not stop there as she went on to NC State to receive her Masters in Counseling. Before working at RMA, she spent her time working in Wake and Nash County public schools. 
Although she was originally hired to teach fifth grade, she was able to make a smooth transition to Director of College Counseling. Switching positions at a school can be intimidating, but Ms. Ballance has not skipped a beat! She has already administered the ACT and the PSAT, while still helping seniors complete the application process. 
We respect her dedication to this job, but we also admire her life outside of school. She enjoys spending time outdoors, as well as soaking up the sun at the beach with her two sons: Wynn, two years old, and Lee, five years old. One of her new favorite activities outdoors is tennis. She has recently started to spend more time playing tennis, and she also participated in Tennis for Tyler back in September. Her husband, Wes Ballance, announces for the home Rocky Mount Academy football games and adds a lively spirit despite the harsh sport.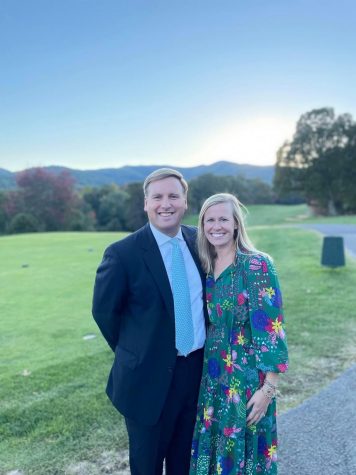 Her smiling face can brighten the day of any student at Rocky Mount Academy. In addition to her positive attitude, she cares for the students by asking them about their day. We are so thankful for Ms. Ballance and cannot wait to see what the future holds for her at RMA!
Get to know Mrs. Ballance!
Have you had any experiences abroad?- I did not travel abroad until I was an adult. My husband and I went to Sweden and Denmark in 2015 for a wedding. We loved it!! A few years ago we went to London and Northern England. Also very beautiful! 
If you had to select one moment in your life that defined you, what would it be?- This is tough! I think all of life's moments have helped define who I am today. Challenges faced and overcome, memories made, friends, and family all have contributed to who I am as a person. Two of my biggest life defining moments were when my boys were born…I love being a mom!
What made you want to pursue a career in teaching?- I have always loved working with children and people in general. It is fun and interesting to me to talk with people about their experiences, life goals, and what makes them who they are.
Where do you see yourself in ten years?- In ten years, I hope that I am still right where I am working with high school students at RMA.
Describe a person who has made the biggest impact on your life. – I am very close with my family and always have been. Each member has made an impact, but I would say my older brother, Matthew, has made the biggest impact on my life. He is selfless, driven, humble, and hilarious. He is always there to listen and is always up for a fun adventure. I want to be him when I grow up!
What is your favorite TV show and why? – Ohh this is tie between Castle and The Crown
What is your favorite part of being at RMA? – My favorite part of working at RMA is definitely the people; coworkers and students! I have never worked anywhere with such a strong family feel. It is truly a home away from home to me!