Senior Spotlight: Wade Collins
This week's Senior Spotlight is on none other than Wade Collins. Wade has become a familiar face in the RMA community during his time here, joining the RMA family in his 3rd grade year. Ever since then, Wade has left a lasting impression on his classmates, as he is always there to offer a helping hand. Wade's classmate and close friend, Gray Sutton, spoke to Wade's character, saying, "Wade is a great friend who is willing to do anything for you and is always willing to help. He is a friendly person especially when you get to know him and is committed to your friendship."
Wade is engaged in many extracurricular activities outside of the classroom. He is a long time member of the Key Club, Beta Club, and has recently started his own club, the coding club. Wade also balances his schoolwork with his current job at Tipsy Tomato, where he "help(s) make the best pizza in Rocky Mount." Wade also was a member of the RMA swim team in his freshman and sophomore years. Wade's engagement and involvement in the RMA community shows through his multitude of extracurricular activities.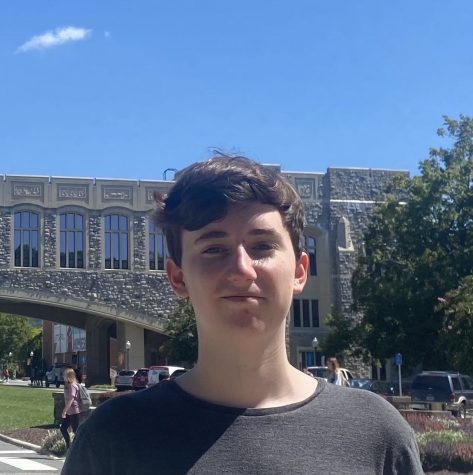 Wade has continuously excelled in the classroom during his time here at RMA, as he challenges himself by taking the most rigorous classes that RMA offers. His schedule this year consists of AP Physics, AP Calculus, English Honors, AP Environmental, and AP Psychology. In previous years, some classes he enrolled in were AP World History, AP European History, AP US History, AP US Government and Politics, and AP Chemistry, just to name a few. Wade's academic excellence has not gone unnoticed, as he has received many awards for his achievements. Some of his awards include Academic Distinction in Honors Spanish III, Straight A Honors in Grade Eleven, Ten, and Nine, Serving as Chief Senior Academic Marshal, Academic Excellence in AP Chemistry, Highest Academic Average in AP US History, Highest Academic Average in AP Government and Politics, Highest Academic Average in Honors Precalculus, Being the Robert F. Sykes, Jr. Math Scholarship Recipient, Headmaster's Award in Grade Eleven,  High Achievement in Spanish I, Excellence in Honors Algebra II, Geometry, and Spanish II, National Honors Society, and AP Scholar with Distinction. To say Wade has excelled in the classroom would be quite the understatement!
This year, Wade is applying to multiple colleges to pursue a degree in mechanical engineering. His list includes Georgia Tech, Virginia Tech, NC State, Clemson, and UNC Charlotte. No matter where Wade attends, I know that he will succeed with whatever life throws his way. We wish Wade all the best and RMA will definitely not be the same without him next year.
Get to know Wade!
What is your favorite movie?- Interstellar 
What are three wishes?- Infinite Chipotle, Infinite Wishes, and #2 to not be against the rules
What is your favorite quote?- "Pobody's Nerfect"
If you were trapped on a deserted island what would you bring?- Water and a Taco Bell (the whole restaurant)
What is your favorite class and why?- AP Government because of the endless debates between Connor Evans and Mr. Stone
What will you miss about RMA?- The teachers
What is your favorite memory at RMA?- Those weird few weeks in 8th grade where we went Bowling and did Zumba for some reason
What is something nobody knows about you?- I am passionate about breakfast food 
What do you enjoy doing outside of school?- Hanging out with friends, playing video games