Senior Spotlight: Reynolds Cobb
This week's senior spotlight focuses on the very humorous: Reynolds Cobb. Reynolds is one of the few "4lifers" in the Class of 2022. When thinking of ways to describe Reynolds, it is hard because you never know what you are going to get with his unique personality. Those who know Reynolds, can agree that he is quick witted, provides lots of comic relief to every situation, and is a loyal friend. Davis Epps, his classmate and best friend, said "Reynolds, aka the homewrecker, is a man of many talents but also a man of mystery. The first time I met Reynolds we were around four, and he was using pool floats like a bozo because he couldn't swim. Ever since that time, I've been best friends with Reynolds Cobb."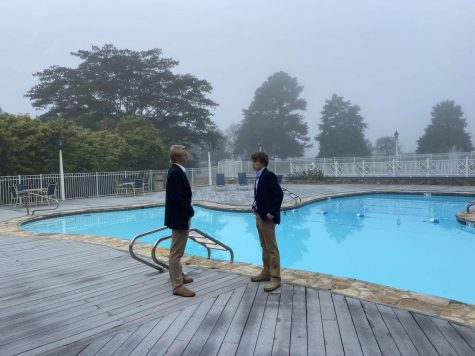 Outside of school, Reynolds plays sports, volunteers, and hangs out with his friends. Having become one of Reynolds' great friends over the past couple of years, I can confidently say that there is no one truly like him. What sets him apart from the rest is his effortless humor, his knowledge on dinosaurs, his kind disposition, his respect for others, and most importantly his ability to guarantee you a smile and a good time.
In relation to academics, Reynolds excels. This year Reynolds' schedule consists of Ceramics, Calculus Honors, Advanced English, AP Economics, Sports Management, and AP Environmental Science. Reynolds' dedication to school is also seen in numerous clubs in which he participates: Key Club, EC Club, Current Events Club, Anatomy Club, Ducks Unlimited. Not only does Reynolds thrive in school, but also on the soccer field and basketball court which is evident in his numerous high school athletic awards. Reynolds has received the Coaches Award and All Conference for soccer, as well as Offensive MVP, Coach's Award, and All-Conference Honorable Mention for basketball. Friend Brody Brice highlighted Reynolds' athleticism when he stated, "Reynolds Cobb is the most agile athlete I have ever seen. He is so agile he reminds me of a gazelle on the grasslands. I assume he gets it from his idol Michael Jordan because he is very like Mike with the smoothness he brings to athletics." Reynolds' ability to successfully manage all the demands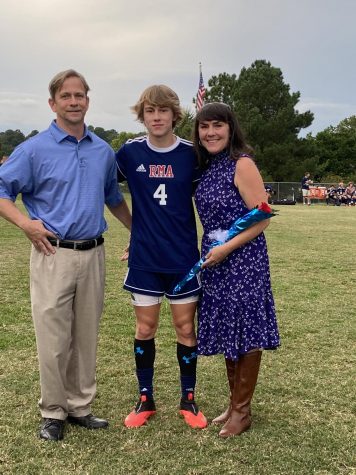 of school and sports, while still maintaining an active social life is indicative of his well rounded nature. 
As of now, Reynolds is applying to The University of South Carolina, The University of North Carolina at Wilmington, East Carolina University, and The University of Alabama. Wherever Reynolds attends next fall, he plans to major in either criminology or psychology. With Reynolds' determination, uniqueness, and respect for others Reynolds will most certainly succeed in life. It is extremely easy to say that there will never be a person like Reynolds to ever walk through the halls of RMA. So for now, we are going to hold onto him while we can.
Get to know Reynolds!
What is your favorite movie?  Either Holdidate or Sharknado 5: Global Swarming
Three wishes – Unlimited supply of Marvin Gaye cd's, signed copy of Hotel Rwanda by Don Cheadle, and a lot of money
Favorite quote – "My mother is a walking miracle" – Leonardo DiCaprio 
If you were trapped on a deserted island what would you bring and why? I would probably bring some of Mama Cobb's spaghetti so I could still have the classic "spaghetti night".
Favorite class and why? It would have to be sports management because me and my classmate, Thomas Paxton, get the opportunity to fill the fridge in the cafeteria and connect with the lunch ladies.
What will you miss about RMA? It has to be the yearly Monster Mash
What is your favorite memory at RMA? My dominate 1st place finishes on field day in the 40 yard dash, which lasted from pre-K up until 4th grade 
What are three words to describe yourself? Intriguing, quaint, and reliable
What is something nobody knows about you? My eyesight has been declining the past few years. Also, I sometimes stare into the sun for as long as possible, with a record of 3 minutes.