Mari Robin's Top Dunkin Picks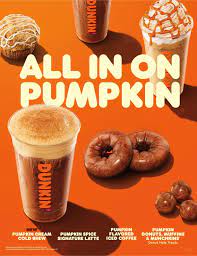 With September 29th being International Coffee Day, Dunkin has been a very popular place to be this week! Anyone who knows me, knows that I am the biggest Dunkin fan you will ever meet! Below are my favorite drinks at Dunkin and my reviews on them! Many are seasonal and almost all are iced drinks!
#1: French Vanilla Iced Latte: Rate 10/10
This is my favorite and go-to drink! I can never go wrong with this latte, and it is definitely my most common order! It is very sweet and has a lot of sugar, so it is perfect for anyone who likes coffee on the sweeter side! This drink has the perfect taste and fills you with a lot of energy!
#2: Pink Velvet Iced Latte: Rate: 10/10
This coffee is only around during Valentine's Day. It is definitely my favorite part about the month of February! This pink drink tastes just like red velvet and is also very sweet. It can be perfectly complemented with Dunkin's brownie batter heart-shaped donut!
#3: Peppermint Iced Mocha: Rate: 10/10
This is by far Dunkin's best Christmas coffee and is one of my favorite parts about the holiday season! It has a chocolatey taste with a peppermint flavor! This seasonal flavor usually is back by the end of November and stays at Dunkin until the end of January!
#4: Iced Pumpkin Spice Latte: Rate: 9/10
Pumpkin spiced lattes are the perfect way to get into the fall season! The pumpkin taste is delicious, and this drink will be sure to make you wish pumpkin spice flavors were year round!
#5: Vanilla Cold Brew: Rate: 8/10
This coffee tastes very similar to a regular vanilla coffee, but not quite as sweet. Cold brews make me feel very energized, and they taste amazing! They go great with Dunkin's warm bagels as well!
#6: Vanilla Bean Coolata: Rate: 7/10
For those who are not coffee lovers, this is the Dunkin drink I would recommend for you! It has a sweet and creamy taste and is a delicious drink. Coffee is my personal favorite, but this frozen drink is the next best option, especially on a hot Summer day!
#7: Frozen Coffee: 8/10
Frozen coffee is my favorite frozen drink at Dunkin! It is a particularly great option in the Summer. You can order it flavored, and it has a chocolate taste to it. It is always well blended and a great coffee choice!
#8: Food Bonus: Pumpkin Munchkins: 9/10
Pumpkin munchkins from Dunkin are the perfect fall snack! They pair perfectly with a pumpkin spice flavored drink and are absolutely delicious! I prefer Dunkin's munchkins to donuts, especially pumpkin! You can even order these in a box to share or serve at an event!
There is nothing that keeps us running like Dunkin does, and these options are only a few of the many amazing choices Dunkin provides! Happy National Coffee Week, and never underestimate how quickly the right coffee can turn your whole day around!