Senior Spotlight: Brody Brice
This week's Senior Spotlight focuses on an integral part of the class of 2022: Brody Brice. Brody came to Rocky Mount Academy in the 10th grade and has made his presence known ever since. When asked to describe himself,  Brody said,  "funny, tenacious and trustworthy."  Yes, Brody is funny, tenacious, and trustworthy, but even more important, he is honest and loyal. It is evident that his honesty and loyalty do not go unnoticed because his friend and classmate Reynolds Cobb stated, "Brody Brice aka ole flick is one of the most loyal people I have ever met. This probably came from his idol Lebron James. Brody's smile brightens up everyone's day and honestly, just warms my heart. He can be very honest sometimes, telling people what they don't want to hear. If I could say anything to him right now, it would be stay golden ponyboy… stay golden." 
As a close friend of Brody's, there are many things I admire about him. First, his opinion and advice are valued by his peers. Next, he is not afraid to stand up for what he believes in and stays true to himself, no matter the consequences.  Lastly, on a less serious note, Brody is quite the jokester that is always able to keep a straight face during the joke .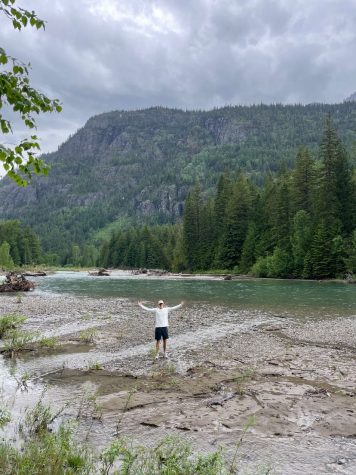 Academically, Brody takes a number of honors and advanced courses. For his senior year, Brody is taking English, Survey of Math, Marine Biology, Sports Management, Weightlifting, and Ceramics. Not only does Brody excel academically, but he also excels athletically. Brody is a three sport athlete playing basketball, golf, and tennis. Brody's athleticism is seen in every sport he plays, but the one that highlights his abilities the most is tennis. Brody is a phenomenal tennis player. In fact, Davis Epps, his friend and tennis teammate, said, "Brody is the greatest tennis player I have ever met. Some even call him the Serena Williams of our generation. The way he spanks those tennis balls over the net is so inspiring." Brody's exceptional tennis skills have allowed him to receive the 2021 Varsity Boys Tennis MVP, while leading his team to a state championship last season. He and his teammates plan to be state champs again this year. In his free time, Brody can be found socializing with friends, volunteering at church, or doing something tennis related.  
As for future plans, Brody is applying to Sewanee, Wofford, University of South Carolina, University of North Carolina at Wilmington, and Trinity University.  Brody plans to major in history or something that will take him in the direction of law school. Also, if possible, Brody would consider taking his tennis skills to the collegiate level.  I have no doubt that Brody will succeed in the future. With his communication skills, determination, competitiveness, and honesty, Brody will be able to accomplish whatever it is that he wants to do. We will all miss seeing Brody everyday. There was only one thing wrong with Brody's time at Rocky Mount Academy; it was not long enough! 
Get to know Brody!
What are three wishes you have? – Meet Tiger Woods, Win another ring in tennis, and get into college
Favorite quote– "You think darkness is your ally. You've merely adapted the dark. I was born in it, molded by it. I didn't see the light until I was a man and by then it was only blinding." -Bane
If you were trapped on a deserted island what would you bring and why?– I guess water Lindsay
Favorite class and why?– Sports Management, because Coach Berry is an inspiration to me.
What will you miss about RMA?– Timmy Tucker
What is your favorite movie?– Batman: The Dark Knight Rises