Senior Spotlight: Gillian Bauer
This week's Senior Spotlight is on the bubbly, friendly, and spirited Gillian Bauer. Gillian has been an asset to the senior class throughout her time at the school, being a ray of sunshine as she walks throughout the halls and always wearing a smile on her face. Something that stands out about Gillian is her ability to become friends with anyone she is placed in a room with. She does not shy away from meeting new people and is sure to make a lasting impression! Her good friend Abigail Adcock agreed, stating, "Gillian is the type of friend to walk into a room with confidence and immediately cause laughter everywhere. She is always supportive, and I am excited to be going to the same college as her next year!"
While she makes great performances in her classes of Biology, Chemistry, and Calculus, Gillian balances this workload while being involved in the Key Club and ARF. Over her four years of high school, Gillian has shown her skills in a wide range of sports, including tennis, soccer, softball, swimming, volleyball, and basketball. I myself had the pleasure of playing volleyball with Gillian, and this is where I was able to see her personality shine through. She always came to practice with a positive attitude and was sure to cheer on her teammates!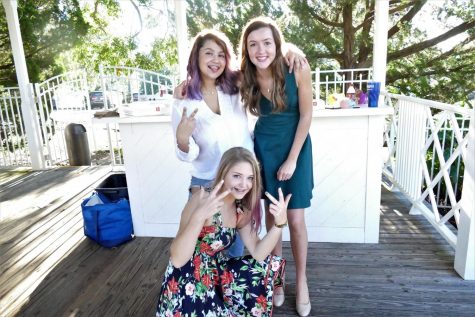 Even with her busy schedule of sports, classes, and clubs, Gillian still makes time to enjoy her hobbies of reading, painting, sketching, and collecting old coins. Gillian is also extremely involved in the community, volunteering for BundasKids, a non profit organization that promotes the development of youths in the U.S. and Gambia. She also volunteered for Grifton Ministries and the Key Club! 
As well as being well-rounded, something that truly makes Gillian special is her approachableness. She is the type of person that you can always say "hey" to in the halls, and she'll make sure to give you a loud "HEY" in response.
Gillian has a very bright future ahead as she plans to attend UNCW for her freshman year of college. She then hopes to transfer to Virginia Tech, majoring in Geosciences to pursue a career as a Paleontologist! We wish her the best on all future endeavors! Gillian has a presence like no other, and although her shoes will not be filled, we feel sure that she will achieve nothing less than greatness in the years to come. Her dance moves on the volleyball bus and the prom dance floor will always be remembered and will never be lived up to! 
To learn more about Gillian, keep reading!
What are you going to miss the most about RMA?

The teachers.

Where do you see yourself in ten years?

Trying to pay off student loans.

What is your favorite TV show and why?

Supernatural

because of the action, adventure, and character development.

What is your favorite snack?

Lunchables.

Which teacher has inspired you the most, and why?

Dr. Wells, I relate to him the most.

Describe your dream vacation.

Going to Tikehau.

If you could only wear one color for the rest of your life, what would it be?

Black.

Best place to go for long lunch?

Chick-fil-A (when I can afford it).

What is your favorite class you've taken at RMA?

World Religions (everyone should take this class, easily the best 10/10).