Senior Spotlight: Bayden Collins
This week's senior spotlight is on the man, the myth, the legend: Bayden Collins. Bayden is a lifer at RMA and is known for his respect, politeness, and for being the biggest Duke fan you will ever meet. When Bayden was only two years old, he was given a kidney transplant from his father at Duke University Hospital. This ignited Bayden's love for Duke and community service. Although Bayden has gone virtual this year due to health concerns related to the COVID-19 pandemic, Bayden's presence is always felt in the classroom. Matthew Davis said, "Bayden is a great guy to be around. Whether you are talking sports with him or just joking back and forth, any interaction with Bayden could make anyone smile with his hilarious opinions and comments. And you just gotta love his jumpsuits that he wears too."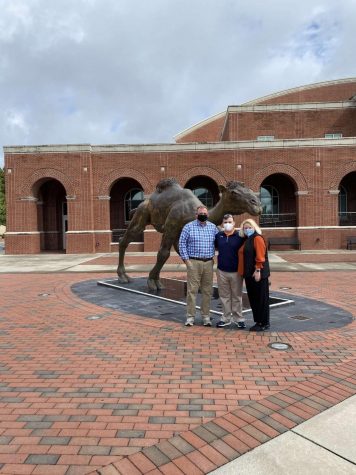 Bayden excels in the classroom, taking a challenging array of courses this year including  Algebra 2, English 12, World Religions, Sports Management, and Ecology. Bayden also takes two Nash classes each semester to earn college credit, right now taking music and art and will also take an English and business class over the summer. Bayden's extra work through Nash Community has earned him copious college credit, allowing him to enter Campbell as a Sophomore. Although being an online student stopped Bayden from being in clubs this year, he has been an active member in the Beta club every other year. Bayden's academic merit has earned him High Honors for the entirety of his high school career, along with membership to the National Society of High School Scholars. He was also selected as Senate Page, observing and participating in the legislative process firsthand.

In his free time, Bayden loves to attend college baseball games and golf with his grandad. Not just a hobby, Bayden has turned his love for baseball into a job at Wesleyan, where he is the Director of Baseball Operations, attending every practice and game. Bayden is also very involved in community service, racking up more than 1,000 hours throughout high school. Through his activity in the West Mound Ruritan Club, Bayden has helped with several fundraisers including chicken cooks and raffles to support various projects throughout the community. Bayden's kidney transplant has allowed him to be a patient ambassador for the Duke Children's Hospital, helping kids in similar situations to his.

Sadly, this will be Bayden's last year as an Eagle. He applied to Campbell, Elon, High Point, and Liberty and will be attending Campbell, majoring in business administration. Although we are going to miss Bayden dearly, we know he will find great success wherever he ends up in life.
Continue reading below to learn more about Bayden!
What are you gonna miss the most about RMA?

The small class size and the family atmosphere.
What is your favorite class you've taken at RMA?

Marine Biology with Dr. Wells.
What is something nobody knows about you?

I once made a ceremonial plunge and blew up a hotel beside Crabtree Valley Mall around twelve years ago and was featured on WRAL. 
Where do you see yourself in ten years?

I hope to have a very successful career and be further along in my quest to see every MLB stadium and all 50 states.
Who is your role model?

My grandfather because he has been a great influence on me in teaching me how to treat others with respect and dignity.
What is your biggest pet peeve?

Drivers who pass you and then slow down in front of you.
Describe your dream vacation?

Darby, Montana overlooking a snow-covered mountain in a log cabin, relaxing and riding horses.
What is your favorite TV show and why?

Yellowstone

, because of the great scenery in Montana and the great storyline of Dutton saving his land from investors.
If you could only watch one movie for the rest of your life, what would it be and why?

Moneyball

because it explains the financial inner workings of baseball that I find fascinating.
If you were trapped on a deserted island, what three things would you bring?

A gun to kill game, a tent to sleep in, and materials to make a fire.